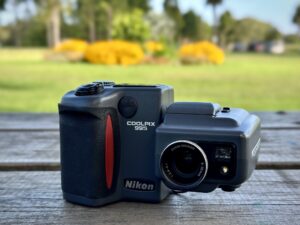 Recording of Episode 46 of the Camerosity Podcast is coming: Digital – Let's get pixelated!
In Episode 45 we had a fantastic turnout for discussions on Mamiya (largest call in group so far, 20 people!), so much that it jammed our analogue lines.  So for the next episode we have upgraded to digital lines, started to use the internet, recruited a robot for some hosting and will be discussing all things pixel related.
Way back in Episode 25 we had Steve Sasson on to talk about inventing digital photography.  Since that time there has been a lot of further inventing, with the early days of digital full of innovation, dead ends, modernization and a total change of approach on how we all create images. If you would like to be involved in a discussion of digital cameras that were groundbreaking, digicams, early DLSRs, resolution challenges, the current trend to use low megapixel cameras or anything related to the heady days come along and join us! Apart from current digital cameras, everything is open for discussion.
As always, the topics and discussions on the Camerosity Podcast are entirely controlled by YOU!  Do you want to stop Paul from driving the discussion to his new 40mpx phone do dah thing, or Robot Theo from taking over completely?  If yes, then you need to join us and help us steer the discussion!
We will begin recording Episode 46 this upcoming Monday, April 3rd at 7pm Central Daylight Time, 8pm Eastern Daylight Time.
Time converter at worldtimebuddy.com
In order to join us, you'll need the ability to join into a Zoom call through either a desktop computer or a mobile device running the Zoom app.  Having your video on is not a requirement as we won't use it for the show, but it might be helpful if you want to show us something. Although you will be joining us live, the podcast is not streamed live.  It will be edited and posted later in the same week it is recorded.
It helps us tremendously if you have a good quality microphone and can participate in an area with minimal background noise.  Although some background noise is to be expected, being in a public space or using your phone's speakerphone will make it difficult to hear you.
Every other week, new episodes will be recorded (USUALLY) on Monday night from 7pm to approximately 8:30pm Central Daylight Time (UTC-5). This time slot is perfect for most of the United States, Australia, New Zealand, and most of Asia. Sadly, for those of you in Europe, unless you work the graveyard shift, it might be hard to join.
When it is time to join, you'll need to click the following link or enter the following code into Zoom: 371 126 1517
Join Zoom Meeting
https://us02web.zoom.us/j/3711261517
As we can only handle a small amount of people at once, anyone trying to join will be placed into a waiting room and you will be let in when we can get to you. Once you join in, say your name, where you're from and you can ask your question or bring up whatever you wanted to talk about. If there are a lot of people in the waiting room, we might not be able to get to everyone, but we'll do our best!