---
The rangefinder model has the Kodak Anastar lens which produces acceptable results comparable to the Argus competitor. The earlier viewfinder model is equipped with the Kodak Anastigmat Special lens, probably the best glass ever on a Kodak camera, and right up there with the best of the time. Theoretically, the two lenses are the same, but in this instance, the earlier one seems vastly better.
I did put quite a bit more work into restoring the viewfinder model to operating condition as nothing was quite working on it when got it from ebay. I cleaned the shutter and all the lens elements, and put a little lubrication on the advance and shutter cocking mechanism to get it working smoothly. The body of the camera showed its age with some metal pitting, and one broken bakelite straphanger.
The RF camera was a gift from Ben at nelsonfoto.com; the shutter and lens were in pretty good shape, and the cosmetic condition was quite nice. I just put some new grease on the focus helical, cleaned the outer lens groups and viewfinder windows, and adjusted the rangefinder.


Update:
I ran a roll of b&w through the 35 rf model and concluded that the lens was capabable of delivering quite good sharpness as shown in the shot below made at a BLM wild horse auction. The enlargement is at 100% of a 1600 dpi scan. At about 10 feet, the pocket stitching is quite clear, though I was left wondering where that fellow keeps his driver's license.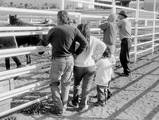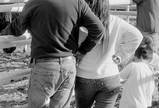 The tiny split-image rangefinder window left a lot to be desired, however. For me, it was impossible to use the small, dim image in the rangefinder on live subjects. I think Kodak should have left good-enough alone with the first model.
---
Coincidentally, I recently acquired another Kodak 35 viewfinder model. It has the simpler f4.5 Anastigmat lens and the No. 1 Diomatic shutter. My notes on its restoration and use were posted in the photo.net Classic Cameras forum.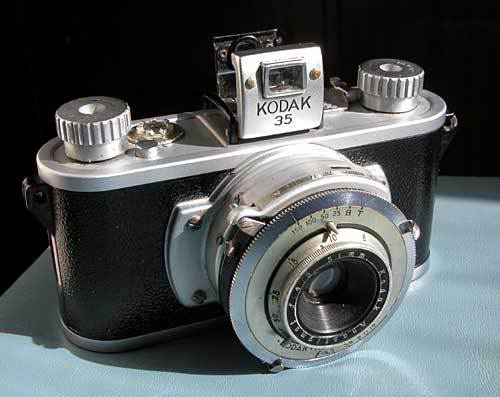 A Las Cruces Car Show with the f4.5/51mm Anastigmat Lens: