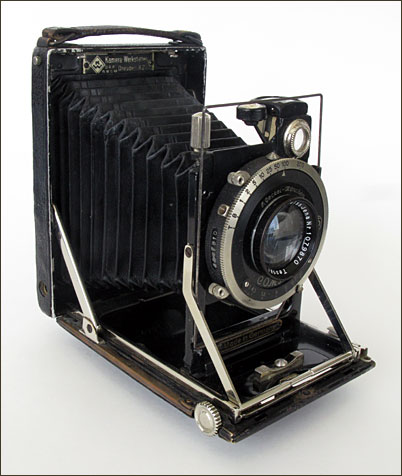 KW Patent Etui (6.5x9 Model), 12cm/f4.5 Tessar Lens in Compur Shutter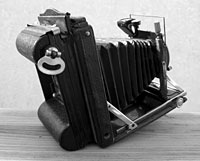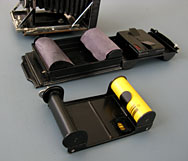 Rollex Patent 120 Film Back
The KW Patent Etui was one of many compact plate cameras that were popular thoughout the first half of the Twentieth Century. All the major camera manufacturers had their own line of plate cameras, most originally using glass plates for recording the images in either 9x12cm or 6.5x9cm formats. As sheet film appeared on the market, it was easily adapted to use in the plate cameras using individual film backs, or in mult-sheet film packs. When roll film then gained in popularity, several companies introduced roll film adapter backs which added some bulk to the cameras, but also greatly enhanced versatility and ease of use.

The plate cameras from most manufacturers were often hard to distinguish from one another; most had a boxy appearance and offered the same assortment of lenses and shutters. The Patent Etui was unique in its sleek compactness and light weight; and the publicity from KW made much of these features, claiming their camera to be the smallest, thinnest and therefore best suited to the needs of alpinists like those attempting the conquest of Mt. Everest. While most users were not facing the challenge of the Himalayas, it was still very nice to be able to slip the elegant little Patent Etui into a pocket knowing that it could produce images with large-format quality.

There is still sheet film available from European suppliers for the 9x12 model of the Patent Etui. Photographers today wanting to shoot the smaller 6.5x9 model like mine, however, will need to find a suitable adapter to use 120 roll film with the camera. As far as I know, only the Rollex Patent back has side rims that are sufficiently thin to fit into the narrow rails on the back of the camera. There are two models of the Rollex which work with the smaller Patent Etui, one yielding eight 6x9 negatives, and the other, by virtue of a second frame window and mask insert, allowing sixteen half-frame exposures on a 120 roll.

Both my camera and the roll film back I found for it required only minor repairs to restore them to working order. The slightly fogged lens surfaces cleaned up well. The mirror in the finder was a little deteriorated, but still quite useable. The good quality leather-surfaced bellows had just a few pinholes which I was able to repair with the application of flexible black fabric paint from a craft store. The Rollex back needed a new light seal at the hinge, but was otherwise structurally sound. While the low speeds in the Compur shutter are a bit slow, the rest seem good judging by the images the camera has given me.

Additional comments on the Patent Etui will be found on my blog.