This little 1956 Japanese rangefinder has the oddest design of any camera in my collection, but it is a good shooter. The coated Ezumar Anastigmat lens is sharp, and the film advance may be the smoothest of any camera I own. One doesn't find many pictures made with the camera; I suspect most people these days acquire it because of its bizarre appearance and with little expectation regarding performance capabilities.
The shutter worked like new when I got the camera, though I doubt it had ever been serviced. Speeds range from 1/10 to 1/200 seconds, plus B. The lens is an unusual triplet unit focus design with the whole assembly moving in and out as the focus knob is rotated. The gear above the lens transmits the rotational movement to the coupled rangefinder and also serves as a depth of focus indicator.
The back comes off the camera completely, permitting easy film loading. The pressure plate is hinged to the bottom of the camera body, holding the film flat and securely engaging the film sprocket holes with the teeth of the advance/counter gear. While the main body of the camera is brittle bakelite plastic, it is well protected by the metal back, top and side panels.

The Samoca in an ad as a mid-50's fashion accessory and a couple pics of Richard from the camera: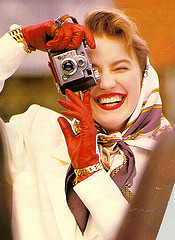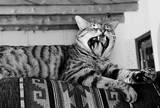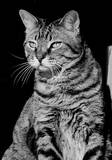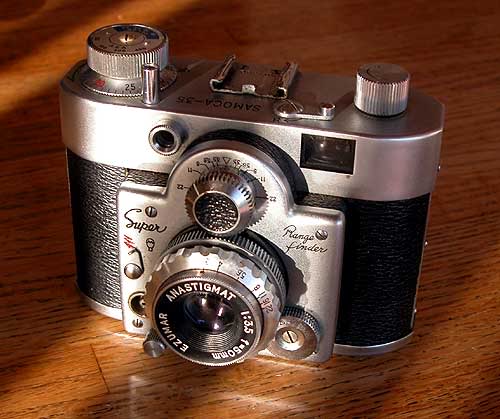 Some color photos from the Samoca are posted on my blog.