As the holiday season approaches, you might be on the look out for some "offline" reading material for yourself or your favorite camera collector.  There are many resources online for great information on what to buy the collector who has everything.  Rather than just make a list of a bunch of great books for camera collectors, I wanted to try a different approach and share a list of the camera reference books I personally use the most.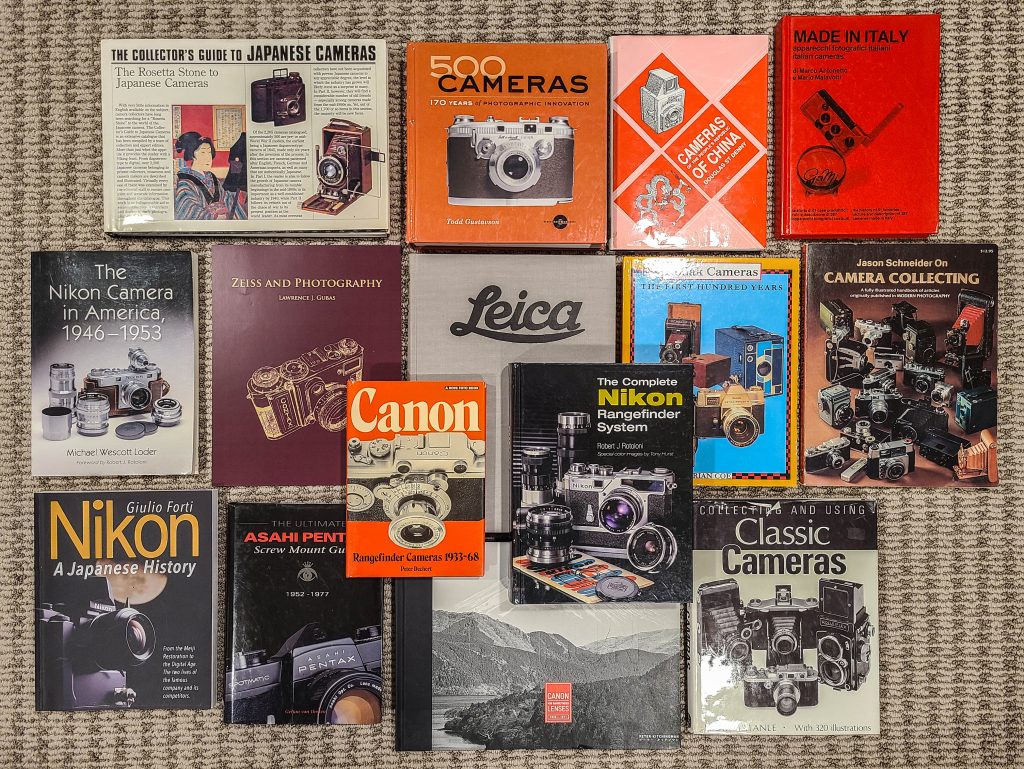 Disclaimers: This is not a "master list of the best camera books ever made" as I don't have access to every camera book ever made, and even if I did, not all are useful for the research I do for this site.  This list is also in no particular order.  Since many of these books cover very specific material, ranking them would be impossible.
One notable omission here is that I am not including any of the McKeown's Guides by Jim McKeown.  While these are regarded as the "bible" by many collectors, these guides are essentially just a massive catalog.  Next to each camera is a sentence or two about the camera, when it was made, and maybe a couple specs, but not much else.  For the collector or historian who wants to learn about cameras or their history, there are better options.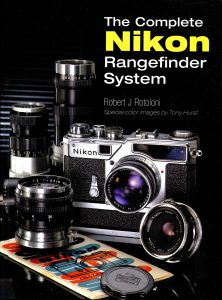 The Complete Nikon Rangefinder System (3rd Edition) – Robert Rotoloni (2017)
For long time readers of this site or listeners of the Camerosity Podcast, it probably isn't a surprise that Robert Rotoloni's book is on this list as I frequently collaborate with Robert both in person and online.
Even if I had never spoken to him though, this book likely would still be on this list as it is one of the greatest resources ever written about a single camera system.  The level of research and detail in this 528 page hardcover book is absolutely amazing.  Even Ken Rockwell considers it his go-to resource for Nikon collectors!
Weighing a massive 2100 grams or 4 pounds 10 ounces and almost 2 inches thick, this is the 3rd edition of Robert's Nikon rangefinder reference book.  Complete with over 1350 black and white illustrations and 24 full color pages, this book has everything from a history of Nippon Kogaku and the Japanese camera industry to a list of everything the company made during the rangefinder years.  It covers all Nikon rangefinder cameras and their lenses, including some made for the original prewar Canon rangefinder camera.
In addition to all of the great information in this book, another thing I appreciate is how well the book is organized.  Logically broken down into sections about each camera, and then the lenses, things are presented in chronological order, formatted with easy to read and find titles at the top of each new section.  If you want to learn about Nikkor 5cm lenses, all of them are together in one section.  If you want to learn more about rangefinder bodies, you can find information about the earliest prototypes all the way to the S4 in the order they were made.  While this isn't a book you'd sit down with a warm cup of coffee under a blanket on a cold winter's day and read cover to cover, the editing is superb and makes finding the information you need, very easy.
There's serial number and production information, technical specs, information about prototypes and accessories for the Nikon rangefinder system.  Whether you are looking to identify a Nikon rangefinder you currently own, learn more about a lens you might want to buy, or just want to geek out about the history of one of the greatest camera systems ever made, this is the book for you!
The price of the book varies depending on where you buy it, as shipping can get quite expensive for a 5 pound book, but if you are in the US and would like to buy it, you can order it directly from Robert himself.  If you do, he'll personally autograph and dedicate the book to you!
Where to buy: Contact Robert by sending an email to: rotoloni at msn dot com or r.rotoloni at sbcglobal dot net.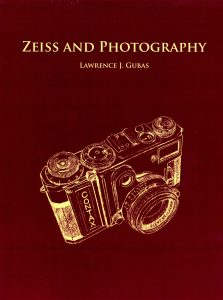 Zeiss and Photography – Lawrence J. Gubas (2015)
If there is one book that might actually have the most amount of detailed information in it about a piece of camera history, it is Larry Gubas's masterpiece, Zeiss and Photography.  Like Robert Rotoloni's book, Zeiss and Photography is the result of a lifetime of work, covering the entire history of Carl Zeiss, Zeiss-Ikon, and all the various East and West German iterations of Zeiss.
Note: I have a pre-production copy of this book, autographed and hand numbered by Larry Gubas before he passed away.  My copy is number 12 of 20 and comes in a three ring binder, which is slightly different from the final, published version.
Weighing a massive 2645 grams or 5 pounds 13 ounces, this 890 page book is loaded with over 2200 illustrations (many in color) showing the rarest and most collectible pieces of Zeiss cameras, lenses, and other accessories, ever made.
The amount of time and research that went into creating a book like this is truly mind boggling.  In the foreword at the beginning, Gubas suggests that after his first book on Zeiss binoculars in 2004, he began collecting the information for a book like this.  Published in 2015, Zeiss and Photography represents over 10 years worth of research, and even includes a supplementary CD-ROM with scans of magazines, articles, advertisements, and other printed sources that couldn't fit into the book.
If somehow, this huge collection of information is still not enough to satisfy your desire for Zeiss knowledge, Larry himself granted me permission to republish every single issue of the Zeiss Historica newsletter on this site, even writing an intro for me in November 2019.  As president of the club, Larry wrote and oversaw a great deal of the articles in these newsletters, and are a treasure trove of information that I am extremely happy to make available for anyone who is interested, absolutely free.
If there's one criticism I have with this book, is that it is so massive, and so completely loaded with great info, that finding the information you are looking for can be a bit of a challenge.  Broken up into forty chapters, the book would have also benefitted from an index to find specific topics easier.  The book does follow a chronological order which helps, but digesting all of the information in this book is very intimidating.
Where to buy: Sadly, Larry passed away in February 2020, so is no longer alive to answer questions or to buy the book directly from him.  As of November 2022, the original US seller of this book, camerabooks.com no longer stocks it and it does not appear to be for sale at any location I would normally think to check.  My best advice would be to keep an eye on eBay and hope one pops up.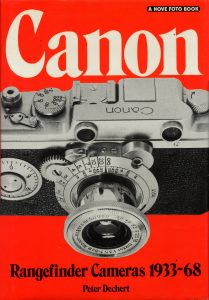 Canon Rangefinder Cameras 1933-68 – Peter Dechert (1985)
The smallest book in my top five, what Peter Dechert's Canon rangefinder book lacks in size, it more than makes up for in straight to the point, highly detailed information about Canon's interchangeable rangefinder cameras.
With a weight of only 468 grams or barely over a pound, this 208 page black and white book has an easy to follow design, similar to Robert's Nikon book.  Starting with history of early Canon and how the company got started with the Kwanon, Dechert covers every single version of Canon's interchangeable lens rangefinders, formatted with an easy to understand heading with specifications and if known, serial and production numbers.
Unlike other brands of cameras where new models were given clear and easy to understand model numbers, Canon rangefinders had a confusing naming convention with different models having almost identical feature sets and some models that came after others having less features than ones that came before them.  Peter Dechert makes identifying which Canon rangefinder you have easy.
A majority of the book is spent on the camera bodies, and while there is some lens information, that's not the focus of the book.  There is also very little in the way of contemporary promotional material or review information about the camera's release, which is why this book is so much smaller than both the Nikon and Zeiss books mentioned above.
If you collect Canon rangefinders, this is an absolute must have and a book I have come back to many, many times.  Even if you don't have any Canon cameras in your collection, this is still a worthy pickup as it covers one of the most important periods of Japanese camera history.  Although Nippon Kogaku gets a lot of credit for the success of the industry of this time, so does Canon.  In fact, it was Canon's use of American Post Exchanges that increased awareness of quality Japanese made cameras more than Nippon Kogaku who didn't really embrace the PX until later.
Where to buy: Peter Dechert passed away in November 2016, so his books can no longer be purchased directly from him and the book is no longer in print.  Thankfully, copies are still available for sale on Amazon.  As I write this, used copies are as low as $15, with new copies for $33.55.  Even at the higher price, that is an absolute steal for the amount of information contained within.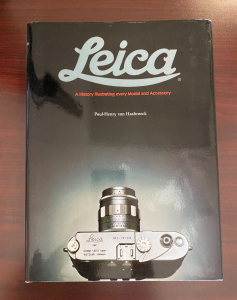 The Leica: A History Illustrating Every Model and Accessory – Paul-Henry van Hasbroeck (1983)
Of the books mentioned here, this one is the one I've come across the most recently, but in the time I've had it, I've read it cover to cover a number of times.
With a weight of 1980 grams or 4 pounds 6 ounces, this large 326 page book is the go to resource for Leica for every camera from the earliest Oskar Barnack prototypes to the Leica M5 rangefinder and R4 SLRs that were current models when the book was written in 1983.
Note: There are two versions of this book, the original which is all in black and white, and an updated version that adds 62 color illustrations.  I have the original version, so cannot comment on what is new in the later book.
As the name of the book suggests, this book is not limited to just the cameras or the lenses, it has EVERYTHING.  Every lens, every viewfinder, bellows extension, every motor drive, literally everything ever made by Leica that existed at the time.  In addition to highly detailed text and narrative sections, there is a good deal of images, charts, and graphs covering production numbers, serial numbers, and pretty much everything you might want to know.
This book is very well put together as a true reference book.  Information is easier to find than in Larry Gubas's Zeiss book, but is less pretty than Robert Rotoloni's Nikon book.  You wont likely read this to your children at bedtime, but for the collector who wants to know as much as they can about Leica cameras, lenses, and accessories from the very beginning to 1983, this is an excellent choice!
There is a huge amount of Leica reference material out there, and to be honest, this is the only Leica book I have, so perhaps there is a better reference maybe with color pictures and more recent information than 1983, however so far, any time I've ever wanted to look something up about a Leica that I've needed for an article, or just to know for myself, this book has had the info I needed.
Where to buy: As you might imagine, this nearly 40 year old book has been out of print for a while, but can still easily be found online used.  Prices usually start at around $50 and go up quickly depending on the condition.  Although I did find one copy for sale on Amazon, Abebooks.com has 28 versions of it for sale with a much wider range of prices, so I would probably recommend potential buyers to check there.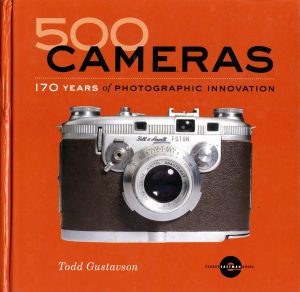 500 Cameras: 170 Years of Photographic Innovation – Todd Gustavson (2011)
Each of the books above are highly detailed "meisterwerkes" of a specific brand or type of camera, so I think it's appropriate to have one general purpose book here for those of you who just want to read about a little bit of everything.
Todd Gustavson's book, "500 Cameras: 170 Years of Photographic Innovation" is the ultimate coffee table book for someone wanting to see full color photographs of 500 different cameras with a couple of paragraphs of information about each.  If the name Todd Gustavson doesn't ring a bell, he's a curator for the George Eastman House, who also published this book, so he has a wealth of not only knowledge about cameras, but also had access to the Eastman House's 8000+ camera collection!
This book is definitely the prettiest and nicest laid out book here, with each camera grouped together with color coded bands near the page edges making it clear which section you're in.  Cameras aren't necessarily presented in chronological order, but at least they're ordered by type.  This works well for someone casually looking to pick up a book sitting on an end table and flip through a few hundred pages.
Gustavson covers a wide range of cameras from the earliest Camera Obscuras to digital cameras like the Leica M8 and Epson R-D1.  He certainly doesn't cover every single camera ever made (after all the book is literally called "500 Cameras") but what he covers here is an excellent selection of some of the world's most important designs.  As an added bonus, there is even an index at the end, making finding a specific model very easy!
Even though this book doesn't go too deep into the histories of any one specific model or brand, interspersed between sections are the occasional 2 page layouts of a whole category of camera or a specific invention like the Zoomar Lens that he calls special attention to, giving some context to the other cameras he discusses.
Of all the books in my library, this is the most casual book and one that when I want to relax and do some light reading, I'll pick up and read through 10-20 different models.  Whether you are the collector who has it all, or knows someone looking to get into the hobby, this is an excellent starting point.
Where to buy: I found a reference to this book being for sale through the George Eastman House online, but the link I found was broken and I couldn't find any official source to buy this book, however it can easily be picked up on Amazon new or used.  Prices range from a ridiculously low $3.39 to a high of only $32.21.  The book appears to have come with both an orange and teal cover, otherwise they are the same.
Honorable Mentions
Each of the books mentioned below are excellent additions to any camera collector's library.  That I didn't include them in my list of five above is less the fault of anything with the book, but rather I haven't needed to refer to them as often, and let's be honest, no one wants to read an article called "Every Single Great Camera Book Ever Made".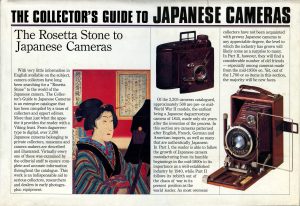 The Collector's Guide to Japanese Cameras – Koichi Sugiyama (1984)
Sugiyama's Guide (as it's most commonly called today) is a highly sought after resource for collectors as it has one of the most complete listings of Japanese cameras ever made.  This book is similar to Jim McKeown's books as it emphasizes presenting the greatest number of cameras over detailed historical information.  Although I have used this book a number of times to identify models and when they were made, it's not something I come to often when I want to learn a story.
That this book has been out of print for so long and sells for quite a pretty penny on the used market makes it a tough recommend for someone, but in addition to that, the book is grouped together in what I feel is a very nonsensical manner.  Models coming far after others appear in the same section, loosely alphabetized by manufacturer.  Although an attempt is made at the beginning to explain the grouping, I often struggle to find what I want in this book.
If you are in the market for this book, the bad news is that it is probably the hardest to find of the books here.  Although I did find listings for it on Abebooks, Amazon, and eBay, the prices fluctuate wildly.  As I write this, Amazon has a used copy for $88, but most versions I see are usually double that, so beware.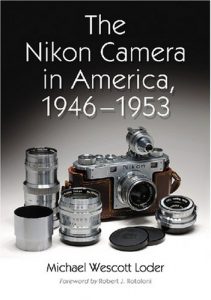 The Nikon Camera in America, 1946 – 1953 – Michael Wescott Loder (2008)
Wes Loder's book on post war Nippon Kogaku is almost the perfect complement to Robert Rotoloni's Rangefinder guide.  This 218 page soft cover book includes a foreword from Robert himself, introducing the book.  Where Rotoloni's book is chock full with technical details, serial numbers, and specifications, Wes's book reads much more like a story.
Of all the companies I've researched for this site, Nippon Kogaku's is the most fascinating to me, and Wes does an excellent job telling the story from the genesis of the company, a company in search of a product, to their early rise as a leader in the industry.  If I had one complaint about this book is that Wes stops at 1953!  I would love to see a follow-up version that continues into the SLR era!
Unlike most books in this list, The Nikon Camera in America, 1946 – 1953 is a book you can sit on the couch under a blanket on a cold winter's day and read.  In my time collecting and researching cameras, not only have I developed a fondness for Nikon cameras, but I think their story is also my favorite and Wes Loder does a great job telling it.
This book is one of the most reasonably priced in this article at only $30 at Amazon.  Whether you're a fan of Nikon or just want to read about a fascinating era in camera history, this is a no brainer to add to your library.  You can also buy this book directly from Wes by sending an email to: mwl2 at psu dot edu.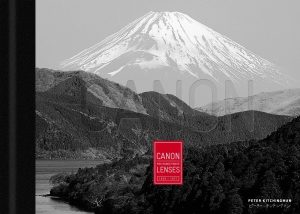 Canon M39 Rangefinder Lenses 1939 – 1971 – Peter Kitchingman (2008)
If you were to take a book as professionally designed and brilliantly edited as Todd Gustafson's 500 Cameras, but combine it with the historical research and technical details of Larry Gubas's Zeiss book, but limit it to just one type of lens system, you would have Peter Kitchingman's Canon M39 Rangefinder Lenses book.  This book in some ways, is the polar opposite of Peter Dechert's Canon Rangefinder book as this one is almost entirely lenses.
I would have never imagined that there is enough to know about Canon rangefinder lenses to fill a 215 page book, but Peter Kitchingman has done it.  He has a tremendous level of knowledge and does an excellent job with the details, organization, images, and all of the other bonus stuff he included in here.  This is a must have book for any Canon collector or anyone interested in M39 or Leica Thread Mount lenses.  The only reason I didn't feature this in my list of five above is that it is such a narrow segment of collecting, it's not something I need to refer to that often, but when I do, I always find exactly what I am looking for.
If you want to pick up Peter's book, the best way to do that is directly from him.  He'll personally autograph your copy and you'll know that all of the money goes directly back to the author.  To do that, send an email to: peterkcrf at iinet dot net dot au.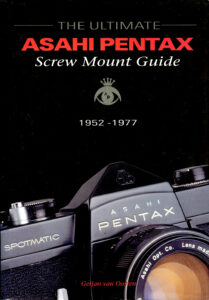 The Ultimate Asahi Pentax Screw Mount Guide 1952 – 1977 – Gerjan van Oosten (1999)
I've already mentioned a great number of excellent books, but what if you're not into German or Japanese rangefinders and need info on 35mm SLRs, specifically Asahi Pentaxes and want a book that tells you everything you could ever want to know?  Well, Gerjan van Oosten has you covered in one of the most appropriately named books here.  The Ultimate Asahi Pentax Screw Mount Guide is the ultimate guide to Asahiflex and Pentax cameras, lenses, and accessories from 1952 through 1977.
This book is chock full of images, specs, and serial number information.  Do you want to know what is the element layout of a 58mm f/2.4 Takumar lens from 1957?  Do you want to know exactly how many Pentax/Honeywell/Heiland S3s were produced?  Do you want to know the metering angle of the clip on Model 1 Pentax Meter?  All that information is here! (Answers: 5 elements in 3 groups, 361,215 copies, and 40 degrees)
Gerjan van Oosten does an excellent job relaying a lot of technical information in a fun and easy to read manner.  All cameras, lenses, and accessories are presented in their own sections.  Lenses of similar focal length are grouped together and sorted logically.  The book has both a table of contents and an index making finding exactly what you need very easy.
Similar to Peter Kitchingman's book above, this is a book that demands to be in your library, but the only reason I don't refer to it more often is that the subject matter is narrow and I don't need to refer to it that often.
If you're interested in buying this Pentax book, there are a couple of options, but the best is from Gerjan himself, who sells it on eBay for $33 USD (shipping not included).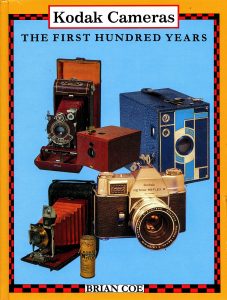 Kodak Cameras: The First Hundred Years – Brian Coe (1988)
When it comes to books about Kodak, you have quite a number of options.  But for the collector, if you could only have one in your library, Brian Coe's book on Kodak's first 100 years is the one I would recommend.  As the name implies, this book covers every camera Kodak made between 1888 and 1988, with a huge number of mostly black and white images and at least a short blurb about each model, when it was made, and what is known about it.
The book is broken up into chapters by film format, covering everything from large plate and early roll film, all the way to 110 Pocket Instamatic and Kodak Disc film formats.  There's a small amount of Eastman history at the beginning, a chart of all Kodak roll film formats at the end, and intros to each section giving a little bit of context to each format.
Where this book really shines is in helping to differentiate the huge number of similar Brownies, Instamatics, and other box cameras that Eastman seemingly made in endless supply.  There's even info about Kodak's European models such as those made in the UK and in France.
Although this book has been out of print for quite some time, it regularly shows up for sale on Amazon and Abebooks.com for prices starting at $35 and is definitely worth checking out if you have an interest in Kodak cameras.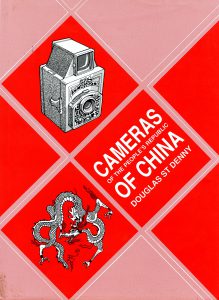 Cameras of the People's Republic of China – Douglas St. Denny (1989)
As a general rule, when it comes to cameras from Germany, Japan, the United States, Soviet Union, or just about any country that made them, there is a book that covers, at least partly, some of the history of those cameras.  For those made in China however, getting accurate information about the Chinese camera industry is incredibly difficult.  For reasons beyond the scope of this site, there just hasn't been much written about Chinese cameras from the mid to late 20th century.
That this book exists at all is quite an achievement as it's author Douglas St. Denny lived in China for several years, befriending collectors and dealers before he could get anyone to talk to him so that he had enough information to write this book.
At only 142 pages, this book isn't very big, but what is here is remarkable.  Telling the confusing story of the country's camera history, first copying Soviet cameras (yes, there is a Chinese copy of a Zenit, which itself was based off the Zorki, which was based off the Leica) and explaining some of how Chinese factories worked, St. Denny does a great job of making things easy to understand for us westerners.
This book has an even balance of telling the stories of these cameras, while also offering some technical information and the much needed details to help identify differences in Chinese makes and models.  This book was invaluable to me in my reviews of the Great Wall DF-3 and Seagull 203, and if you have any Chinese cameras in your collection, it will be for you too.
My only complaint about this book is that the information doesn't go beyond the mid 80s and there's nothing else I can find online about what happened after.  Also, the book has been out of print for years and is a bit difficult to find as Abebooks and eBay are your two best options if you want to pick one up for yourself.
Everything Else
I am definitely aware that there are still many other excellent books out there which are deserving of being included in anyone's library.  If you're wondering why I didn't include your favorite book in my list, it is most likely because I don't have it.  Ivor Matanle, Jason Schneider, and Jean-Loup Princelle have all authored excellent books with huge amounts of great info in them.  Who knows, maybe one day, I'll make a part two of this list, but for now, if you are in the market for some offline reading material, and you are missing one of the books mentioned above, I certainly recommend them all!  Happy reading!