This is a TL-Super 35mm SLR camera made by the Japanese camera company Yashica.  In the 1950s and 60s, Yashica was well known for their successful line of TLRs and Rangefinder cameras, but in the 1960s, they also had a line of SLRs that used the same 42mm screw mount used by many other manufacturers of the era such as Pentax and Praktica.  Yashica SLRs from this era were well built, solid metal cameras, with a reputation for quality and reliability.  Their use of M42 lenses make them popular among collectors due to the huge availability of compatible lenses.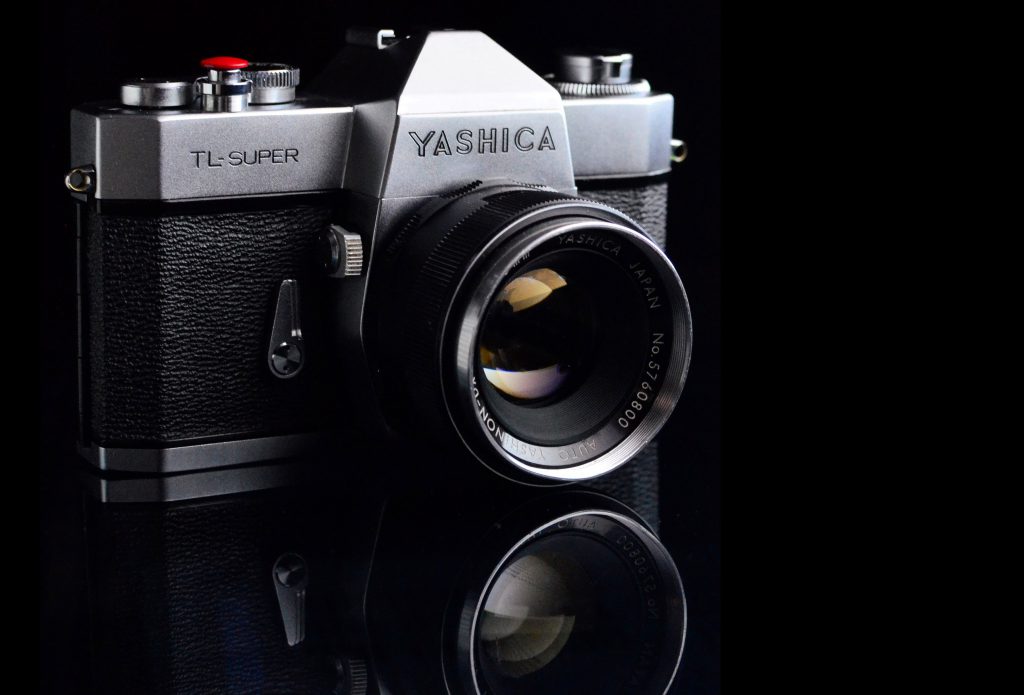 Film Type: 135 (35mm)
Lens Mount: M42 Screw Mount
Lenses: 50mm f/1.7 Auto Yashinon + many more
Focus: Reflex Mirror with Pentaprism
Shutter: Focal Plane Cloth
Speeds: B, 1 – 1/1000 seconds
Exposure Meter: TTL Behind the Mirror CdS Sensor with Match Needle Exposure
Battery: S76 Alkaline, Silver-Oxide, or Lithium Cells
Flash Mount: Hotshoe and PC Sync
Manual: http://www.cameramanuals.org/yashica_pdf/yashica_tl-super.pdf
History
I am no stranger to Yashica cameras, however until now, all my experience has been with their TLRs and rangefinders.  I've said it many times, but the Yashica Electro 35 is one of my favorite cameras and my Yashica-Mat TLR produces some of the nicest medium format images of any camera I own.  Thats not to say that Yashica didn't also make excellent SLRs, because they did, but they weren't as spectacular in my opinion.
Yashica entered the SLR market in 1959, the same year as Nippon-Kogaku (Nikon) and Canon.  By this time, there were already a large variety of quality SLRs made by German and Japanese companies.  Their first SLR, the Pentamatic was an okay camera, but it didn't really differ from the competition.  It was neither high, nor low end, it didn't offer interchangeable viewfinders, and it had a proprietary (to Yashica) lens mount so that meant there wasn't an established line of lenses to choose from.
It's probably no surprise that it didn't sell well, and in 1962, merely 3 years after it's release, the Pentamatic and its proprietary lens mount were discontinued in favor of the Yashica Penta J which used the M42 screw lens mount which was already in use by several companies such as Pentax and Praktica.  This new line of Yashica SLRs was known as the J-series and spawned several different variants through the 1960s.
In 1966, Yashica ventured into the realm of TTL (through the lens) metering and released the Yashica TL-Super.  This was Yashica's first SLR that had an internal CdS light meter for measuring exposure.  The TL-Super was also one of the very first cameras in the world designed for new 1.5v silver-oxide batteries instead of the much more common 1.35v mercury batteries used by everyone else.  This is an especially useful feature as this camera can still be used with common 1.5v batteries available today without having to modify the internal circuitry to compensate for the voltage difference.
Interestingly, Yashica would make a non "Super" called simply the Yashica TL, but that would not be released until 1968.  Through the rest of the 60s and into the early 1970s, Yashica would continue to innovate and release several other M42 SLRs with names like TL Electro, Electro X, and Electro AX.
Edit: After posting this review, I was given some new information regarding Yashica's SLRs which followed the TL-Super.  Here is a quote from collector Mike Novak:
The TL Electro X really only shares the TL name, and mirror lockup, with the Super.  It really was a groundbreaking camera on its own merit, with an electronically-controlled and infinitely stepless metal Copal square shutter.  The "X" has the most accurate metering of any M42 camera that I have ever used.  The Electro AX was a horse of an entirely different color, the DX prime lenses for the rest of the series could not be used on the AX. Lenses from other makers could be used on the AX in aperture priority AE, but not Yashica's own lenses, which may partially explain its failure in the marketplace.
When I acquired my TL-Super it was in great physical condition.  Everything worked, and the only work that it needed was new light seals and a general wipe down.  I replaced the light seals as I do with all 60s and 70s cameras in my collection with black yarn and adhesive black felt and loaded in a roll of film and went shooting.
Using the Camera / My Thoughts
The Yashica TL-Super is a very solid all-metal camera.  It is very well built and nothing creaks or groans while using it, but compared to it's most logical Japanese M42 competitor, the Pentax S-series, it is a much larger and heavier camera.  The picture to the left compares the TL-Super to a Pentax Sv and a Miranda Sensorex.  All 3 of these cameras were designed in the mid 60s and both the Pentax and Yashica are M42 mechanical cameras.  Although the Sv has no light meter, Pentax would release the Spotmatic in 1964 using the same exact body size.
The meter on this camera is a CdS meter through slits in the reflex mirror and is generally pretty accurate.  Activating the meter requires a movement of a black switch into the 'on' position on the photographers left side of the lens mount.  When activating the meter, the camera automatically stops down the lens.  This is both good and bad in the sense that while it allows you to preview depth of field of your shot, it also makes the image very dark, especially if you are using a small aperture.  You also have to remember to turn off the meter when you are done taking your shot, otherwise the camera will remain in stopped down mode and the meter will continue to drain the battery.  The user manual does not mention any type of auto-off function for the meter, so I assume it remains always powered when this switch is in the 'on' position.
So while using the TL-Super isn't difficult, if you were to do an A/B comparison between it and a Pentax of the same year, I would think most people would prefer the smaller size and better ergonomics of the Pentax.
From a technical standpoint, the TL-Super is a very capable camera.  It has a mirror-lock up feature which is missing from many non-professional cameras of the era.  It has a large and bright rectangular viewfinder with a large micro-prism circle in the middle of the ground glass.  Although I generally prefer a split-image style viewfinder, the micro-prism circle works well in outdoor photography where I would generally use this camera.
It uses the very popular M42 lens mount which means it accepts a huge variety of excellent lenses.  Yashica's own Yashinon lenses are excellent and very similar in quality to the Asahi Super Takumars.  You could mount a Soviet made Helios 44-2 lens, or any other number of German M42 lenses and get great shots.  Since the light meter was designed to use 1.5v batteries, it should be extremely accurate compared to cameras designed for 1.35v Mercury batteries who tend to be off when using higher voltage batteries.
I owned this TL-Super for quite a while before putting a roll of film in it to go shooting, but once I did, I generally enjoyed using it.  Did it offer anything that I couldn't get in another camera?  No.  Sometimes technical specs don't tell the whole story.  Sometimes using a camera just has a good "feel" that's hard to describe but makes you like it.  Does this camera have that?  Not really.  I didn't hate the manual on/off switch of the meter, but if you are used to "newer" vintage cameras, it's one more thing you have to remember to do, else you risk draining the battery.
Frankly, there's nothing about this camera that makes it stand out over other, comparable M42 mechanical cameras from the 1960s.  If someone who was new to film photography came across one of these for sale and wanted to try it out, it would be a great choice, but once you have a collection like I do, it's just not a model that will probably get chosen over other similar, or more capable cameras.
That's certainly not the Yashica's fault though.  Its a fine camera, and if it produces great shots, then that's all that's important, right?
Well, sadly we'll never know.  Halfway through my first roll through this camera, it was stolen from my car.  Some jackass kids broke into my car one night and stole this camera along with my Canon P rangefinder.  Even more upsetting, is that whoever stole them, probably threw them in the trash once they realized they weren't digital cameras.
While I was more distraught about losing the Canon, I was also sad to lose this camera too.  I'm a fan of Yashica, and while there is nothing spectacular about this camera, I felt it deserved a spot in my collection, and it pisses me off that I'll never get to see the results of that first roll.  Thankfully, I only had the 50mm Yashinon lens attached to it and not something more valuable.  If I ever come across another one for cheap, I might pick up another one, but there's so many other more desirable cameras I'd like to one day add to my collection, its not something I will intentionally look for.
So that's how this review will end.  The Yashica TL-Super is a fine camera.  It is built like a tank, is very rugged, was the first camera designed for 1.5v silver-oxide batteries, it has a match needle CdS exposure meter and a mirror lockup lever, and it accepts M42 lenses.  If you have an opportunity to pick one of these up, I say go for it, but don't expect to find anything about it that will be any better than any other 1960s M42 SLR.
Not My Results
Since I won't have any of my own samples to show you, here are some pictures shot with a TL-Super by Gábor Dobrocsi which he graciously gave me permission to "borrow".  Every one of them was shot on his TL-Super and posted on his Camerajunky WordPress site.  Thank you Gábor for not only creating such an excellent review, but also for your permission.  Maybe one day if I acquire another TL-Super and have my own shots, I'll replace these, but looking through his other work, Mr. Dobrocsi is a far more talented photographer than I am, so perhaps I shouldn't even try!
Additional Resources
http://mattsclassiccameras.com/yashica_tlsuper.html
https://camerajunky.wordpress.com/tag/yashica-tl-super/
http://camerapedia.wikia.com/wiki/Yashica_TL
http://www.collection-appareils.fr/x/html/page_standard.php?id_appareil=10308