This is a Yashica Electro 35 CC, a compact 35mm rangefinder camera made by Yashica of Japan from 1970 to at least 1975.  Despite sharing a similar name to Yashica's popular Electro 35 series, this camera has a much smaller body with several important upgrades from those larger cameras.  The most obvious change is in this model's 6-element wide angle 35mm f/1.8 lens, but one other important change was the use of a much more common 6v silver-oxide or alkaline battery, making finding modern replacements easier today.  Like other Yashica cameras of the era, the Electro 35 CC was a well built and easy to use camera that with a reliable aperture priority auto exposure system and excellent lens, and is capable of sharp and very detailed photos.
Film Type: 135 (35mm)
Lens: 35mm f/1.8 Yashica Color-Yashinon DX coated 6-elements in 4-groups
Focus: 2.6 feet/meters to Infinity
Viewfinder: Coincident Image Coupled Rangefinder
Shutter: Copal Electronic Leaf
Speeds: 8 – 1/250 seconds, step less
Exposure Meter: Coupled CdS Cell w/ Viewfinder Over/Under Lamps and Aperture Priority AE
Battery: 6v 4LR44/PX28 Silver Oxide Battery
Flash Mount: Cold shoe w/ X Flash Sync
Other Features: Self Timer, Shutter Lock, Battery Check
Weight: 567 grams
Manual: https://www.cameramanuals.org/yashica_pdf/yashica_electro_35cc.pdf
The Yashica Electro 35 CC is a compact and easy to use camera with a one of a kind lens that produces images on par with the best cameras of it's era.  It's combination of a bright and easy to use coupled rangefinder, along with Yashica's excellent Electro metering system makes this a very capable camera.  Although somewhat limited by it's shutter, there's very little to not like about it.  When it comes to a small camera that you can keep on you at all times, and is quick and ready for candid shots, there aren't many cameras that can beat it.
Images
Handling
Features
Viewfinder
Feel & Beauty
History
Age
2
2
1
2
2
1
20%
Bonus
+1 for overall excellence, a great camera with a great feature set that is great to use
Final Score
13.0
History
There is a term often used in the tech industry called "pivoting" in which a company or product is heading in a direction, which later turns out to be unprofitable, difficult, or in some ways problematic to continue.  Rather than completely give up, the company may pivot, using what they knew of their previous efforts and salvage what they can towards something new.  Pivoting isn't the same as completely starting over as usually there is some connection between what they started on and what they ended up doing.
Yashica was good at pivoting.  If you follow their early history from when they were Yashima Seiki K.K., the company quickly proved themselves as adept makers of Rolleiflex copies.  Their first Pigeonflex cameras were well made and quickly earned themselves a reputation as one of Japan's premiere camera makers.
Around 1958, realizing that the market for medium format TLRs was not continuing to grow, the company purchased Nicca for their expertise with 35mm cameras and focal plane shutters and in 1960, pivoted to the Pentamatic, Yashica's first 35mm SLR.  The Pentamatic was an ambitious first effort from Yashica, including it's own unique bayonet mount, but proved to be unsuccessful, so the company pivoted to simpler SLRs with the M42 lens mount.
Yashica did have some success in the mid 1960s with their J and TL-series cameras, but in 1966, pivoted once again to the world of electronic shutter 35mm rangefinder cameras, with the release of the Yashica Electro 35.  Yashica had made 35mm rangefinders prior to the Electro, but with their new camera, Yashica introduced their very capable "Electro" metering system which would be licensed by other companies like Minolta.
Electronic metering systems existed before the Electro, but Yashica seemed to hit the right combination of accuracy, cost, and ease of use.  Simplifying aperture priority automatic exposure down to two simple lights visible in the viewfinder, Yashica's Electro cameras (both rangefinder and SLR) was successful at bringing reliable auto exposure to the masses, at a price that was affordable by most.
Over the next decade, Yashica's lineup of Electro cameras would expand to over a dozen 35mm SLR and rangefinder models giving the company new life.  While most of the rangefinder models shared a variant of the company's 45mm f/1.7 Yashinon lens, there was one model introduced in 1970 called the Yashica Electro 35 CC which featured a wide angle 35mm f/1.8 lens.
The Electro 35 CC was the first in a new lineup of compact cameras that were smaller and reduced the overall weight by about 20%.  The name "CC" most certainly means "Compact Camera" although it doesn't appear anywhere in the camera's documentation.  Later models like the GX and FC would use a similar body, with increased use of lighter weight plastics.
While researching this article, I struggled to find much in the way of marketing material for the Electro 35 CC.  It seemed to always be mentioned alongside the larger Yashica Electro GS and GT models also available at the time.
Shortly after the Electro 35 CC was released, an updated model called the Electro 35 CCN was released.  Some sites online refer to the CCN as the CCN Wide as it also has the word "Wide" printed on the front face of the camera, but this does not appear to be an official designation by Yashica.  Also unclear is exactly what was different about the CCN.
Externally, the two cameras are identical, with the only different being that the CCN lacks the little film box holder on the rear door.  According to a YouTube video review of both the CC and CCN models, the narrator claims that the CCN has some updated internal electronics, but does not elaborate any further than that.  Based on my research of the other Electro 35 models, I do know that Yashica did revise the electronics several times along the way, adding gold contacts, and updating the shutter mechanism, so I'd say it is plausible that the CC received the same changes.
The Electro 35 CCN would be in production until at least 1975, as in September 1975, one appeared in a compact camera round up in Popular Science magazine comparing over 20 similar models.  In that roundup, the Electro 35 CCN compared favorably with the other models, featuring a coupled rangefinder, aperture priority auto exposure and a fast f/1.8 lens.  It was one of two with a 35mm lens however, the other being the GAF Memo 35EE, but that model's lens was only f/2.7.
According to the chart to the right, the Electro 35 CC had a suggested retail price of $165 which was the second least expensive model with a sub f/2 lens.  That price, when adjusted for inflation, compares to about $840 today.
With the benefit of hindsight, the Yashica Electro 35 CC and CCN models have an ideal combination of compact size, both a wide angle and fast 35mm f/1.8 lens, Yashica's excellent metering system and sharp Yashinon lenses, and aperture priority automatic exposure.  Yet, the model didn't sell as well compared to the larger Electro series.  A quick eBay search for available models returns around 50, most in Japan, whereas there are several hundred of the full size Electros available.
Although Yashica would eventually exit the 35mm rangefinder market, in 1973 they would pivot once again, this time agreeing to terms with Carl Zeiss in Germany to produce cameras under the Contax name, an agreement that would benefit both companies as Yashica could once again market themselves in the upper end of the SLR market with premium Contax cameras, while also benefitting from Carl Zeiss optics on Yashica models.
Today, most collectors have a curious relationship with Yashica cameras.  Throughout the company's entire existence, there were quite a number of capable cameras bearing the Yashica name, from their original Yashica TLRs, to their 1980s Yashica T-series point and shoot cameras.  Somewhere in between are models like the Electro 35 CC that offer a compelling feature set, and excellent lens, and reliable operation.  I doubt this model is the first, second, or even 10th model recommended by collectors when considering Yashica cameras, but for me, it's a heck of a capable little device, and one you should consider if you get a chance to pick one up.
My Thoughts
The Yashica Electro 35 CC was one of the first rangefinders I ever sought to own when I discovered the original Yashica Electro 35 back in 2015.  I have always been fond of the entire Electro series, but after looking at all of the different models, I thought the Electro 35 CC was the one I was most excited to own.  The problem was, that not too many of these cameras were made, and it seems most other film camera enthusiasts share my desire to own one, so finding one in good enough condition for an affordable price was a challenge.
As I said in my GAS Attack! Buying Cameras on eBay article, one of the best strategies to get what you want on eBay is to have patience.  It would take me nearly six years of waiting, but in the summer of 2021, I ended up with what looked to be a perfect condition Yashica 35 CC for a price I was willing to pay.
When the camera arrived, I was elated that not only did the camera look great, it worked perfectly, there was no corrosion in the battery compartment, the viewfinder was clear, the rangefinder was accurate and it even came with what I assume is an original clip on Yashica lens hood!
Released only four years after the original Yashica Electro 35, the Electro 35 CC has a much smaller body, but has the same (mostly) metal feel but without the weight of the original.  Weighing in at only 567 grams, the Electro 35 CC feels noticeably lighter compared to the original Yashica Electro 35 at 744 grams.  The compact size means it more easily fits into a coat pocket or a small purse, but without a doubt, the best change to the camera is that it uses an easy to source 6v PX28 silver oxide or alkaline battery.  These are the same batteries used in the Canon AE-1 and Nikon EL2, so finding them today is very easy, and since they're 1.5v batteries, there's no voltage adjustment from a mercury cell to deal with.
Despite being much smaller than the original Electro, the top plates of the two cameras have a lot of family resemblance.  All of the top plate controls are in the same locations and function pretty similarly.  Fold out rewind knob on the left, accessory shoe in the middle, cable threaded shutter release with locking collar around it, rapid wind lever and automatic resetting exposure counter.  Also like the later Electros, a light inside of the exposure counter doubles as the battery check light.
The camera's left side has the flash sync port which supports both electronic and flash bulbs.  Strap lugs on both sides of the camera allow for convenient attachment of most neck straps, although the compactness of the Electro 35 CC might not require it.
Flip the camera over and the bottom has the rewind release button and a 1/4″ tripod socket which is very convenient as the electronic shutter on the camera supports variable speeds down to 8 seconds.  Not quite as impressive as the 30 second shutter on the full size Electro, but still something you'd want a tripod for.
From the bottom, you can also see the ASA film speed selector with numbers from 25 to 500, and also an unlabeled self timer level.  As with all half century old cameras, I would advise against using the self timer on this camera unless you know it has been serviced.
Around back, we see the rectangular opening for the viewfinder, the round battery compartment door, and a battery check light.  Pressing the battery check light works like the larger Electro 35 in that it will illuminate a light inside of the exposure counter.  One additional thing on the back is a plastic pocket on the rear door for holding the box edge that you have inside the camera.  This pocket is unique to the original Electro 35 CC model and is not present on the later CCN.
Compared to the original Yashica Electro, a major upgrade to the Electro 35 CC that I don't want to overlook is a switch to a 6v silver oxide or alkaline PX28 battery, compared to the original 5.6v mercury PX32 battery.
Not only are 6v PX28 (often called 4LR44) batteries still easily available today, but that they operate at the same 6v voltage that the camera expects, means you won't have to worry about differences in the metering system often caused when you use a modern battery in a camera that was designed for mercury batteries.
One final advantage to the Electro 35 CC that isn't immediately apparent is that the electronic shutter has a 1/250 mechanical override that will still allow you to fire the shutter with a dead battery.  This is great in that you won't be left dead in the water if the battery still dies, at least you can still use the camera.
Opening the film door requires lifting up on the rewind knob and giving it a firm tug to release the door latch.  The right hinged door opens to reveal an ordinary film compartment.  Film transports from left to right onto a fixed and multi-slotted take up spool.  The design of the spool makes installing a new roll of film very easy as all you need to do is get the film leader into of the notches and wind the lever a couple of times and close the door.
The inside of the door has an ASA to DIN conversion chart, a large and dimpled film pressure plate, and a chrome spring to help maintain film flatness as it transports through the camera.
Lastly, the Yashica Electro 35 CC comes from the era of foam light seals, so when acquiring one of these, no matter how nice it looks on the outside, you will almost certainly need to replace the crumbly seals on the door hinge and in the channels above and below the film compartment.
All exposure controls are handled by rings around the lens, which is consistent with most leaf shutter rangefinder cameras of the mid 20th century.  Looking down upon the shutter from above, the focusing ring is closest to the body.  Two small plastic paddles on opposite sides of the shutter are in easy reach of the photographer's left index finger and thumb.  The entire motion from minimum to infinity focus is about 40 degrees which isn't nearly as long as cameras from earlier in the 20th century, but also not quite as short as some other rangefinders from the era like the Vivitar 35ES.
Towards the front of the lens is the aperture control, which has click stops from f/1.8 to f/16.  Although each f/stop is indicated, three symbols showing a red sun, green clouds, and a yellow window are there as hints for bright sun, shade, and interior light.  With the Electro's over/under metering display, it is not necessary to get exactly the correct f/stop as the camera will automatically select a shutter speed that will make a properly exposed image with the amount of light available.
Many critics of Yashica's Electro system, which also applies to the full sized Electro 35s, is that you cannot manually control shutter speed.  While there are instances where full manual control over a camera is desired, these cameras were made for those looking for an easy to use camera that can get you excellent exposures with a minimum of thought.  For me, I think this system works very well and never once while shooting did I wish I could control shutter speeds.
Finally, as a nice touch, this Electro 35 CC came with it's original clip on Yashica lens hood, which is not at all required to use the camera, but adds additional protection from glare, while looking great!
The viewfinder in the Electro 35 CC is large and bright with very easy to see yellow projected frame lines with parallax marks and a square rangefinder patch in the center.  Like other Yashica cameras with the Electro system, two lamps in the shape of arrows at the top of the viewfinder are used to indicate over exposure and slow shutter speeds.  In the composite image to the right, I show both the red and yellow lamps lit at the same time.  In reality, this can never happen.
If the chosen aperture results in a shutter speed that exceeds 1/250, a red arrow lights up in the upper left corner.  If a shutter speed of 1/30 or slower is needed, a yellow arrow in the upper right corner lights up.  It is important to know that the yellow arrow does not mean the camera can't make the proper exposure, just that stabilization is recommended.  With a minimum shutter speed as long as 8 seconds, the Electro 35 CC can make accurate exposures in very low light, you'll just need a tripod or to have the camera sitting on a flat surface.
Although I like the viewfinder on this camera and found it very easy to use, one small side effect of having projected frame lines and a 35mm lens, is that the magnification of the viewfinder is very low.  You can see outside of the frame lines, meaning the entire visible window is much wider than even 35mm.  The original user manual does not state the magnification level of the viewfinder, but if I had to guess, it's probably somewhere around 0.6x, which not only makes things very small, but also introduces a very noticeable amount of barrel distortion.  This of course has no effect on the exposed images, but is worth mentioning.
Even before putting any film through it, the Yashica Electro 35 CC clearly has a lot going for it.  Now that I had one on my possession, my immediate thoughts were that it was already living up to, and exceeding my expectations I've had for it over the past six years, but of course, I wont know until I actually shoot it…
My Results
In the summer of 2021, I came across some very expired GAF Versapan 32 from the late 1970s.  Seeing that it was a panchromatic film around the same speed as Kodak Pan-X, I decided to give it a go in the Yashica Electro 35 CC.  I was reasonably certain the 35mm Yashinon would perform similarly to other excellent Yashinon lenses I had shot before and figured it would do as good of a job as any to see how it compared to my favorite film.
In love with the images I got from that first roll through the Electro 35 CC, I quickly put the camera back in the queue, awaiting a fresh roll of Kodak ColorPlus 200 I had in the fridge.  As I did the first roll, I carried the camera with me to a variety of places, from the 2022 Chicago Auto Show to my favorite random parking lot filled with old cars.
As is the case any time you shoot a camera with a Nikkor, Rokkor, Takumar, Zeiss, or any other premiere lens maker's name on it, you expect greatness and the same thing is true about Yashinon lenses.  I've shot many Yashica cameras before and the images they make always look great, and the Yashica Electro 35 CC is no different.
Sharpness from the 35mm f/1.8 Color-Yashinon DX is fantastic from corner to corner.  A very small amount of vignetting is visible in some images, but I don't consider this to be a bad thing.  In fact, I believe that when backed up by such a capable lens, a small amount of darkness in the corners enhances the overall image, giving it a distinct look that a more sterile lens couldn't produce.
The mystery for me is what lens formula Yashica used with this lens, as they never released a 35mm f/1.8 on any other fixed lens rangefinder, and as far as I know, never used this in an SLR lens either.  In fact, if you Google "35mm f/1.8 lens" the most common references are to Nikon and Sony lenses, with a Tamron lens in distant third.  Most Yashinon lenses of this era were produced by Tomioka, which Yashica acquired in 1968, two years before they released the Electro 35 CC, so perhaps this was a dead end Tomioka design, but based solely on it's performance here, I think this was a major misstep as a fast wide angle lens like this would have been very appealing in the SLR and interchangeable lens rangefinder market.
In addition to it's lens, the Electro 35 CC has other things going for it as well.  The large and bright viewfinder is a joy to use.  The rangefinder patch is contrasty and easy to use, although truth be told, the depth of field offered by the 35mm Yashinon allows for easy "guess focusing" without having to take the time to use the rangefinder.  According to the user manual, when focused to a distance of 10 feet, at f/8 everything from 6 to 25 feet will be in focus.  Stop it down to f/11 and depth of field increases from 5 to 70 feet, allowing for a near focus free operation.  And of course, Yashica's excellent Electro metering nailed the exposure on every image I shot, even under tricky indoor lighting at the auto show.
Without a doubt, the single biggest limitation to the Electro 35 CC is it's 1/250 shutter speed.  This is a disadvantage as opening up the lens with anything more than moderate light would require extremely slow film or a neutral density filter in order to prevent overexposure.  An additional top 1/500 speed would have gone a long way towards improving this, but for most general purpose photography 1/250 is good for most situations.
One other minor nitpick is I wish the Electro 35 CC didn't lose the automatic parallax correction feature of the full size Electro, as I find that permanent parallax indicator lines to be quite useless.  The loss of this feature was most certainly a cost cutting measure to make the camera more affordable.
For years, I've had an irrational love for the full size Yashica Electro 35.  Not only was it one of the first 35mm rangefinder cameras I ever used, but it's combination of good looks and performance has always appealed to me.  I know the camera isn't perfect, but I love them anyway.
With the Yashica Electro 35 CC, many of the full size Electro's flaws are corrected.  It has a more compact body with better ergonomics, it uses a non-mercury 6v battery that's still available today, and it relocates the CdS meter to within the filter ring so that adding filters does not throw off the metering.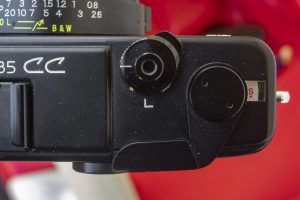 I thoroughly enjoyed shooting the Yashica Electro 35 CC.  It's not perfect, but it is as close to perfect as I think I'll ever find.  The semi-wide angle 35mm lens has my ideal focal length, both on rangefinders and SLRs as it closely matches how I see the world.  The fast f/1.8 maximum aperture opens up exposure opportunities that a slower lens wouldn't, the Electro metering system is as good as anything out there from that era, the large viewfinder with contrasty rangefinder patch is very easy to use, and the compact size of the camera means it fits into my coat pocket with ease.
I know there will be those out there who have a serious problem with the lack of full manual control, saying that they could never truly love a camera that doesn't let them select shutter speeds, and I say to them, if I want a camera with full manual control, I'll choose one with full manual control.  The reality is, you don't always need to have total control over everything your camera does.  For those instances where you want to casually stroll through a park and don't want to have to use your brain, or if you're going to be in some difficult lighting situations and want a camera that can take care of things for you, the Electro 35 CC is perfect.
Of course, finding one with good electronics and a working meter is essential, and there's no telling how much longer this camera will continue to work, but for as long as it does, it will remain a frequent repeat user for me, and one of my all time favorite cameras!
Related Posts You Might Enjoy
External Links
http://camera-wiki.org/wiki/Yashica_Electro_35_CC
https://www.cameraquest.com/yash35cc.htm
http://cjo.info/classic-cameras/yashica-electro-35-cc/
https://www.35mmc.com/31/05/2018/yashica-electro-35cc-review/
http://randomphoto.blogspot.com/2020/05/the-yashica-electro-35-cc.html
http://www.meanbearmedia.com/2018/12/yashica-electro-35-ccn-review/
https://cameralegend.com/2021/10/05/the-yashica-35cc-review/
http://35mm-compact.com/compact/yashicaelectro35cc.htm (In French)