This is a Contax RX, a manual focus 35mm Single Lens Reflex made by Kyocera of Japan starting in 1994.  The Contax RX was a very expensive and advanced SLR with a long list of features which catered to semi-professional and enthusiast photographers.  It used the C/Y lens mount shared by Yashica SLRs of the same period, offering a budget selection of lenses that were still optically excellent.  The Contax RX, despite being a manual focus SLR, featured an advanced TTL phase detection automatic focus control, which could display focus confirmation using the LCD within the viewfinder, allowing a photographer to benefit from auto focus with manual focus lenses.  The Contax RX is a very large and heavy camera with a very high level of quality and refinement, making it a luxury among contemporary 35mm SLRs.
Film Type: 135 (35mm)
Lens: 50mm f/2 Yashica Lens ML coated 6-elements in 4-groups
Lens Mount: Contax/Yashica (C/Y) Bayonet
Focus: 1.65 feet to Infinity, TTL Phase Detection Auto Focus with LCD Distance Readout
Viewfinder: Fixed SLR Pentaprism with Full Information LCD Display, 95% Field of View, 0.8x Magnification
Shutter: Electromagnetic Vertically Traveling Metal Blade
Speeds (Auto): 16 – 1/4000 seconds, step less
Speeds (Manual): B, X, 4 – 1/4000 seconds
Exposure Meter: Silicon Photo Diode TTL Meter with P,S,A,M Exposure Modes
Battery: 6v 2CR5 Lithium Battery
Flash Mount: Hot Shoe with TTL Flash Control, 1/125 X-Sync
Other Features: Data Back Self-Timer, DOF Preview, Viewfinder Blind, Adjustable Diopter, Manual Focus Confirmation, + much more
Weight: 1024 grams (w/ lens and battery), 862 (w/ battery, no lens)
Manual: https://www.cameramanuals.org/contax/contax_rx.pdf
The Contax RX may not be the perfect SLR, but it comes very close.  This is a well built SLR with a very long list of features and support for a huge number of great lenses.  Although it's digital focus assist feature is one of the camera's standout features, it has such a bright and easy to use viewfinder, it's really not necessary, making this the ultimate manual focus SLR.
Images
Handling
Features
Viewfinder
Feel & Beauty
History
Age
2
2
2
2
2
1
0%
Bonus
+1 for overall superiority, this is a fantastic camera with very little to not like
Final Score
12.0
History
Throughout the 20th century, the name "Contax" became synonymous with quality made, high precision cameras.  Originally appearing in 1932, the first Zeiss-Ikon Contax camera was designed to compete, and improve upon the Leica III.  Designed by Dr. Heinz Küppenbender, the Contax bested the Leica with a faster and more secure bayonet lens mount, a rangefinder that used glass prisms instead of mirrors, a removable back instead of a bottom loading design, and came with a huge selection of some of the best Zeiss lenses in the world.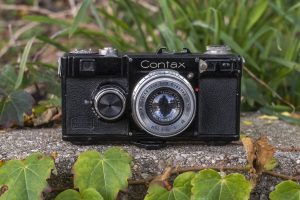 The Contax was an innovative and ambitious camera, but it was also very expensive and had questionable reliability and ergonomics.  Later versions of the Contax addressed nearly all of these issues and eventually became world class cameras in the same league as their German competition.  The Contax would heavily influence Nippon Kogaku's first Nikon camera in 1948 and would be the basis for the Soviet Kiev rangefinder which would remain in production until the 1980s.
Until World War II, all Contax cameras were produced by Zeiss-Ikon in Dresden, Germany which would become the target of multiple Allied bombing raids during the war.  Most Dresden area camera makers sustained heavy losses and in many cases, were totally destroyed.  After the war, what little remained of Dresden's camera factories would fall under the rule of Soviet controlled East Germany.
From this point, the history of the Contax name would split into two.  Stuttgart based Zeiss ownership insisted the design and trademarks belonged to them, and a new and improved Contax rangefinder would be designed and sold in West Germany, and in East Germany, a completely unrelated Single Lens Reflex camera would be released in 1949.
This new Contax SLR would be innovative for it's use of a pentaprism viewfinder which addressed one of the major shortcomings of SLRs of the time, but would also be the first successful SLR to use the "universal" M42 screw mount.  Both the East and West German Zeiss companies would become embroiled in a trademark dispute over the Contax name and as a result of that lawsuit, only Contax SLRs sold within East Germany would have the name Contax, whereas any exported out of the country would be renamed the Pentacon.
Both the West German Contax rangefinder and the East German Contax SLR would be produced throughout the 1950s and both would be discontinued around 1961, being replaced by more modern models.
The 1960s would not be kind to the German camera industry.  A combination of a reliance on outdated designs and technologies, combined with the rapid rise of the Japanese camera industry saw many once powerful German optics companies falter.  In East Germany, nearly every Dresden area camera maker would be combined into a single government controlled entity called VEB Pentacon Dresden, never to use the Contax name again.
In West Germany, Zeiss-Ikon would continue on with a larger number of mid to low end cameras and in the mid 1960s would merge with Voigtländer, releasing several new models such as the Icarex SLR and Vitessa 500/1000 series using the expertise of both companies.
In 1973, realizing that the company's best chances of competing with Japanese camera makers, was to partner with a Japanese camera maker, an agreement between Carl Zeiss and Yashica was made to cooperatively build a new line of 35mm SLR cameras using Zeiss's excellent lenses and engineering, and Yashica's expertise at electronics and manufacturing.
Two years later, an all new camera system was born with a new lens mount which would become known as the C/Y or Contax/Yashica mount.  The first cameras to be released under this licensing agreement were the Yashica FX-1 and Contax RTS.  The new Contax RTS was the first appearance of a Contax branded camera in over a decade and was a technological marvel.  The Zeiss and Yashica partnership was mutually beneficial to both companies.  Yashica would build the camera and be able to sell them with prestigious Zeiss lenses, and Carl Zeiss could license their trademark and build lenses for a Japanese camera that freed them from the high costs of building a camera themselves.
In 1983, Yashica would be acquired by Kyocera, a multi-national Japanese firm known for it's role in the ceramics industry.  In the years prior, Kyocera had been expanding into various consumer electronics markets, selling their own line of audio receivers, CD players, cassette decks, and speakers.  At first, their ownership of Yashica saw few outward changes, as both Yashica and Contax branded cameras continued to be sold.
By the mid 1980s, as other camera makers like Minolta introduced auto focus SLRs, Kyocera decided to use the Yashica name solely for entry level point and shoot cameras, hoping to leverage mass production of cheap cameras, over more expensive and slow to sell SLRs.  The Contax name would continue to be used on mid to high end cameras, although on a smaller number of models.
Contax cameras would continue to use the original C/Y lens mount and would remain manual focus only, but would begin to experiment with hybrid types of automatic focusing on two models.
The second model was the Contax AX, which featured an innovative auto focus system, in which the entire film assembly, including the reflex mirror, pentaprism, and focal plane would move forward and back, accomplishing auto focus on lenses not designed for it.  Through the use of adapters, a large number of other manual focus lenses, including some Hasselblad lenses could achieve automatic focus on this model.
The first model, however was the Contax RX which featured Through the Lens (TTL) Phase Detection Auto Focus that could display focus confirmation and depth of field within the viewfinder.  The RX was entirely manual focus, but with the camera to the eye, the photographer could see an LCD scale that would let them know whether their subject is focused too far, too close, or just right.  Similar systems would be used on other manual focus with focus confirmation SLRs such as the Canon T80 and AL-1, Minolta X-600, and the Pentax ME-F, but these were far less advanced, only showing whether the image is focused or not, without the ability to show how far.
The following two reviews of the Contax RX came from the December 1994 and 1995 year end wrap ups from Popular Photography.  Most of the wording is the same between the two, but there are some differences, the most notable of which is how well the opinion of this camera held up a year after it's release.
Contax's new "Digital Focus Indicator" as they called it, wasn't the only feature of the Contax RX, as the camera had a very long list of features such an excellent SPC auto exposure system plus full manual control, a fast 1/4000 shutter, multiple metering and flash modes, three exposure bracketing, a data back, interchangeable viewing screens, and much more.
The Contax RX was not at the same level as professional cameras like Kyocera's own Contax RTS III or Nikon's F5, but it was still a very well equipped model and it came with a price to match.  Selling new without a lens, the Contax RX body carried a retail price of $1499.99.  As was common with cameras of this era, street prices were quite a bit less, with an August 1996 ad for B&H Photo had the camera priced at $1094 after a $75 manufacturer's rebate.  When adjusted for inflation, these two prices compare to around $2800 and $1955 today.
Shortly after the camera's release, a second model called the Contax RX II was offered in Japan only and was identical in every way to the original model, except it lacked the DFI focus detection feature.  The simpler Contax RX II carried a lower price, but exactly how much lower, I cannot be sure.
Apart from the previously mentioned Contax AX from 1996, Kyrocera would soon discontinue their lineup of manual focus C/Y mount SLRs, replacing them in 2001 with an all new auto-focus Contax N1 and in 2002 the NX.
The  Contax N-series would be short lived as the dawn of the digital era put too much of a dent into the sales of high end 35mm film DLRs.  A DSLR called the Contax N-Digital would be released in 2001, also using the same lenses as the film N-series, but would be short lived.  In 2005, Kyocera would discontinue using the Contax brand name and exit the SLR business altogether.
Today, the Contax brand resonates with collectors of all eras.  Whether it's one of the many excellent pre or post war rangefinders, to the early Zeiss Contax SLRs to the later series of Yashica and Kyocera produced models.  For the film enthusiast who wants a high end film SLR with all of the conveniences and technology of a modern DSLR, the Contax RX is one of the best options out there.
They're not cheap though, especially if you want to use them with Zeiss glass.  Sold prices on Contax RXs with Zeiss Tessar lenses start at $375 and go up quickly from there.  For the budget minded person, using a Yashica lens can make them a bit more affordable, but not by much.
My Thoughts
In March 2021, I wrote a review of the Contax RTS III, a camera that I explained when I bought it, I had hoped might become a modern "go to" camera that I would come back to often for those times when I just wanted to shoot film for the fun of it.  I spent a little more than I usually would for it as my budget minded purchases typically do not let me get models with so much technology.  The fact that it came with a pristine looking 35mm Zeiss Distagon lens also helped me justify the added cost.
As it turned out though, despite the seller claiming the camera was in perfect working order, it wasn't.  The camera powered on OK and even fired it's shutter, but the film advance didn't work at all.  No matter what I tried, the camera would not load film, so back to the seller it went and my search for another modern "go to" camera continued.
That's when I met Peter Tunon who had a Contax RTS II body for sale at a nice price.  I knew this camera wouldn't compare to the RTS III, but still itching to shoot a somewhat modern Contax SLR, I picked it up.  After telling him my story of the dead RTS III, Peter told me that he might have the next best thing, a Contax RX that he would let me borrow, oh who am I kidding, I bought them both!
Oooh, I thought!  Interestingly, the Contax RX was the first Contax SLR I had ever sought out back when I first started collecting.  It's focus assist ability was something I thought would be super cool on a manual focus camera, similar to the Canon AL-1 that I really enjoyed shooting.  Sure, I said, and Peter sent the RX on it's way.
The Contax RX is a mighty beast.  Not quite as might as the RTS III, but with a body only weight of 862 grams, this is definitely a camera you'll notice hanging around your neck for extended periods of time.  I find it interesting that compared to cameras from the mid 20th century who had very little electronics and were made entirely of metal, as cameras got more advanced and used more composite materials, they actually got heavier.
Credit goes to Kyocera though, for as heavy as this camera is, it is very balanced and fits perfectly in my hand.  The right hand grip is deep enough to allow for confident one handed operation, without requiring you to contort your phalanges in order to reach the camera's controls.
Up top, the Contax RX is a bit cluttered, which for the first time user might feel a bit intimidating, but it only takes a few minutes to get a feel for where everything is located.  Like many other Contax SLRs, the shutter speed dial is on the left, as is a collar around it for selecting the various auto and manual exposure modes.  In order to change exposure modes, you must first press and hold a lock button on the back of the camera, behind this dial.  When setting the exposure modes to either Tv (shutter priority) or P (programmed), you must remember to set the lens to it's minimum f/stop.
The shutter speed dial makes the best of it's entire circumference as it has indicated speeds from 4 seconds all the way to 1/4000.  You can rotate the shutter speed dial in any direction and go straight from the fastest to minimum speed if you wish.
To the right of the flash hot shoe above the prism is a small adjustable diopter knob for the viewfinder.  Next to it is an exposure compensation dial with options from -2 to +2 EV in 1/3 stop increments.  Beneath this dial is a collar for Automatic Bracketing Control.  With this collar set to '0', bracketing is off.  Turning it to either '0.5' or '1' enables three shot bracketing in which the camera will exposure three consecutive frames, bracketed by either a full or half stop.  Bracketing works in any exposure mode, even Manual, in which it will automatically bracket the shutter speed from whatever you have selected.
Next to the exposure dial is a drive mode selector with options for Single and Continuous shooting models, plus the Self-Timer.  The option with a small lever 'o' enables the Digital Focus Indicator focus assist mode.  In both the 'S', 'C', and self-timer modes, the default option is for the viewfinder to display a depth of field scale, so this setting changes how this scale works.  One final position is used for intentional multiple exposures on a single frame of film from 2 to 9.  With the camera in this mode, use the two small "up / down" buttons beneath the LCD screen to choose many you wish.  Changing between any of these drive modes requires you to lift up on the mode dial while turning, to reduce the chance of accidental drive mode changes.
Around the drive mode dial is a collar for selecting spot or center-weighted average metering modes.  The manual cautions against using spot metering with a straight line polarizing filter attached to the camera.
Above the drive mode selector is the shutter release with a collar around it that functions both as the power switch and for locking the auto exposure setting.  When this switch is in either the "ON" or "AEL" position, a red dot beneath the lever is visible, letting you know the camera has power.
Finally, beneath the power switch is a blue tinted LCD screen that displays things like number exposures, film speed, DX or manual modes, battery status, multiple exposure mode, or custom function modes.  Two unmarked "up / down" buttons below the LCD are used to cycle between different options in various modes.
Flip the camera over, and the bottom has very little to see.  Only the centrally located 1/4″ tripod socket and a small coin operated lock for the battery compartment is visible.  Rotating this lock allows you to remove the entire base plate of the camera which is where the single 2CR5 lithium battery goes.  Unlike the Contax RTS III which gives you the option of a lithium or 6x AA batteries, the RX does not natively support AA batteries, however an external P8 Power Pack can be used which uses 4x AA batteries and attaches to a small port in the bottom left corner of the back of the camera.
On the outside of the film door is the display with control buttons for the data back, a clear window for seeing the writing on the side of an installed 35mm cassette and a small raised thumb rest on the right.
Above the door is the exposure lock button mentioned earlier and the rectangular eyepiece for the viewfinder which has a shutter blind feature actuated by a small lever on the left.  To the right of the eyepiece is a manual film rewind button, camera model and serial number, and finally a socket for an optional electronic cable release socket.  This socket is not compatible with a traditional mechanical cable release.  Using the camera's custom settings feature, you can optionally set the camera to leave out the leader on an exposed cassette after rewinding.
The camera's left side has the sliding lock and button for opening the film compartment door, and a PC flash socket for use with external or unsynchronized flashes.  From this side you can also see the little lever for using the viewfinder shutter blind.
The right hinged film door opens to reveal a very modern film compartment.  Features like DX film coding, a quick load feature, removable film door, electronic contacts for the data back, a large and oversized film pressure plate and polished rails and rollers are all there to ensure the smoothest possible film transport.
Loading film is very easy, simply press the film cassette into the compartment on the left, and extend the leader to the mark and close the door.  There are no forks to lift up and out of the way and no slots in a take up spool to contend with.  The Contax RX is at the pinnacle of 35mm film loading.
The Contax RX uses the same Contax/Yashica bayonet lens mount first used on the original RTS from 1975.  Both Zeiss and Yashica branded lenses will mount to the Contax RX and while most people will drool over the wonderful Zeiss glass, Yashica's lenses are quite capable as well.
Attaching and removing lenses requires you to first press the lens release button located on the side of the mirror box near the 10 o'clock position around the lens.  A quick counterclockwise twist removes the lens and installation is exactly the opposite.
Below the lens release button near the 8 o'clock position around the lens is the depth of field preview button.  This stops down the diaphragm to the chosen f/stop.  This button will only work with the camera in either manual or Av (aperture priority) modes.
Finally, near the bottom of the hand grip is a small LED that will flash when the self-timer is activated.
Depending on which lens you have attached to the Contax RX, the layout and design of the controls will be a little different, but they should all have an aperture scale from biggest to smallest left to right and a focus ring closer to the front edge of the camera.  On this 50mm f/2 Yashica Lens, the aperture scale has prominent click stops and the focus ring moves fluidly, with little resistance.
Continuing with the modern features, modern ergonomics, and modern film compartment, the Contax RX viewfinder is very modern, with a DSLR-like interface.  The focusing screen is extremely bright, allowing for easy focus even indoors.  With the f/2 Yashica lens mounted, I don't know that a faster f/1.4 lens would make any noticeable difference in brightness.
Despite all of the advanced features of the Contax RX, this is still a manual focus camera, so the presence of a split image and microprism focus aides is welcome, but almost seems out of place as I'm not used to seeing them on such an advanced camera.  Nevertheless, they are there, and they work exactly as you'd expect them to.  In a weird sort of way, the combination of such a bright viewfinder and easy to use focus aides almost negates the benefit of the RX's focus assist features.  While they certainly are neat, I can't think of many circumstances where I'd need the electronics to tell me something is in focus, when I could just see it for myself.
The gallery above shows three composite images of the viewfinder showing the lens intentionally out of focus and in focus.  In the first image, the focus is set too close, and the LCD at the bottom is telling me that I am way off, the middle image shows it accurately focused, and the third image, I am focusing too far away so the camera is telling me I'm way off, but in the other direction.  Also note that in the first image, the lens is set to f/16, giving me maximum depth of field.  The small triangles over the focus indicator show a wide depth of focus, but in the second and third image, I'm at f/8 showing slightly less depth.
The LCD itself has a green backlight making it very easy to see, even outdoors.  In addition to the focus and depth of field scale, there are many things you'd expect to see from a film or digital SLR from this era.  Shutter speeds and f/stops, exposure mode, number of exposures left, and flash status all visible depending on the selected mode for the camera.
If for whatever reason, the default split image and microprism focus aide viewing screen is not for you, Kyocera made four other viewing screens available for the Contax RX.  Swapping screens is done through the lens mount using a special pair of tweezers which are included with each new screen.  Simply pull the screen out, being careful not to touch it with your fingers and replace it with another.
Overall, the Contax RX is a heck of a camera.  It's a bit intimidating the first time you handle it, but after going over it's external controls, you can begin to see the thought in it's design.  Flipping through the manual is a must to get the most out of this camera, but for quick shooting, the camera is simple enough for the first timer.
With the disappointment of my previous Contax RTS III still fresh in my memory, I was cautiously optimistic about this Contax RX and couldn't want to load in some film and start shooting with it.
My Results
This Contax RX is set to take the place in my collection that an earlier Contax RTS III was supposed to, but that camera's completely dead operation meant I had to keep looking.  With confirmation that this RX was in good working order, I used it as a carry around camera in the summer of 2021 and loaded it with various rolls of Kodak ProImage 100 and Fuji 200 color films.
I'll skip any major analysis of the camera's images.  While I did not have a Zeiss lens on the camera, the Yashica Lens I did have more than adequately did it's job.  Sharpness was great, and although the expired Kodak Gold 100 had some muted colors, the rendition of the colors on the fresh ProImage was excellent.  Yashica lenses have a long history of delivering the goods, and that hasn't changed here.
After using the Contax RX a bit throughout late summer 2021, the major question is, does this camera fill the role of a premium go to camera for everyday photography, that I had initially hoped the RTS III would?
I'd say mostly.
The Contax RX is a fantastic camera, with pretty much every feature you could want in a manual focus camera.  It has a large and very bright viewing screen and although the body is large, it is very comfortable to hold.  The ergonomics and control layout definitely require a bit of time to familiarize yourself with, but as a fan of older cameras with mechanical knobs and switches, I do appreciate how many of the camera's functions can be accessed with some type of physical switch, instead of being buried in some convoluted menu, only accessible through an LCD screen and directional pad.  This not only allows you direct access to a specific feature, but also lets you see at a glance what it is set to, without having to understand hieroglyphs on a screen.
Auto exposure performance is perfect, and as good as the best film SLRs ever made.  With a huge range of shutter speeds, there aren't likely to be many exposure situations that the camera wouldn't be able to handle.  The camera has a good level of customization including the ability to leave the leader of the film cassette out while rewinding the film, control over how the aperture stop down button works, the order of exposures when bracketing, and many, many others.
The camera feels tough and sturdy in your hands, offering a level of confidence when shooting in less than ideal situations.  While the camera is not exactly waterproof, it can handle splashes, which is why I felt comfortable taking it with me into a swimming pool and capturing some moments without fear of a wayward splash causing any damage.
Where I stop short of declaring the Contax RX the perfect SLR for film photographers who want an every day SLR over all of the many other also excellent SLRs out there comes down to two things.  For starters, the one feature that is supposed to set the Contax RX apart from everyone else is the DFI Digital Focus Indicator.  This was the signature feature that drew me towards to the camera in the first place.  It's a manual focus camera with auto focus capabilities.  What self respecting film enthusiast wouldn't want that?
I'll admit that the feature works great, and does everything I had hoped it would do, if I'm being completely honest, I found that after a few "gee whiz" moments the first couple of times I used it, I didn't find that it benefitted me in any way.  After a few tried, I reverted back to just looking at the focusing screen and using the split image and microprism aides, just like I would on any other manual focus SLR.  It seems that Kyocera did such a great job designing the viewfinder of the Contax RX, making it so bright and easy to use, that it somewhat negates this feature.  So if you are specifically looking at the Contax RX for this one feature, I caution you from getting your excitement too high as I honestly don't think it helps all that much.
My other reservation about the camera is lack of lens support.  While the Yashica lenses made in the C/Y mount are fine, there's just a lot less of them.  If you are a purist and want to pick up one of the illustrious Zeiss lenses out there, be prepared to open your wallet.  For the privilege of shooting the Contax RX with a wide angle Distagon or ultra-fast Planar lens, you are going to have to pay.  And at the end of the day, I'm not sure you've gained anything that you couldn't gain with much less expensive Nikkor, Rokkor, or Canon lenses on each of those respective systems.  This price disparity makes the Contax RX seem more like a luxury item, rather than a do-it-all every SLR that I was looking for.
Of course, these are minor squabbles.  If you don't care about focus assist and your budget allows for more expensive lenses, the Contax RX is fantastic!  I love this camera and will definitely use it again.  I am glad that Peter and I were able to reach an arrangement for me to keep this camera and I am certain that anyone considering it will be just as delighted as I am.  I guess if there's just one word of caution on the fence, is that you should have the proper expectations of it, as there were many other, equally great SLRs released in the same era as this camera.
Related Posts You Might Enjoy
External Links
http://camera-wiki.org/wiki/Contax_RX
https://emulsive.org/reviews/camera-reviews/contax-camera-reviews/the-contax-rx-my-search-for-the-perfect-camera
https://www.lomography.com/magazine/339473-lomopedia-contax-rx
https://www.invernodreaming.com/blog/contax-rx-review
https://shootfilmridesteel.com/contax-rx/
http://www.fogdog-photography.com/fogdog-blog/2017/12/21/rewind-contax-rx
https://www.photo.net/discuss/threads/contax-rx-opinions.115594/