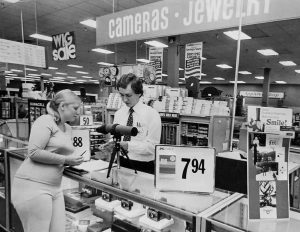 Myself and most of the people listening to this podcast are well aware of what it's like to buy film cameras and photography gear, but less of us know what it's like to sell it.  On this, the 30th episode of the Camerosity Podcast, the gang and I bring on some current and former employees of various camera stores to give us some insight into what it's like on the other side of the counter.
From Gene's Camera in South Bend, Indiana, we have owner Jack St. Pierre and regular guest Jon Gilchrist.  From Alpine Camera in Des Plaines, Illinois, owner Chuck Miller.  From South Florida, former camera store employee of Gold Triangle Department Store is Stephen Grasso, and finally, our own host and former camera store employee and owner, Paul Rybolt share with us stories of how things used to be, and also discuss some of the biggest changes they saw in the industry during their time.
Joining our camera store crew are returning callers, Hong Lee, Mark Faulkner, Andrew Smith, Jess Ibarra, and Michael Gossett, and first time callers Andrew Almendarez and Steven Lederman who bring up other interesting topics like whether buying cameras make for good investments, whether lens fungus is contagious, and where the origins are of Kodak film.
In addition to all of these exciting discussions, we witnessed the first ever "IN SHOW" purchase where Stephen Grasso buys something from Paul's eBay store!  Make sure you listen in and find out what camera it is!
As always the topics and discussions on the Camerosity Podcast are entirely up to you.  While we make an attempt to have a general idea on how to get a show started, the topics almost always veer off into wild and unexpected directions.  If you'd like to ask us a question or wish to hear us discuss your favorite brand of camera or film, consider joining us on our next episode and steer us in that direction!
Be sure to look for our next show announcement coming soon, and we will record Episode 31 on Monday, July 25th!
This Week's Episode
Introducing Gene's Camera in South Bend, IN and Alpine Camera in Des Plaines, IL
How Does a Camera Store Survive Today in 2022 Compared to 20-30 Years Ago? / Diversify
Dwayne's Photo Does Dip and Dunk / Do People Still Service Noritsus?
What are the Biggest Changes to the Camera Store Industry? / Minilabs Were a Huge Change
The Loss of Photo Processing Hurt Many Stores / Processing Brings Back Customers Three Times
Mail Order and No Sales Tax Hurt Stores More than Big Box Retailers / Camera Stores Send Customers to Each Other
The COVID-19 Pandemic Helped Camera Stores / Business Grew Because of Remote Video and Photography is a Good Social Distancing Activity
Paul, Chuck, and Jack Reminisce About Camera Stores Long Gone / Altman Camera in Chicago
Changes in the Age of Camera Store Customers / More Younger People Are Shooting Film Everywhere
The Prices of Film Probably Won't Come Down / The Less Common Something is the More People Want It
Are Cameras Good Investments? / Besides Leica, Mike Doesn't Think So, but Paul Disagrees
Paul Is Selling a Leica M5 on eBay, Someone Should Buy It!
Do Mike's Reviews Increase the Values of Cameras? / Franka Rolfix II
Investments Are Questionable, But You Certainly Won't Lose Money on Cameras / They're Not Depreciating Anymore
Standard Prisms for the Nikon F and F2 Have Great Value Today
Paul Sells a Leica M5 on the Show / Use a Wein Cell in the Leica M5s, not a Cheap Alkaline Equivalent / Can't Test the Meter Without a Lens
Michael Gossett Returns to Talk About his ASNCO Speedex He Bought from Paul / The Leica M5 Has a Great Shutter Speed Dial / Canon EF
Mark Hama is Still Taking on New Work / Andrew Sends His Alpa to Radu
Should You Keep Lenses With Fungus Away from Other Lenses?
Theo's Latest Pickups / Franka Rolfix II / Mamiya U / Closter IIa / Mamiya Korvette
Chuck Has a Huge Kodak Sign / Mike is Looking for a Hanging Kodak Promotional Light
Someone is Selling a Roll of Kodak Verichrome Pan 620 for $155 on eBay / Anthony Shoots IR Film in the Kodak Medalist
Kodak is Definitely Making Fuji 200 / Kodak Vision3 Cinema Film / 50D is Mike's Favorite / Short Ends of Vision3 at Mono No Aware
Show Notes
If you would like to offer feedback or contact us with questions or ideas for future episodes, please contact us in the Comments Section below, our Camerosity Facebook Group or Instagram page, or email us at [email protected].
The Official Camerosity Facebook Group – https://www.facebook.com/groups/camerositypodcast
Camerosity Instagram – https://www.instagram.com/camerosity_podcast/
Camerosity Twitter – https://twitter.com/CamerosityPod
Mono No Aware – 35mm Film and Short Ends – http://mononoawarefilm.com/film-stock
Jack St. Pierre and Jon Gilchrist – Gene's Camera – https://www.genescamera.com/
Chuck Miller – Alpine Camera – https://www.alpinecamerausa.com/
Mark Faulkner – https://thegashaus.com/
Andrew Smith – https://www.youtube.com/channel/UClXrAlbnU3gvdRrJ5gAR4mw
Jess Ibarra – Viva La Film – https://www.vivalafilm.com/
Theo Panagopoulos – https://www.photothinking.com/
Paul Rybolt – https://www.ebay.com/usr/paulkris
Anthony Rue – https://www.instagram.com/kino_pravda/ and https://www.facebook.com/VoltaGNV/
Camerosity can also be heard on the following services:
Google – https://podcasts.google.com/feed/aHR0cHM6Ly9mZWVkLnBvZGJlYW4uY29tL2NhbWVyb3NpdHkvZmVlZC54bWw
Apple – https://podcasts.apple.com/us/podcast/camerosity/id1583252688
Amazon Music – https://music.amazon.com/podcasts/9d316c9e-5461-4fa5-9e04-24fd27fffc3f/camerosity
Podchaser – https://www.podchaser.com/podcasts/camerosity-1985806