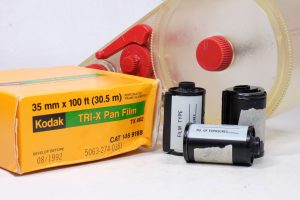 After stroking our egos as The Nerdiest Film Photography Podcast, the guys and I double down the nerd level to "Ludicrous Speed" and take a deep dive into expired films and home development tips and tricks.
With us this week are two guys that have a whole history of shooting expired films and home developing, first Adam Paul, owner and proprietor of the Classic Film Shop which has in stock over 30 different types of expired films from easy to find things like expired Kodak Tri-X to obscure nitrate films from the 1940s.  Adam is a big proponent of cold stand development in which black and white developers like HC-110 are developed in "refrigerator cold" temps for long periods of time to help preserve the details of significantly aged films.  His experience both with expired films and home developing is amazing.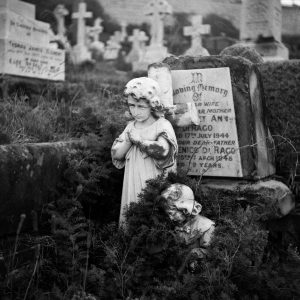 Along with him is Alex Luyckx from the blog of the same name and the Classic Camera Revival Podcast.  Alex does some of the best expired film reviews, often developing these films in 3-4 different developers to show the strengths of each.  In addition to shooting obscure films, Alex also sometimes uses obscure developers that can't easily be found anymore.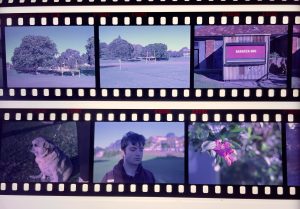 As if that's not enough, Robert Shanebrook makes a triumphant return to keep us all in line with the facts about these old films.  Robert may not do much home developing anymore, but his knowledge of old Kodak films cannot be matched by anyone.
Joining our three experts are returning callers Mark Faulkner, Howard Sandler, Miles Libak, Andrew Smith, and Alex Dietrich and first time callers Mike Litwin and from the All Through a Lens podcast, Vania Francesca.
As always, the topics we discuss on the Camerosity Podcast are decided by you.  The guys and I rarely know where each episode is going to go until it happens, so if you'd like to join us on a future episode, be sure to look out for our show announcements on our Camerosity Podcast Facebook page, and right here on mikeeckman.com.  We record every other Monday and announcements, along with the Zoom link are typically shared 2-3 days in advance.
So stay tuned, and if you'd like to ask us a question or give us some topics to discuss, look for our show announcement for Episode 34, which we will record on Sunday, October 9th!
This Week's Episode
Mike Was Wrong about ECN-2 Development / Removing the Remjet / Cinestill ECN Kits
Kodak Tech Pan / POTA Developer is a Replacement for Technidol / Agitation Changes Contrast
Mike is Shooting Tech Pan in a Praktica VLC2, The Successor to the Exakta RTL 1000
Adam Paul Reopens His Classic Film Etsy Store / Standard Development vs Cold Stand / Bromide Drag
Legacy Pro L110 is an Excellent Substitute for HC-110 / History of HC-110
Paul Has the Manual for D-61, E-82, DK-60A and a Whole Bunch of Old Processes / Paul is Not a Hipster!
Ektapan and CPS/CPL Color Films / Tricks for Developing Old C-22, C-41, and E-4 Film
Alex Reviews Kodak Plus-X Aerecon II / Adox XT-3 Developer / D-76 Will Always Give a Good Baseline
H&W Control / High Definition Aerial Film 3404 or 3414 Was Used in Satellites and Came in 30 Mile Lengths
Adam's Strange Films / 35mm Photographic Paper / Yellow Pink and Green Film
What is a Safe Expired Film for People to Try / Kodak Plus-X and Pan-X / 35mm is Safer than 120 Because of Backing Paper
Problems with Roll Film Backing Paper / Challenges of Tape and 220 / East German Films Typically Do Not Survive Well
The One Stop Overexposure Per Decade Rule is Hogwash / Kodak Ektar 25 Wasn't Very Good
Early 120 Backing Paper Had a Grinding Process Called Skiving That Changed the Thickness Near the Edges / Other Changes to Backing Paper
Environmental Safety Concerns Developing Film / Do You Wear Gloves While Developing?
Ansel Adams Had His Organs Tested for Selenium Poisoning From Film Development
Lightning Round: What Is Your Favorite Expired Film to Shoot With?
Vania's Tips For Getting into Expired Film / Shooting Manatees with a Rolleimarin
Mike Litwin's Yamato Mini-Electro 35 / Cameras That Chew Up Film / KMZ Leningrad / All Miranda SLRs / Kodak 35
Paul Gets More Contax Stuff / Contax T / Early Contax Bodies are Rear Lens Caps for Contax Lenses
Zeiss-Ikon Contessa 35 / Repairing the Kodak 35 / Theo Buys a Leica D-Lux 3
Ektachrome E-Dupe Slide Duplicating Film
Show Notes
If you would like to offer feedback or contact us with questions or ideas for future episodes, please contact us in the Comments Section below, our Camerosity Facebook Group or Instagram page, or email us at [email protected].
The Official Camerosity Facebook Group – https://www.facebook.com/groups/camerositypodcast
Camerosity Instagram – https://www.instagram.com/camerosity_podcast/
Camerosity Twitter – https://twitter.com/CamerosityPod
Adam Paul's Classic Film Shop – https://www.etsy.com/shop/ClassicFilmShop
Alex Luyckx – http://www.alexluyckx.com/blog/
Robert Shanebrook – http://www.makingkodakfilm.com, [email protected]
Howard Sandler – https://www.flickr.com/photos/hsandler
Theo Panagopoulos – https://www.photothinking.com/
Paul Rybolt – https://www.ebay.com/usr/paulkris
Anthony Rue – https://www.instagram.com/kino_pravda/ and https://www.facebook.com/VoltaGNV/
Camerosity can also be heard on the following services:
YouTube – https://www.youtube.com/channel/UCWyeY-1uD2VjhgPODY9MBug
Google – https://podcasts.google.com/feed/aHR0cHM6Ly9mZWVkLnBvZGJlYW4uY29tL2NhbWVyb3NpdHkvZmVlZC54bWw
Apple – https://podcasts.apple.com/us/podcast/camerosity/id1583252688
Amazon Music – https://music.amazon.com/podcasts/9d316c9e-5461-4fa5-9e04-24fd27fffc3f/camerosity
Podchaser – https://www.podchaser.com/podcasts/camerosity-1985806