This is a Koni-Omega Rapid, a medium format rangefinder press camera that shoots 6cm x 7cm images on 120 and 220 roll film.  The Koni-Omega Rapid is the successor to the original Omega 120 made by Simmon Bros Inc in 1954, which itself was based off an earlier military camera produced by Simmon Bros during World War II.  The Koni-Omega Rapid was produced by Konica of Japan and is a complete system camera with a variety of lenses and shutters, film magazines, and a wide array of accessories made for it.  The camera gets it's name from it's unique rapid film advance lever, which when pulled out and pushed back, rapidly advances film and readies the shutter for the next exposure.  The Koni-Omega was a very successful platform and remained in production until the early 1980s.
Film Type: 120 Roll Film (ten 6cm x 7cm exposures per roll) Optional 220 Film Magazine for twenty exposures
Lens: 90mm f/3.5 Koni-Omega Hexanon coated 4-elements in 3-groups
Lens Mount: Koni-Omega Breech Lock Bayonet
Focus: 3 feet to Infinity
Viewfinder: Coincident Image Coupled Rangefinder with Normal and Tele Projected Frame Lines, Automatic Parallax and Field Correction
Shutter: Koni-Omega MX Leaf
Speeds: B, 1 – 1/500 seconds
Exposure Meter: None
Battery: None
Flash Mount: 3x Cold shoe and M and X Flash Sync
Other Features: Interchangeable Magazines with Dark Slide, Removable Hand Grip, Multiple Accessory Shoes
Weight: 2045 grams
Manual: https://www.cameramanuals.org/prof_pdf/koni-omega_rapid.pdf
The Koni-Omega Rapid was a professional camera offering a long list of features not often found in other models.  It's unique rapid film advance allowed for the fastest, non motorized drive exposures of any camera.  Combined with a rangefinder in a very large viewfinder with automatic parallax and field correction, interchangeable lenses and shutters, and interchangeable film magazines, the Koni-Omega Rapid is one heck of a camera.  It is also very large and does not fit easily into most camera bags.  It's left handed operation takes some getting used to, but assuming you can get past all of this, is capable of wonderful images!
Images
Handling
Features
Viewfinder
Feel & Beauty
History
Age
2
1
2
2
1
2
20%
Bonus
+1 for innovative design, one of the most unique cameras ever made
Final Score
12.0
History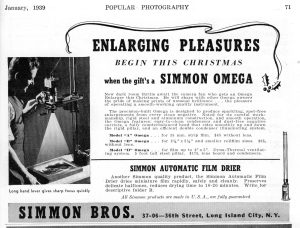 In 1935, three American brothers, Alfred, Fred, and Rudolph Simmon formed a company called Simmon Bros who produced a 35mm enlarger for the photographic market.  The name "Omega" was chosen and registered as both their brand and company trademark.  The original Omega Model A quickly went on sale followed up by Models B and D, which could handle larger 2¼ inch x 2¼ inch and 4 inch by 5 inch formats, respectively.
During World War II, like many American manufacturing companies, Simmon Bros secured contracts with the US Signal Corps and US Navy and started producing items for the American war effort.  Instead of civilian products, Simmon Bros reconfigured their enlargers for use in a wide variety of military applications.  As images would be taken and developed, Omega enlargers were used in battlefield situations to make larger prints for strategic applications.
In addition to enlargers, in 1944, the company's first camera, the Combat Camera PH-501/PF was produced exclusively for the US Signal Corps.  The PH-501 had a rugged magnesium body that was both strong and lightweight, and took 2¼ inch x 3¼ inch images on sheet film.  The camera had a unique focal plane shutter designed specifically for this camera that used a single rubber coated cloth curtain with predetermined slits in the curtain material for each of the camera's six different speeds.  Changing shutter speeds changed the position of the curtain so that when fired, it would expose film only through the opening of the exact width that corresponded to the chosen speed.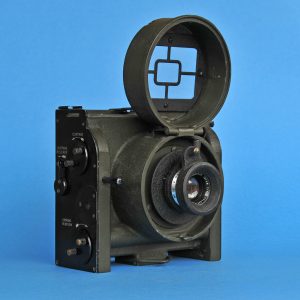 The PH-501 had an interchangeable 58mm screw thread mount with the standard lens being a 101mm f/4.5 Wollensak Velostigmat, and only a single optional lens, a 225mm f/6.3 Ilex Paragon. With the 101mm Wollensak lens mounted, the top mounted viewfinder hood could be folded down over the front the camera, protecting the lens.  It is not clear if other lenses were planned for the camera and never produced, but my best guess would be that they would have been.
The camera's introduction in November 1944 so close to the end of the war means that very few were ever made before the war ended.  Based on known serial numbers, less than 250 were thought to be made, but accurate numbers were never kept.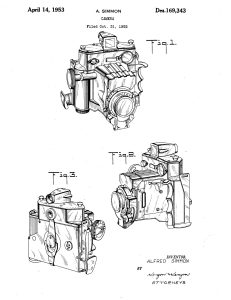 Once the war ended, without any need for Simmons military products, the company once again turned it's attention towards civilian enlargers.  This would continue until around 1952 when Alfred Simmon would begin work on an all new camera.  Perhaps wanting to build upon the company's efforts building the Company Camera, Simmon's as of yet unnamed new camera was an all new design that had an interchangeable leaf shutter lens mount and used some type of roll film magazine instead of using sheet film like the Combat Camera.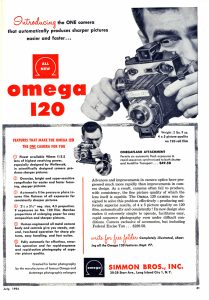 When it was released in 1954, the Simmons Omega 120 was unlike any other camera the world had seen.  Featuring a distinct, upright body that vaguely hinted at Simmon's Combat Camera past, the Omega 120 had an innovative rapid film transport, allowing for a quick succession of exposure up to 1 frame per second.  It had a fully parallax corrected rangefinder viewfinder with multiple frame lines for various focal lengths.  It used a proprietary interchangeable lens mount in which shutters were built into the lenses themselves.  It shot 6cm x 7cm images that were perfect for portraits as they could be enlarged to an 8″ x 10″ print without cropping.  Finally, it had a fine focus knob located on the camera's side which moved the entire lens standard fore and aft on a geared track for precise focus.
In their August 1954 issue, Modern Photography took a look at the Omega 120, going over it's many innovative features, proclaiming it to be one of the easiest and fastest handling cameras devised for any size film.  Compliments were given for the camera's strange, but logically located controls, excellent viewfinder and selection of lenses.  The only cons mention were it's size and loud operation, suggesting it wouldn't be ideal for portraiture, but as a sports or documentary film camera would fit right in with professional medium and large format cameras of the day.
The Simmons Omega 120 was a moderate success.  It's quick and easy operation earned it high marks in photography magazines and praise from professional photographers, but it's bulky size, strange operation, and price tag of $239.50, which when adjusted for inflation compares to around $2550 kept it out of the price range of most amateurs.
The Simmons Omega 120 was the predecessor of the Koni-Omega Rapid which first made it's debut in 1964, but it is not clear whether the Omega 120 was built right up to the start of the Konica model, or if there was a gap.  Based on a complete disappearance of the Omega 120 appearing in advertisements and magazine mentions by the late 1950s, my best guess is that it ceased production around that time.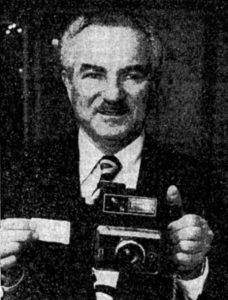 Making the jump from Simmons to Konica is a little tricky, but it starts with Russian/Ukrainian born citizen named Benjamin Berkey who emigrated to the United States shortly after his birth in 1911.  Around 1932, after graduating from college and using a $300 loan from his mother, Berkey bought a photographic studio on Grand Street on the Lower East Side of New York City.  From there, Berkey got into the distribution of photographic goods from Germany and after World War II, also from Japan.
In the 1950s, Berkey arranged for retail sale of many of his imported goods in popular New York Camera retail stores such as Willoughby's and Peerless Camera, helping to create awareness for the company and the brands they imported.  This attracted the attention of the Simmon Bros who around 1955 decided to merge with Berkey, becoming a division of the company so that they could focus on creating new products and less on the distribution and sale side of things.
Meanwhile, in Philadelphia, a German born immigrant named Henry Froehlich had also gotten into the distribution business of Japanese optical goods, and in 1951, acquired the rights for US distribution of the Konishiroku Photo Industry Company of Japan, and formed the Konica Camera Company.  Konishiroki's line of folding medium format Pearl cameras and 35mm Konica cameras were imported to the United States as economical alternatives to more popular German cameras of the time and helped earn a positive reputation for Froehlich and his company.
In 1961, Henry Froehlich and the Konica Camera Company merged with Berkey Photo, becoming a wholly owned subsidiary, adding Konica products to it's growing list of brands distributed to New York camera stores and others across the country.  Is was this time that both Konica and Simmons, both parts of Berkey became connected.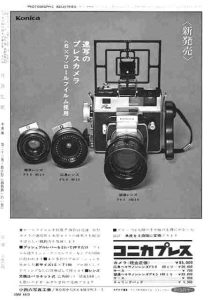 Why exactly Konishiroku decided to re-release the Omega 120 is not clear, especially considering by the 1960s, professional rangefinders were giving way to SLRs, but whatever their reason, they took the original concept of the original and made significant changes to the camera.  Now called the Koni-Omega Rapid, apart from retaining the Omega name, 6cm x 7cm image size, and quick film transport rack, the new camera improved upon the original in the following ways:
A breech lock bayonet lens mount allowed for quick changes of both the shutter and lens, offering wide and telephoto focal lengths.
The original separate rangefinder and viewfinders were combined into a single combined coincident coupled rangefinder with automatic parallax and field correction.
Large contoured pistol grip in place of the original leather strap was much more comfortable and easier to hold the large camera.
Larger focus knob with scales for wide and tele lenses.
Film pressure plate that only applies pressure to film after film is advanced, reducing chances of scratches as film is advanced.
Redesigned film magazines for quicker film loading and optional support for new 220 film which was good for 20 exposures per roll.
The Koni-Omega Rapid was originally available in a mostly chrome body, but a black version was released a year later, and also a version made specifically for the Japanese market called the Konica Press was also created.
I struggled to find prices for the Koni-Omega Rapid, but in a year end price list from the December 1965 issue of Modern Photography, the camera with 90mm f/3.5 is listed at $349.50, which when adjusted for inflation, compares to a little over $3200 today, making it pricey, but not out of reach for the professionals that the camera would have been intended for.

It is difficult to judge the reception of the Konia-Omega Rapid as I found strangely little about the camera upon it's release.  It would seem that the world might have taken a while to catch on to the camera's appeal as I found several articles from the 1968 release of the later Koni-Omega Rapid M, an updated model with new features, which heralded it as a unique and very capable tool.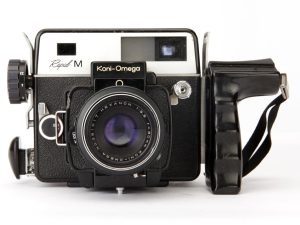 The new model was very similar to the original, but with the following updates:
Film magazine dark slide which permits mid roll changes, compared to the original model which could only be changed at the end of a roll.
New contoured hand grip with optional connection for shutter release capable.
Revised shutter release that required less pressure and a shorter throw to activate the shutter.
Flash distance calculator built into the rangefinder allowing for more accurate exposures when using a flash.
A clever film identification feature in which you can set up to 9 dots to be exposed on the margin of a roll of film, allowing you to easily identify which rolls of film were shot in each magazine.  (I'll admit that not having a Koni-Omega Rapid M, I had a very hard understanding how this works, but the manual sort of explains it on page 24.)
The Koni-Omega Rapid M was called the Konica Press 2 in Japan and both models were produced until about 1975, when Konishiroku's production of the Omega series was purchased by Mamiya.  I could not find any specifics regarding how and why this happened.  Did Konishiroku sell the rights to the camera to Mamiya, or was it given away as part of some other kind of agreement?  I have no idea, but if someone finds out, please let me know and I'll update this section.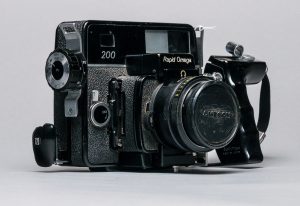 After 1975, the cameras were sold by Mamiya as the Rapid Omega 100 and Rapid Omega 200 which were effectively the same as the original Rapid and Rapid M but supported all the same features, lenses, and accessories.  These cameras were produced until roughly 1980.
Although designed in the style of a press camera, the Omega Rapid series of camera was very popular as a portrait camera.  Shooting images that could easily be enlarged to 8″x10″ without cropping made them ideal for wedding and studio photographers.  That they were quick and fast to use and had interchangeable magazines that a photographer could pre-load and quickly swap at the end of each roll meant that there was little down time.
Today, the Koni-Omega Rapid and other models in the series are still popular for the same reasons they originally were, they are rugged, well built, and easy to use cameras that have many accessories available, excellent lenses, and make terrific shots.  Although many of the currently available examples for sale usually show heavy wear, most still work and in the event that one needs work, they are generally easy to repair.
If you have an opportunity to pick one of these cameras up, I definitely recommend giving them a chance.  Even if they're in rough looking condition, there is a very good chance it will still work, and compared to other medium format cameras like the Rolleiflex, Hasselblad, and Fuji medium format SLRs, they can be found for a tremendous bargain.
My Thoughts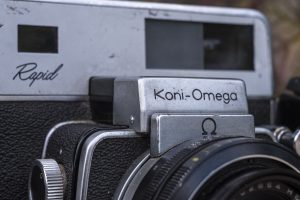 I can't remember exactly how long I've had this Koni-Omega Rapid camera, but I do remember the first time I picked it up, I was intrigued by it's design.  While I am no stranger to left handed cameras, the Koni-Omega is the most left handed camera I've ever used.  Cameras like the Ihagee Exakta and Kodak Ektra may have the shutter release on the camera's left side, but you can move your hands around and still change things like f/stops or shutter speeds with your left if you so choose.  Sure, its a dance of left and right hands moving all over the place, but at least you have that option.
With the Koni-Omega Rapid, the camera's large handgrip is on the left and at a weight of 2045 grams with the standard 90mm f/3.5 lens mounted (other lenses are heavier) you cannot afford to use your left hand for anything else.  Your left hand will be permanently cemented to that handle, supporting the camera's weight and when needed, you must spare your index finger to reach around to the left shutter release button.  Besides that, your right hand is needed for everything else.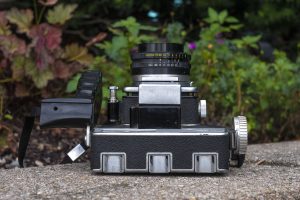 The Koni-Omega Rapid is primarily geared towards professional photographers, sort of a simpler and faster to use Graflex Press Camera.  As it's use is for pros, the camera needs to be as flexible as possible to accommodate as many different uses as it can.  One way in which this is obvious is on top of the camera there are not one, not two, but three accessory shoes.  Why would anyone need three shoes you ask?  Giving the user the flexibility of any combination of flash locations, light meters, or auxiliary viewfinders for lenses other than 90mm assure that a photographer could mount more than one thing at a time without having to resort to things like custom brackets.
Besides the three accessory shoes, the only other thing to see from this angle is just a general observation about it's shape and size.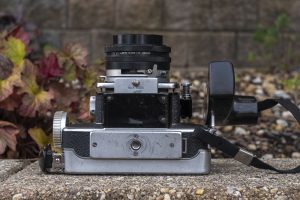 Flip the camera over and you'll see the 1/4″ tripod socket and not much else.  The tripod socket is centrally located in an ideal location to support the weight of the camera and it's lenses.  As these cameras were often mounted on some sort of stand, the metal around the socket is often very scuffed as you see here.  Also note a small foot on the base of the lens mount and the shutter cocking linkage beneath the lens.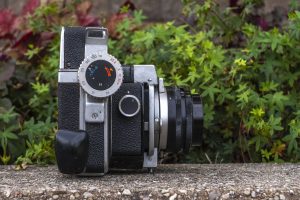 With the large handgrip taking up all the space on the camera's left side, the right is far more interesting.
The large knob in the center is for focus control.  Turning the knob moves an internal helix which pushes the entire shutter and lens forward and back.  Two separate focus scales, one marked in blue for Tele and the other in orange for Wide show the measured distance of both types of lenses.  I find this to be a bit confusing as with the "standard" 90mm lens, there is no focus scale.
Below and to the right is a second knob which controls a set of folding doors that work like a dark slide when changing lenses.  The Koni-Omega Rapid uses interchangeable lenses that also contain the shutter similar to the Hasselblad SLR, so removing the lens with film in the camera would expose your film.  To prevent this, before removing the lens, you must rotate this knob away from the "O" mark to close the doors.  This method is far more convenient than on the Hassy which requires you to slide a removable metal plate in front of the film plane to protect it.  The most obvious advantage is you can never lose the door on the Koni-Omega, compared to the Hasselblad in which the dark slide must be stored safely.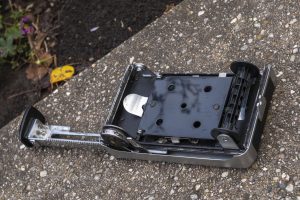 Finally, the last thing on this side of the camera is the film advance handle.  Although the Koni-Omega and the original Omega 120 were designed to be faster to use than any regular press camera, it was this rapid film advance that really gave the camera's it's name.  Unlike other medium format and 35mm cameras that use some combination of knob, lever, or crank to advance the film, the Koni-Omega Rapid's handle handles both film transport and cocking the shutter in one quick cycle of pulling it out and pushing it back in.  The motion is similar to a trigger wind like the Leicavit or on the Ricoh 519M.  The motion is incredibly fast, and if you so choose, you could likely fire off 10 shots in just a couple of seconds, making the Koni-Omega Rapid idea for fast motion shots.
Another innovative feature of the Koni-Omega Rapid's unique film advance is that the pressure plate in each magazine has an intermittent pressure feature in which the pressure is released as film is advanced and restored when ready for the next image.  By relieving pressure on the film as it is being advanced, chances of scratching the film as it quickly passes through the magazine are eliminated.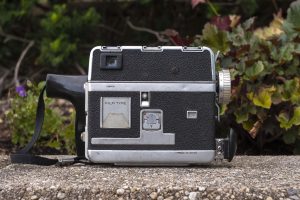 Around back, the rectangular eyepiece for the viewfinder is in the far upper left corner, but most everything else worth looking at is on the film magazine.
Starting with a film box reminder which on this example has seen better days, and then the door latch in the center.  Flip out and rotate the lock to the "O" position to remove the film magazine, and "L" to lock it in place.  As this is the only way the film is protected from light leaks, you should take care to never let this accidentally move.
Above the lock is a small slider which is an override for the end of film lock that prevents the camera from being advanced past the 10th and final frame.  With a 220 magazine installed, this would stop after the 20th exposure.  The reason for this lock is due to the camera's capability for rapid sequences of shots, you have to know when you've reached the end of the roll, so as not to keep advancing the film without losing shots.  The designers of the camera thought that by locking everything at the end of a roll, you'd know it's time to swap film.  Finally, off to the right is the exposure counter, which on this 120 film magazine, counts from 1 to 10.  Whether you have a 120 or 220 magazine installed, the exposure counter displays the word "LOAD" when it is safe to unload and load in a new roll of film.  A sequence of dots at the beginning and end of a roll of film are there to remind you the camera is neither ready to make exposures, no open the magazine safely.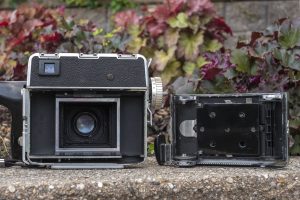 With the magazine off, we can see inside of the camera through to the shutter and lens.  The film magazine is entirely self contained, holding both the supply and take up spools, while also holding the film pressure place to keep things smooth.  The Koni-Omega Rapid's magazine is unlike other interchangeable magazine cameras like the Hasselblad and Bronica, and continues with the "rapid" them as being pretty easy to load.  Unlike most medium format SLRs, which require a film path that often takes two 180 degree turns around the back of the magazine, the Koni-Omega Rapid is a simple direct path from one spool to another.
In the image to the right, the take up side is on the left, and there is an empty spool on the supply side.  Removing and inserting spools is incredibly easy as you merely lift straight up and a spring loaded latch allows you to pull the spools out.  Inserting is the same way, pull back on the latch and press in your spools and let go and the spring latch holds everything in place.  With a small amount of effort the first time you do it, loading film into the Koni-Omega Rapid is one of the easiest roll film cameras (professional or not) I've ever loaded film into.  Once a new roll of film is in place, rotate the take up spool by hand until the START mark on the film's backing paper lines up with the little red dot at the bottom of the take up side and you are ready to attach the magazine onto the camera again.  Once that's done, three quick motions of the film advance will get you ready for the first exposure.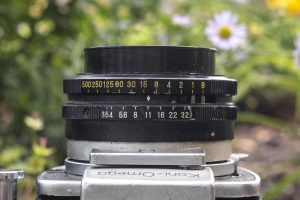 Looking down upon both the shutter and lens, you'll see a slightly different arrangement of controls depending on which lens is mounted.  On this with the black 90mm f/3.5 Hexanon, there are shutter speeds indicated in yellow from 1 to 1/500 plus bulb.  Behind it in white, are the available f/stops from f/3.5 to f/32.  Upon the camera's initial release, all three lenses had the same range of speeds, but I am not sure of any later available ones offered different speeds.  The only other thing to see on the lens itself is the flash sync port which is visible from below.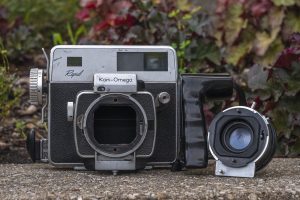 Up front, changing lenses is pretty simple, just be sure you've closed the dark slide if you have film in the camera.  Unlocking the breech lock around the bayonet is a matter of sliding down a handle near the 9 o'clock position around the lens.  There should be a tab sticking out of the handle, but on my example, the tab is broken off, one of many signs this camera has seen heavy use in it's lifetime.
With the breech lock disengaged, the entire shutter and lens will fall off the camera, so it is important to support so as not to let it fall and hit the floor.  Installing a new lens is the reverse of taking it off, but you need to make sure to insert a small pin on each lens into the appropriate hole beneath the "Koni-Omega" name plate.
Of all the things to like about the Koni-Omega Rapid, perhaps my favorite is it's incredibly large and bright viewfinder.  This is a rangefinder camera, and if you've ever used a 35mm combined coincident image rangefinder, the one here is very similar, just much bigger.  In fact, the cameras whose viewfinder this camera most closely match are the Konica Auto S2 and S1.6 as they both have automatic parallax AND field correction.  Many rangefinder cameras have automatic parallax correction where the frame lines move down and to the right when focusing closely, but automatic field correction also decreases the size of the frame lines as a closer image is going to capture a smaller area of the image.
Another cool feature of the viewfinder is the inclusion of two sets of frame lines, the larger for 90mm and the second for the 135mm telephoto lens.  The frame lines for the telephoto lens disappear at the point to which the lens can no longer focus, only showing the larger frames.  There are no frame lines for the 60mm wide angle lens, but the rangefinder is still coupled.
In the two images above, I show the camera focused almost to infinity to where both sets of frame lines are visible and haven't changed much from their original positions.  In the second image, I have the camera focused as close as it will go.  Notice the smaller frame lines have completely disappeared and the larger ones have both moved toward the bottom right corner, and have reduced in size.
The first time anyone handles a Koni-Omega Rapid, a bit of familiarization is definitely a requirement before attempting to shoot any film through it.  Reading the manual (or this article) should help you get on your way to what will most certainly be a pleasant shooting experience.  The few times I've mentioned this camera to other collectors, the response is almost always positive.  People usually love these cameras, and there's no reason you wouldn't either.  Of course, it doesn't matter how intuitive or not a camera is, if the images it makes aren't any good, then what good is it?
My Results
Normally when I write reviews, I like to shoot at least two rolls of film through ones that work to get an idea of what the camera is like with different emulsions.  If the camera isn't working correctly, or I had some other struggle with shooting it, sometimes I get by with only one.  On rare occasion, if a camera seems especially endearing I'll shoot more than two, but it's rare.
With the Koni-Omega Rapid, I shot five rolls, but not for the reasons you'd think.  My first two rolls on the Koni-Omega Rapid were shot with the lens that originally came with it, which turned out to have a great deal of internal haze.  Those images definitely suffered from it, so I knew that before I bothered putting anything else through the camera, I'd need to find another lens.  It would take me nearly a year to find one, but thankfully, fellow blogger and good friend Mark Faulkner came to the rescue and sent me his 90mm f/3.5 Hexanon.  Mark's lens was the same as the one I had, just an all black version, and without haze.
Before I get into my results with this camera, I really need to stress a point that I missed my first time shooting this camera which is to make sure the doors behind the lens are open.  My first roll of film shot through the Koni-Omega Rapid turned out all blank because I exposed light with the dial on the left side of the camera set to the closed position.  I've been told by photographers that normally, the shutter release should be locked if those doors aren't open, but that's definitely not how my camera works, so either those people remember it wrong, or that feature has failed on my camera.  Whatever the case, it's worth double and triple checking that the doors are open before shooting film through your camera.
Now having a better lens and the experience of remembering to leave the film door open behind me, I loaded in another roll of film, this time Ilford Pan F Plus.  This was an expired film, but one that I had shot before and gotten good results from.  As I developed that film, I noticed a strange mottling in the images that is characteristic of moisture damage to the film's backing paper.  The moisture forms mildew, which shows up as splotches in the emulsion.  The images still came out though, and as I had hoped, Mark's lens didn't suffer from the same haze as the original one did.
I liked what I saw, so I decided to give it one more go, this time with a semi-fresh roll of Kodak Ektar 100.  Ektar is known for it's vibrant colors and low grain.  It's a bit picky on exposure, so I'd need to make sure I metered correctly, but I should be OK…
…if I remembered to open the damn film door again.  Once again, I shot a whole second roll of film in the camera with the dang door closed, not exposing a single image.  Frustrated, I took that roll out, rewound it, and shot it another camera, throwing the Koni on the shelf for a future date.
Finally, late this past summer, with a fresh supply of new Kodak Gold 200 in 120, I decided to give the camera one more go.  This time, I put make sure the film door was open and I wrapped it in electrical tape to prevent it from accidentally being closed again with film in the camera.  I brought the camera with me and shot some random activities I did as the summer months wore down.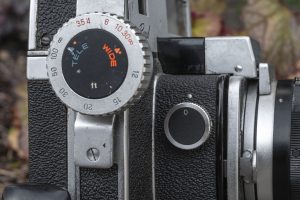 The Koni-Omega Rapid is a camera that every time I used it, I enjoyed it more and more.  It was fun to use, unlike any other camera in my collection, and it always made great images but no matter how much I liked it, I could never get past it's size.  When I go for photo walks, I usually bring a backpack with me to hold whatever I want to shoot that day and the Koni takes up nearly half my bag.  While still technically compact compared to larger professional cameras, it's big size and large protruding handle make it a difficult decision on short trips where I don't want to lug around with me a heavy bag.
For me, the ideal situations to use the Koni-Omega Rapid are purposeful trips where I want something a little larger than 6×6, but a little more economical than 6×9.  Sadly, those opportunities where the Koni-Omega Rapid is ideal, are few and far between, so this camera spends a lot of time on the shelf.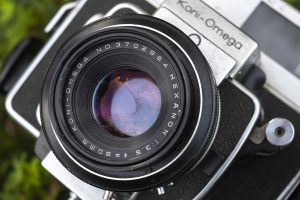 The images I got from the 90mm Hexanon were as good as I had expected a "medium format Konica" would be.  Konishiroku's long lived line of Hex-prefix lenses, whether you're using a 4.5×6 folding "semi" camera, a 35mm SLR, or a medium format rangefinder are consistently excellent.  Like other A-list Japanese lens makers such as Nippon Kogaku, Canon, and Minolta, the images you'll get from these lenses are not going to show any signs of optical aberrations you'd expect from a lesser lens.
As I got around to shooting the Koni-Omega Rapid, I genuinely enjoyed the process.  The large and very easy to use viewfinder and rangefinder are as good as any I've used regardless of format, but by far, the coolest feature is the cocking rack.  I can't help but feel like I'm activating a pump action shotgun each time I rack the camera to the next exposure.
Konishiroku was wise to add the intermittent pressure plate feature in which the film pressure plate backs off as film as transported in the camera and then returns to it's original position as you reach the next frame.  The motion of the handle encourages fast and aggressive film transport, so I have to imagine that without this feature, there'd be a heck of a lot of scratched exposures!
The location of the focus knob is also pleasant.  Since your right hand has very little to do when not advancing the film, the large knob is a nice location to rest your hand on while looking through the viewfinder.  This means that changes in focus come very intuitively as the hand you use to support the camera is already in position to turn it.
By far, the least appealing aspect to shooting the Koni-Rapid Omega is the location and action of the shutter release.  I don't necessarily mind that I have to use my left hand to do it, as I have experience with other left handed cameras like the Ihagee Exakta and Kodak Ektra, but the location of the shutter release is a bit back of where my left index finger wants to lay when holding the camera.  Furthermore, a good amount of pressure is required to trigger the shutter release.  I wouldn't go as far as to say it is difficult, but it's a bit harder to press than I would like, especially when my finger is already in a somewhat uncomfortable location.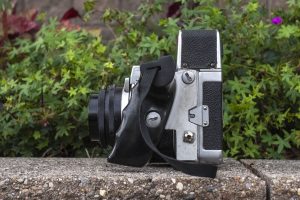 Later versions of the Koni-Omega Rapid had a redesigned handle with a clip for a shutter release cable that would have helped, but I think a perfect solution would have been a finger trigger to be integrated into the grip of the handle, so your entire left hand could hold onto the grip with your left index finger already in a natural position to fire the shutter.
Even things that are usually pretty uneventful, such as the film loading process are well thought out on this camera.  I'll admit to regularly referring back to the manuals on other large medium format cameras such as the Kodak Medalist, Zenza Bronica S2, and Hasselblad 500 C as there's usually an abundance of extra steps and specific film paths that you must obey compared to a simple 6×6 folding camera.  I also find that sometimes medium format cameras can be fiddly about inserting and removing spools.  I can't count how many times I've struggled to either get an old spool out, or a new one properly lined up in a roll film camera, only to have the paper leader come off and have to restart or in some way just take longer than it should.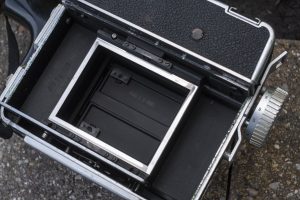 With the Koni-Omega Rapid, the back comes up with a quick twist of the lock, both the supply and take up spools are held in place by a spring loaded flange which is extremely easy to move out of the way, and installing a new roll of film requires no special film path.  Simply extend the paper leader from one spool directly to another, without worrying about having wrap it around the back or around a roller.  Although I've only ever shot a small number of rolls in this camera, I would bet that pros who regularly shot theirs could load in a new roll of film into theirs in a manner of seconds with their eyes closed.
One last feature of the camera which I continually go back and forth on is the 6cm x 7cm aspect ratio.  Most medium format photographers are familiar with 6×6 and 6×9 images, but 6×7 is a bit less common.  Certainly Fuji and Pentax both created cameras that shoot these "slightly wider than rectangle" images, however, looking at the developed images, they don't look much different from square 6×6 images, yet with only 10 exposures a roll, that's two less than 6×6.
Of course the opposite is true, as you could look at it as 2 more than a 6×9 camera would get you.  The Hexanon lens offers enough detail to support cropping these images to 6×9 if you wish and you'd have two extra exposures.  Perhaps that was the point, halfway between 6×6 and 6×9 gives you the option to crop back down to square or crop up to 6×9 while getting the best of both worlds.
Overall, the Koni-Rapid Omega is one hell of a camera that I very much love to shoot as much as I enjoy seeing it on my shelf.  My quibbles about the location and pressure required for the shutter release, and that it's a bit larger and heavier than a typical "zoo camera" are minor as this camera was never intended to be a quick and easy point and shoot.  For what it is, a really fast and easy to use camera with incredible flexibility that also makes great images, it's a winner and one I highly recommend anyone reading this try out for themselves!
Related Posts You Might Enjoy
External Links
http://camera-wiki.org/wiki/Koni-Omega
https://ewoodsphoto.com/2019/11/24/this-old-camera-koni-omega-rapid-and-super-omegon-90mm-f-3-5/
https://www.photrio.com/forum/threads/koni-omega-or-a-mamiya-press.81734/
http://web.archive.org/web/20051230154256/http://medfmt.8k.com/mf/korapid.html
https://randamteagarden.tripod.com/id31.htm
http://www.peterlanczak.de/koni_history.htm (in German)