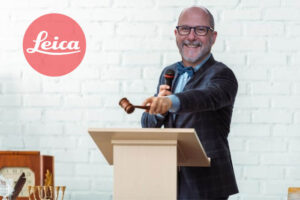 After a stream of back to back to back episodes covering specific brands of cameras and talking to a huge number of listeners, the guys and I decided we would take a short break from our "open source" concept to catch up on the things we all have been doing.
We thought it would be a nice change to have a smaller, more intimate discussion and invite someone we all thoroughly enjoy talking to and wanted to catch up with.
After a painstaking "Hunger Games" style of elimination rounds, the guys and I picked none other than Dan Tamarkin as our special guest host this week.  As he always does, Dan brings with him a lifetime of knowledge of Leica and camera retail experience.
With that experience, we decided it would be fun to talk about some recent auctions, including a rather infamous one that recently closed in Northern Ohio which Paul and I participated in, and a large number of our listeners did as well.  We've heard some of the stories from that auction and have a few of our own, so we talk about that, along with Tamarkin Auctions, and everything that goes into making one run smoothly, and what might make them run "not smoothly".
In addition to auctions, Anthony thought it would be fun to announce in the presence of a well-known Leica dealer that he sold every single Leica he owns, and traded it for a viewfinder camera.  What kind of viewfinder camera is equal to a perfectly working Leica M3 and a IIIf you ask?  Listen to the show.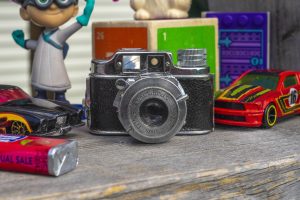 In addition, Mike's not dead, Robot Theo is pining for his job, Human Theo bought some stuff from Paul, Paul is bringing out the bling with his golden cameras, and Mike is shooting one of those Japanese "Hit" style miniature cameras.
As always, the topics we discuss on the Camerosity Podcast are influenced by you!  We would love to hear from more listeners, especially those who are new to shooting film or collecting cameras.  Please don't feel like you have to be an expert on a specific type of camera, or have the level of knowledge on par with other people on the show.  We LOVE people who are new to shooting and are interested in having an episode dedicated to people new to the hobby, so please don't consider your knowledge level to be a prerequisite for joining!
The guys and I rarely know where each episode is going to go until it happens, so if you'd like to join us on a future episode, be sure to look out for our show announcements on our Camerosity Podcast Facebook page, and right here on mikeeckman.com.  We usually record every other Monday and announcements, along with the Zoom link are typically shared 2-3 days in advance.
For our next Episode, we will re-open the call-in lines and talk about Mamiya and their very diverse line up of roll film TLR and SLRs, along with their many different iterations of 35mm cameras.  Episode 45 will be recorded on Monday, March 20th.  We hope to see you there!
This Week's Episode
Besides Leica, What is Dan's Favorite Camera to Shoot? / Fuji GS645 / Zeiss-Ikon ZM Rangefinder
Fuji GF670 Folders / Plaubel Makina 67 and 67W
Anthony Sells All His Leicas To Buy a Fuji G617 / Theo Sells Anthony A Voigtländer Superb and it Gets Lost / Anthony Hates the Gainesville USPS
How Do You Properly Frame for a Panoramic Photo? / Anthony Sees Things in Panavision
Noblex 135 S / Mamiya 7 with Pano Adapter
What Percentage of Tamarkin Camera is Film vs Digital?
Leica M8 and M9s Come in and Go Straight to Leica / Faulty Digital Sensors
Mike Really Wants to Try a Leica M5 / Front Hanging Shutter Speed Dial / Canon EF
Behind the Scenes at Tamarkin Auctions / Live Auctions vs Online Auctions
Confusion About A Recent Large Camera Auction in Ohio / Bid Multipliers
Shipping Items from Online Auctions / Pickup of Items at the Ohio Auction
Dan and Paul's Stories About the Voncabbage Collection / The Most Amazing Collection
What Other High Profile Auctions Are Out There?
Buying Cameras from Estate Auctions / The Thrill of the Hunt / Mike Buys a Very Poorly Listed Olympus Six
Mike's Thoughts on Using Common Sense / Reputation is Important / Stuff Begets Stuff
The Girl in Facebook Who Inherited A Storage Locker Full of Cameras From Her Boss
Theo Buys a Contessa 35 and ANSCO Memo from Paul and Gets a Free T-Shirt
Theo is Shooting a Zeiss-Ikon Super Ikonta Repaired by Jess / Ricoh Auto-Half / Rollei 35 / Nikon FE
Anthony is Shooting a Minox LX / Akarelle Loaded with Tech Pan / Nikon F with Nikkor 105/2.5 Lens
Mike Sells an Olympus Pen F to Someone Who Was On the Last Episode
Mike is Shooting a Sears (Ricoh) TLS with the SR "Atomic" Logo / Praktica VLC 3 / Olympus 35 SP / Toko Tone
Paul is Shooting His Gold Summilux on Anthony's M3 / Paul Loves Gold Cameras
Stay Tuned for Mamiya Discussion Next Time / Check us out on Instagram
Show Notes
If you would like to offer feedback or contact us with questions or ideas for future episodes, please contact us in the Comments Section below, our Camerosity Facebook Group or Instagram page, or email us at [email protected].
The Official Camerosity Facebook Group – https://www.facebook.com/groups/camerositypodcast
Camerosity Instagram – https://www.instagram.com/camerosity_podcast/
Camerosity Twitter – https://twitter.com/CamerosityPod
Dan Tamarkin – http://www.tamarkin.com/ and https://www.tamarkinauctions.com/
Theo Panagopoulos – https://www.photothinking.com/
Paul Rybolt – https://www.ebay.com/usr/paulkris and https://www.etsy.com/shop/Camerasandpictures
Anthony Rue – https://www.instagram.com/kino_pravda/ and https://www.facebook.com/VoltaGNV/
Camerosity can also be heard on the following services:
YouTube – https://www.youtube.com/@camerositypodcast
Google – https://podcasts.google.com/feed/aHR0cHM6Ly9mZWVkLnBvZGJlYW4uY29tL2NhbWVyb3NpdHkvZmVlZC54bWw
Apple – https://podcasts.apple.com/us/podcast/camerosity/id1583252688
Amazon Music – https://music.amazon.com/podcasts/9d316c9e-5461-4fa5-9e04-24fd27fffc3f/camerosity
Podchaser – https://www.podchaser.com/podcasts/camerosity-1985806
https://open.spotify.com/show/480rHfCyC9psgmn7uXGah