In the history of the 20th century photo industry, there have been countless cameras made by countless companies from countless countries.  Of all those cameras, one subset of film photography seems to appeal to a larger number than most, the 35mm half-frame camera.  Originally the only size for still photography on 35mm film, single frame fell out of favor after World War II, but saw a huge resurgence in the 1960s with half-frame models being released by nearly every company who made cameras.
In this, the 49th episode of the Camerosity Podcast, Anthony, Theo, Paul, and Mike welcome first time and returning callers, Ray Nason, Brian Howard, Phil C., Keir Frei, Maxwell Whitaker, Richard Diver, Roger Coats, and Sean Mahan to share with us their favorite half-frame models.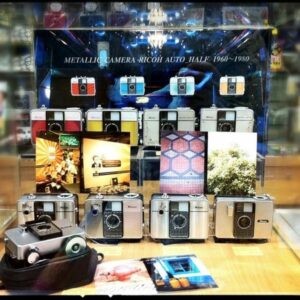 Mike can't help himself and gives a brief (for him) history of half-frame and why it was originally called 'single frame', we ponder what exactly qualifies as half-frame, should 4.5cm x 6cm medium format or 24mm x 24mm square format cameras count?
A huge amount of time is spent on the Olympus Pen series and a huge number of 35mm half-frame models by Ricoh, Konica, Yashica, Ansco, Minolta, Pentacon, Canon, Taron, Petri, and others.
As is the case with many episodes, we get off topic a bit and venture into square frame 35mm with the likes of the Berning Robot, Zeiss-Ikon Tenax, and Bolta Photavit cameras.  Of course we come back, only to get off topic again talking about Rapid and Karat film cassettes.  We start on a slippery slope of what Gen Z looks for in photography today and briefly touch upon why anyone would want to shoot the new Kodak H35 and similar cameras.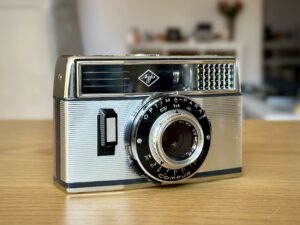 As always, the topics we discuss on the Camerosity Podcast are influenced by you!  We would love to hear from more listeners, especially those who are new to shooting film or collecting cameras.  Please don't feel like you have to be an expert on a specific type of camera, or have the level of knowledge on par with other people on the show.  We LOVE people who are new to shooting and are interested in having an episode dedicated to people new to the hobby, so please don't consider your knowledge level to be a prerequisite for joining!
The guys and I rarely know where each episode is going to go until it happens, so if you'd like to join us on a future episode, be sure to look out for our show announcements on our Camerosity Podcast Facebook page, and right here on mikeeckman.com.  We usually record every other Monday and announcements, along with the Zoom link are typically shared 2-3 days in advance.
It is hard to believe, but the next episode of the Camerosity Podcast will be our 50th!  Way back in 2021, there was this crazy idea to create a Podcast in the style of an AM/FM Radio Talk Show in which listeners could call in during a live recording and ask questions or talk about whatever they wanted.  The first two episodes of this show were done with little more than an hour's notice and between those two episodes, spawned 47 more episodes, eventually making us not only the number one open source film photography podcast, but one of the fastest growing podcasts of any format.
We are trying to put something special together for our 50th episode, but haven't yet settled on the details, or even when we will record yet.  I can tell you it will definitely be in early June, but when I know, you'll know.  Hope to see you then!
This Week's Episode
Anthony reminisces about cheap AGAT 18s / A brief history lesson on the origins of half-frame all the way back to Thomas Edison
Anthony takes us back even further to the Lumière brothers and the Cinématographe
Olympus 18 / Pen revived the half-frame market in Japan in the 1960s / Half-frame is technically Single Frame
Medium format cameras, like 6×9 vs 6.45 are not considered half-frame
The Univex Mercury camera has a rotary shutter and very sharp lenses / Olympus Pen F also has a rotary shutter
Cynthia A. Repinski wrote a good book, The Univex Story / Mercury II
Theo brings in the Ansco Memo, which uses cartridges you can make yourself
Maxwell shoots his AGAT 18K a lot with enlarged prints / Canon Demi / AGFA Memo
Berning Robot and Zeiss-Ikon Tenax II are square format, are they considered half-frame?
Theo considers is 35mm full frame is half-frame compared to XPan format / Bolta Photavit
Half-frame was hated by photo finishers and tended to have a whole year pictures on one roll / Ilford created a double length film
Theo shows the AGFA Optima Parat / Mike has the AGFA Parat I
Understanding all the Olympus Pen models / Olympus Pen F / Pen FT / Pen FV
Double wind on a half-frame camera is strange / The Pen FT has a bespoke metering number system / EV Couplings are terrible
The Olympus Pen EE and EE-S /  Pen D series with faster f/1.9 and 1.7 lenses
Olympus Pen-W is well sought out, Olympus Pen-S is a great small mechanical half-frame
Ricoh Auto-Half / Ricoh Drive / Italian Ducati / Konica IIIM
Other Half Frame Cameras by Nikon, Pentax, and Polaroid
The Pentacon Penti is a fashion accessory camera
Kodak Single Use camera can give you a Rapid Cassette replacement
Why was half-frame so popular in Japan? / Photography for Everyone is a good book on the rise of photography popularity in Japan
How Japan became a powerhouse in photography industry
The Yashica Samurai / Yashica Rapide / Yashica Sequelle / Taron Chic / Canon Dial 35 /  Ricoh Caddy
Sean's AGAT 18 with a Nikkor 8mm lens attached
Adapted lenses for the Pen F / Mike Loves the BeLOMO Chaika 3
Keir does not have a half-frame, but may soon! / The Fed Mikron is a copy of the Konica EYE
Mamiya made a half frame with the Myrapid
Half-Frame cameras which have two different taking lenses / Canon Multi-Tele / Fuji TW-3 / Konica Recorder
The Lomo LC-A Wide can switch between formats
The Kodak H35 and it's clone / Why do Gen Z like half-frame?
Can you modify a camera to be half-frame?
Original Olympus Pen made by third party and was very popular
The podcast descended in chaos with a debate on what half-frame means
Links
If you would like to offer feedback or contact us with questions or ideas for future episodes, please contact us in the Comments Section below, our Camerosity Facebook Group or Instagram page, or email us at [email protected].
The Official Camerosity Facebook Group – https://www.facebook.com/groups/camerositypodcast
Camerosity Instagram – https://www.instagram.com/camerosity_podcast/
Camerosity Twitter – https://twitter.com/CamerosityPod
Theo Panagopoulos – https://www.photothinking.com/
Paul Rybolt – https://www.ebay.com/usr/paulkris and https://www.etsy.com/shop/Camerasandpictures
Anthony Rue – https://www.instagram.com/kino_pravda/ and https://www.facebook.com/VoltaGNV/
Camerosity can also be heard on the following services:
YouTube – https://www.youtube.com/@camerositypodcast
Google – https://podcasts.google.com/feed/aHR0cHM6Ly9mZWVkLnBvZGJlYW4uY29tL2NhbWVyb3NpdHkvZmVlZC54bWw
Apple – https://podcasts.apple.com/us/podcast/camerosity/id1583252688
Amazon Music – https://music.amazon.com/podcasts/9d316c9e-5461-4fa5-9e04-24fd27fffc3f/camerosity
Podchaser – https://www.podchaser.com/podcasts/camerosity-1985806