In this the 50th episode of the Camerosity Podcast, the gang and I look back at the past two years of open source film photography nonsense.  A podcast created late one night on a whim has turned into one of the most popular of its kind.

Coming out of podcast retirement (somewhat) is original host, and former creator of the Classic Lenses Podcast, Johnny Sisson.  Dusting off his headset and microphone, Johnny updates us on what happened to his former co-hosts and reflects on what his favorite episodes were.  One of which involves Mr. Bob Rotoloni who conveniently joins us on this episode along with returning guests Rob Jamieson and podcast host himself, Andre Domingues.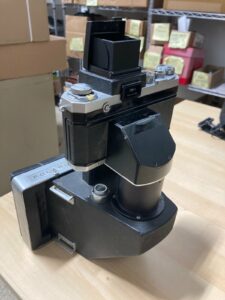 On a show featuring both Bob and Johnny, we are treated to a great deal more stories about Nikon and Polaroid, along with discussion about a strange product that brought both brands together.  It wouldn't be a Camerosity Podcast episode without the discussion foraying into other topics such as the Bronica S2 and adapting Bronica lenses, Hasselblads, Diptychs, and Andre's very favorable review of the half frame Kodak H35 which we touched upon in the last episode.
In the spirit of an anniversary episode that reflects back on our origins, be sure to stay through the closing music for a look back into the very first moments of this show…Episode 0!
As always, the topics we discuss on the Camerosity Podcast are influenced by you!  We would love to hear from more listeners, especially those who are new to shooting film or collecting cameras.  Please don't feel like you have to be an expert on a specific type of camera, or have the level of knowledge on par with other people on the show.  We LOVE people who are new to shooting and are interested in having an episode dedicated to people new to the hobby, so please don't consider your knowledge level to be a prerequisite for joining!
The guys and I rarely know where each episode is going to go until it happens, so if you'd like to join us on a future episode, be sure to look out for our show announcements on our Camerosity Podcast Facebook page, and right here on mikeeckman.com.  We usually record every other Monday and announcements, along with the Zoom link are typically shared 2-3 days in advance.
For our next episode, we are inviting back Todd Gustavson from the George Eastman House in Rochester, New York to share with us stories about Eastman Kodak, the company's history, some of the best Kodak models to look out for, more about the museum, and lots more.  If you've only ever thought of Kodak as a film company who also made cameras…well, you'd be right…but they're so much more than that.  Be sure to look out for our next show announcement.  Episode 51 will be recorded on Monday, June 12th.  We hope to see you there!
This Week's Episode
Johnny Reminisces About His Favorite Classic Lenses Podcast Episodes
What Happened to the CLP? / Perry Ge Has Gone Radio Silent
Mike's Favorite Camerosity Episodes / Instagram is Our Visual Aide / We Will Never Release the Zoom Video
Paul's First Impressions of the Podcast When He First Came On / The Four Hosts Talk Every Day
How Bob Rotoloni Got Started Collecting Nikon /  Bob's First Two Books and First Trip to Japan in 1987
Japanese Collectors are Reluctant of Western Collectors / Differences Between German and Japanese Companies
Three Historians for Nikon, Canon, and Leica Were All Americans (Robert, Peter Dechert, and Jim Lager)
Bob Had to Pay Japanese Students to Translate Old Japanese Articles to Learn More About Nikon
Joe Ehrenreich Was a Typhoon / Canon Never Had a Joe Ehrenreich
Nikon's 25th Anniversary Nikon F2A / Was There Ever a Nikon Historical Society Commemorative Camera?
Nikon Rangefinder Serial Numbers / What is the significance of 609 and 906 Serial Numbers?
How Long Have Johnny and Robert Been Going to Central Camera
Johnny Has a Back Log of 4 Years Worth of Film to Develop / Johnny Still Shoots Polaroid Pack Film
Johnny's Parents Both Worked at Polaroid so He Grew Up with Polaroid
Johnny Tries to Shoot Half Used Packs of Polaroid Film When He Finds it / Polaroid 107 Film
Polaroid Created a Lot of Waste / Dr. Edwin Land Was the Steve Jobs of His Era
Polaroid Was a Lifestyle Brand, Similar to Apple Today
Which Polaroid Films Last Longer Than Others? / Polaroid Snot
Polaroid Backs for Nikon SLRs / Asanuma Backs Came with Nikkor-EL Enlarging Lens Inside
Johnny's Dad Used to Take Photo Finish Pictures at the Indy 500 / He Also Took Photos at Fermi Lab
Polaroid Revolutionized Photography in Ways Many People Today Don't Realize / It Was a Game Changer
Polaroid 20×24 / Polaroid Macro 5 Close-Up Camera
Rob Asks Bob About Nikon's Military Role During World War II / Yamato Battleship Rangefinder and Periscopes
Japan Didn't Have RADAR, They Relied on Nippon Kogaku's Superior Optics to See at Night
Nippon Kogaku Almost Disappeared After the War / Revere Was the Company's First Customer and Bought Tons of 8mm Cine Lenses
 "Nikon and the Sponsorship of Japan's Optical Industry by the Imperial Japanese Navy" by Dr. Jeffrey Alexander / "Nikon in America 1947 – 1952" by Wes Loder
Andre Shows Off His Nikon Zfc / Nikon is Catering to the Retro Aesthetic and There's Nothing Wrong with That! / There is a Zfc Collector's Group
Adapting Bronica Nikkor Lenses / Bronica S2 / Why Did Nikon Make Lenses for Bronica?
Rob's Hasselblad 500CM with 100mm f/3.5 / Andrew Shoots Kodak Ektachrome in Lomography Sprocket Rocket
Theo is Shooting More 4×5 and His Super Ikonta 6×9 / Anthony's Half-Frame GAS / Olympus Pen D2
Anthony Still Loves His Fuji G617 / Mike Loves Photographing His Fingertips Using Panoramic Cameras
Rob is a Huge Fan of Diptychs when Shooting Half Frame
Andre Heaps Praise on the Kodak H35 Half Frame Camera / Johnny's Tips For Shooting 72 Frames in a Half Frame Camera
Paul is Knee Deep in Hasselblads Lately / Mike is Shooting a Certo Dollina III and a Fujica ST801
Johnny Seeks Opinions on the Graflex XL Superwide / The Lens Mount Is Brittle
Next Episode We Talk About Kodak with Todd Gustavson from the George Eastman House
Cocaine and Waffles: Episode 0
Links
If you would like to offer feedback or contact us with questions or ideas for future episodes, please contact us in the Comments Section below, our Camerosity Facebook Group or Instagram page, or email us at [email protected].
The Official Camerosity Facebook Group – https://www.facebook.com/groups/camerositypodcast
Camerosity Instagram – https://www.instagram.com/camerosity_podcast/
Camerosity Twitter – https://twitter.com/CamerosityPod
Nikon and the Sponsorship of Japan's Optical Industry – https://mikeeckman.com/2019/01/nikon-and-the-sponsorship-of-japans-optical-industry-by-the-imperial-japanese-navy-1917-1945/
Classic Lenses Podcast Episode 51 – http://www.classiclensespodcast.com/e/51-the-mike-bob-show/
Johnny Sisson – https://www.flickr.com/photos/sissonphotography/ and https://centralcamera.com/
Andre Domingues – https://www.instagram.com/andre.on.film and https://www.podbean.com/podcast-detail/3mf4p-5fc4e/Negative-Positives-Film-Photography-Podcast
Theo Panagopoulos – https://www.photothinking.com/
Paul Rybolt – https://www.ebay.com/usr/paulkris and https://www.etsy.com/shop/Camerasandpictures
Anthony Rue – https://www.instagram.com/kino_pravda/ and https://www.facebook.com/VoltaGNV/
Camerosity can also be heard on the following services:
YouTube – https://www.youtube.com/@camerositypodcast
Google – https://podcasts.google.com/feed/aHR0cHM6Ly9mZWVkLnBvZGJlYW4uY29tL2NhbWVyb3NpdHkvZmVlZC54bWw
Apple – https://podcasts.apple.com/us/podcast/camerosity/id1583252688
Amazon Music – https://music.amazon.com/podcasts/9d316c9e-5461-4fa5-9e04-24fd27fffc3f/camerosity
Podchaser – https://www.podchaser.com/podcasts/camerosity-1985806