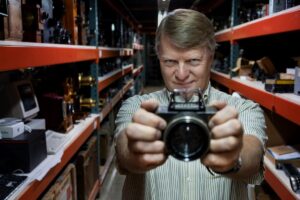 Hot off our 50th episode, the Camerosity Podcast goes back to the roots of our name, exploring the rich history of Eastman Kodak, one of the most influential companies in the photographic world.  You can't talk about the history of Kodak without George Eastman and what better way to explore that history than with Todd Gustavson, curator of the George Eastman Museum in Rochester, NY.
Todd has been on the show before, but in this the 51th episode, he gets center stage, talking of his role at the Eastman Museum, the origins of George Eastman and how his company got started.  In this episode, you'll learn about George Eastman making dry plates in his mother's kitchen, his motivation for making the original 1888 Kodak, where the name "Kodak" comes from, early 20th century Kodaks, prewar, postwar, and everything in between.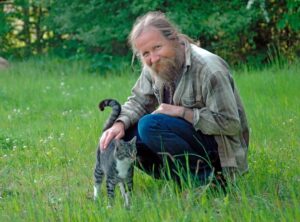 Also joining us on the show is the only person in the US I would trust with Kodak Retina repair, Paul Barden.  Back in 2022, long time Retina guru Chris Sherlock hung up his lens spanners and retired from Retina repair.  Not willing to leave a void in quality Retina service, Chris passed on his knowledge to Paul, who lives on the west coast of the United States.  This not only means that there is still a quality option for Retina repair, but for those of you in the US, shipping rates are much cheaper than to New Zealand!  Listen to this episode as Paul talks about his work repairing Retinas, what some of his favorite models are, and what models he does and doesn't repair.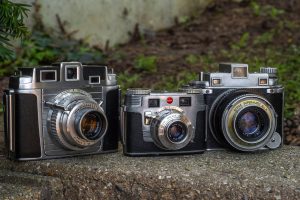 In addition to Todd and Paul's massive amount of Kodak knowledge, we go deep into some of the best Kodak cameras ever made, the Kodaks Ektra, Medalist, Monitor, and Regent get discussed here.  We talk about Walter Dorwin Teague, Dr. August Nagel, and Hubert Nerwin.  Mike shares what his all time favorite Retina is to shoot, Anthony discusses his nomination for a medium format Retina, Todd and Mike talk about Joe Mihayli and his contributions to Kodak's legacy.
As always, the topics we discuss on the Camerosity Podcast are influenced by you!  We would love to hear from more listeners, especially those who are new to shooting film or collecting cameras.  Please don't feel like you have to be an expert on a specific type of camera, or have the level of knowledge on par with other people on the show.  We LOVE people who are new to shooting and are interested in having an episode dedicated to people new to the hobby, so please don't consider your knowledge level to be a prerequisite for joining!
The guys and I rarely know where each episode is going to go until it happens, so if you'd like to join us on a future episode, be sure to look out for our show announcements on our Camerosity Podcast Facebook page, and right here on mikeeckman.com.  We usually record every other Monday and announcements, along with the Zoom link are typically shared 2-3 days in advance.
Our next episode of the Camerosity Podcast will be our widest ever, as the gang discusses panorama photography and panoramic cameras.  If you've ever wanted to know what it's like to shoot a Hasselblad XPan, Soviet Horizont, Noblex, or a Widelux camera, this is the episode for you!  Episode 52 will be recorded on Friday, June 30th.  We hope to see you there!
This Week's Episode
What is the George Eastman Museum and Why Should Anyone Go There?
Largest Collection of Nitrate Film / Over 10,000 Cameras / Not Just Kodak Is on Display / One of Louis Daguerre's Original Cameras
Paul Once Got Liquored Up in the George Eastman Museum / The Museum Has an Impressive Music Room
George Eastman's Early Years / Eastman Dry Plate Company / Eastman's First Film Wasn't Actually Film
The 1888 Kodak / Origins of the Kodak Name / Variations of the Original Box Kodaks
George Eastman Pioneered Dental Care and Donated a Ton of Money to Local Schools
What Caused Kodak to Move Away from Simple Box Cameras to More Complex Folding and Other Camera Designs?
Early Color Film Was a Two Color Film / Kodachrome Was a 6 Layer Black and White Film with Color Filters
Super Kodak Six-20 / How Many Were Made?
Kodak's Priority Was to Manufacture World Wide / Kodak Canada and UK
Kodak Film Was One of the Most Complicated Consumer Products Ever Made
Was It a Coincidence that Kodak Started Producing Much More Advanced Cameras Right After Eastman Died?
Kodak 50th Anniversary Brownie Camera Was Given Away to Children for Free
Why Did Kodak Hire Dr. August Nagel to Make Cameras For Them?
The Original 35mm Type 135 Cassette is Slightly Different Than the Ones Today
Introducing Paul Barden Who Studied Under Chris Sherlock to Repair Retinas
Paul Does Not Repair the Retina Reflexes or All the Models Chris Repaired
Disabling Dead Meters on the Later Retinas Actually Improves their Usability As There's Less Parts to Move
Which Retinas are the Most Dependable Shooters After Receiving a CLA?
Mike is Working on a Review of the Retina IIIC /  Mike's Favorite Retina to Use is the Retina IB
Not Having a Rangefinder is Not Always a Bad Thing / The Retina Accessory Lenses Aren't Very Easy to Use
Besides the Retinas, What Other Great Kodak Cameras Were Made After the War?
Kodak Signet 35 / Kodak Ektra / The Ektra's Focal Plane Shutter Was Like No Other
Anthony Loves the Kodak Medalist / The Kodak Chevron is Not a Replacement for the Medalist
How Much Influence with Walter Dorwin Teague Have on Kodak?
Kodak Was Always a Film First Company / The Profit Margins Making Film Was 10x Higher Than Making Cameras
Kodak Tourist and Monitor Folding Cameras / Series III Pocket Folding Kodak
The Problem with Nearly All Folding Kodaks Are the Bellows, They All Leak Light
Kodak Retina Bellows Usually Do Hold Up To Time and Rarely Leak Light
The Kodak Duo Six-20 Is Like a Medium Format Retina / Kodak Regent
Mike Summarizes Other Great Kodaks to Shoot / Kodak Signet 35
Kodak Dated Their Lenses and Cameras Using a Code Inspired by the CAMEROSITY Podcast! / UK Lenses Used CUMBERLAND
What Was Kodak's Motivation With Instamatics and Disc Film? / Kodak Disc Film Was Better Than People Gave it Credit For
Hubert Nerwin, Designer of the Zeiss-Ikon Contax II and III Designed the Kodak Instamatic Type 126 Cassette
A Kodak Designer That Doesn't Get Talked Much About is Joeseph Mihayli / Mihayli Designed the Super Kodak Six-20, Ektra, Medalist, and Much More
What Are Some Good Kodak Reference Books Out There? / Robert Shanebrook, Brian Coe, and Douglas Collins's Books
Kodak's Major Developments in New Apparatus / Kodak Prototypes of the 1930s / Kodak's Crazy System TLR
Kodak Super 35 and Kodak Technar Prototypes are in the Eastman Collection
Anthony Was Heavily Inspired by The Art of Fixing the Shadow
Paul Barden Can Repair Your Kodak Retinas (Excluding the Retina Reflexes)
Always RTFM Before Shooting a Retina / Also Always Check the Exposure Counter
Links
If you would like to offer feedback or contact us with questions or ideas for future episodes, please contact us in the Comments Section below, our Camerosity Facebook Group or Instagram page, or email us at [email protected].
The Official Camerosity Facebook Group – https://www.facebook.com/groups/camerositypodcast
Camerosity Instagram – https://www.instagram.com/camerosity_podcast/
George Eastman Museum – https://www.eastman.org/
Todd Gustavson – https://www.youtube.com/watch?v=KkDCZrTKQaI
Paul Barden's Retina Repair – https://kodakretina.exposure.co/the-story-of-the-kodak-retina-camera and https://www.flickr.com/photos/paulbarden/
Episode 8: Making Kodak Film with Robert Shanebrook
Episode 25: Steve Sasson and the First Digital Camera
Keppler's Vault 42: George Eastman
Theo Panagopoulos – https://www.photothinking.com/
Paul Rybolt – https://www.ebay.com/usr/paulkris and https://www.etsy.com/shop/Camerasandpictures
Anthony Rue – https://www.instagram.com/kino_pravda/ and https://www.facebook.com/VoltaGNV/
Camerosity can also be heard on the following services:
YouTube – https://www.youtube.com/@camerositypodcast
Google – https://podcasts.google.com/feed/aHR0cHM6Ly9mZWVkLnBvZGJlYW4uY29tL2NhbWVyb3NpdHkvZmVlZC54bWw
Apple – https://podcasts.apple.com/us/podcast/camerosity/id1583252688
Amazon Music – https://music.amazon.com/podcasts/9d316c9e-5461-4fa5-9e04-24fd27fffc3f/camerosity
Podchaser – https://www.podchaser.com/podcasts/camerosity-1985806