We're back with another fascinating installment of the world's most popular open source film photography podcast!  For Episode 29, we dig into the vault and bring back a guest from the very first Cocaine and Waffles episode, mister "Sexy" himself, Cheyenne Morrison!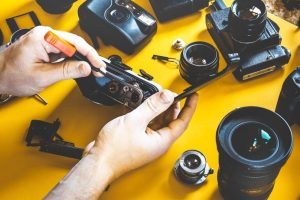 As always, Cheyenne doesn't hold back with his unique blend of colorful commentary on recent pickups like his Nicca III-L, Texer SR, and AGFA Isoly IIIa.  Joining him are returning guests Mark Faulkner, James Allen, and Jess Ibarra and new guest Andrew Smith who discuss with us a number of interesting cameras.  We go deep into the world of early auto focus SLRs, cameras with bottom "trigger" film advances, and shooting very expired film.
As always, many of the topics discussed on the Camerosity Podcast are not planned, and this time we go pretty deep into the world of repairing cameras, and how dire things have become with the number of skilled technicians who are either retiring or dying, leaving no one else to take their place.  Cheyenne makes a very plausible, yet very sad prediction that in 10 years, there will be no one left alive who can CLA a Contax rangefinder.
Yes, we have new talent like Jess Ibarra to share her thoughts on learning camera repair, but there's only so many cameras one person can master, so if you have a camera you'd like to one day get repaired, NOW is the time!
Be sure to mark your calendars for our next episode in which we will talk to a number of current and former camera store employees, who will share their stories of what it's like working in a film camera store now and in the past.  Good camera stores are like camera techs, they are getting harder and harder to find, so it should be an interesting episode hearing these stories.  If you'd like to join and ask some questions, be sure to look out for our next show announcement for Episode 30, which will be recorded on Monday, July 11th!
This Week's Episode
Mike Visits Dan Tamarkin at Tamarkin Camera and then Stops by Central Camera in Chicago
Paul Sends His Alpa Makro-Switar and Alpa 11e to Radu / Radu Worked for Karl Heitz
The Contax II and III Aren't Necessarily Better than the Contax I
Just Because a Camera Has Had a CLA Doesn't Mean It's Perfect
In 10 Years No One Will Repair Contax Anymore / Very Few People Will Repair Nikonos / 3D Printing O-Rings
If You Need a CLA, Get It Done NOW! / We Are Losing Technicians Quickly / Radu is The Guy for Alpas, Tessinas, and Berning Robots
Kilfitt Makro-Kilar and Makro Switar Alpa Lenses
Komura 35mm f/2.8 Nikon Rangefinder Lens
Nikon/Contax Digital Adapters / Amedeo Adapters Are the Best, but External Bayonet Nikon Adapters are a LOT Cheaper
Mike and Cheyenne Both Love the Nicca III-L / Auto Resetting Exposure Counter / Bottom Loading with Leica M3 Style Door
Sears Sold the Nicca III-L as the Tower 48
James Gets a Minolta X-600 / Manual Focus with Focus Confirmation Cameras / Mike Novak Is Going to Loan his X-600 To Me
Nikon Took a Long Time to Embrace Auto Focus / Canon Did it Better / The Nikon 8008 Was the First Good AF Nikon SLR / Paul Hates the N70
Nikon and Minolta Had Different Model Numbers for Different Markets / Gray Market Cameras / Warranties
Ricoh and Chinon Auto Focus Bodies and Lenses
Mike Shoots a Roll of Kodak Verichrome Pan 620 Expired in 1948 / Kodak Duo Six-20 / Don't Forget to Replace the Tape!
AGFA Isoly Was the Basis for the Diana Camera / Texer SR Is a Copy of the Seagull 203 Chinese Camera
Mike Picks Up a KMZ Droug / Bottom Trigger Wind Cameras / Canon VT Deluxe / Canonet / Ricoh 519M / Super Paxette 35
Anthony Experiments with 116 and 616 / Zeiss Cocarette and Super Ikontas
Theo Goes to Another Local Auction / Franka Rolfix II / Closter IIa / Mamiya U
Anthony and Theo Have Bad Luck with 110 Cameras
Jess is Working on an Ihagee Exakta Twin TL
Show Notes
If you would like to offer feedback or contact us with questions or ideas for future episodes, please contact us in the Comments Section below, our Camerosity Facebook Group or Instagram page, or email us at [email protected].
The Official Camerosity Facebook Group – https://www.facebook.com/groups/camerositypodcast
Camerosity Instagram – https://www.instagram.com/camerosity_podcast/
Camerosity Twitter – https://twitter.com/CamerosityPod
Radu Lesaru – Alpa, Tessina, Robot, and Zeiss Repair – http://www.3rcamera.com/
Andrew Smith – https://www.youtube.com/channel/UClXrAlbnU3gvdRrJ5gAR4mw
Jess Ibarra – Viva La Film – https://www.vivalafilm.com/
Cheyenne Morrison – https://www.instagram.com/bigshotphotos/
Mark Faulkner – https://thegashaus.com/
Theo Panagopoulos – https://www.photothinking.com/
Paul Rybolt – https://www.ebay.com/usr/paulkris
Anthony Rue – https://www.instagram.com/kino_pravda/ and https://www.facebook.com/VoltaGNV/
Camerosity can also be heard on the following services:
Google – https://podcasts.google.com/feed/aHR0cHM6Ly9mZWVkLnBvZGJlYW4uY29tL2NhbWVyb3NpdHkvZmVlZC54bWw
Apple – https://podcasts.apple.com/us/podcast/camerosity/id1583252688
Amazon Music – https://music.amazon.com/podcasts/9d316c9e-5461-4fa5-9e04-24fd27fffc3f/camerosity
Podchaser – https://www.podchaser.com/podcasts/camerosity-1985806