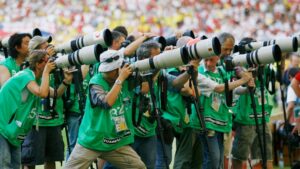 Whenever you think of the worlds greatest open source film photography podcast, of course everyone thinks of Camerosity, but when they think of Camerosity, the second thing everyone thinks of is the World Cup!
While this exciting socc…I mean football championship is going on, what better time than for the gang and I to record our third European Time Zone friendly episode!  As we have the previous two times, we pack up our mobile recording studio and hit the road to visit our friends in the UK, Germany, Italy, Belgium, and other areas of the world where everyone is crazy for FIFA!
Theo makes a special appearance direct from Al Janoub Stadium where his beloved Australian team takes on the evil French team.  Joining Anthony, Paul, Theo and I are returning guests Alan Duncan, Wannes Scheipers, and John Michael Mendizza.  In the first time caller category, we have none other than Mr. Kosmo Foto himself, Stephen Dowling, from Turin, Italy, Frederico Quaglino, Peter from Essex, and from Canada, Mike Litwin!
In this episode we talk about flash photography, the state of color film and the film industry as a whole, Anthony's challenges shooting the NASA Artemis moon rocket, and a whole lot of other GAS sure to inspire many future purchases (fun fact, as I type this, I have already fallen victim to GAS from this very episode, listen to episode 38 to find out which camera I bought!)
As always, the topics we discuss on the Camerosity Podcast are decided by you.  The guys and I rarely know where each episode is going to go until it happens, so if you'd like to join us on a future episode, be sure to look out for our show announcements on our Camerosity Podcast Facebook page, and right here on mikeeckman.com.  We record every other Monday and announcements, along with the Zoom link are typically shared 2-3 days in advance.
If you want to join us for our next episode, we will record Episode 38 on Monday, December 5th.  Be sure to stay tuned for the official announcement!
This Week's Episode
John-Michael Wants 35mm Flash Recommendations / Paul's Recommendations is Nikon 8008S w/ SB-24 Flash
Minolta Maxxum 9 and 9xi have 1/300 Flash Sync / Using Digital to Test for Film Flash Photography
Introducing Stephen Dowling and Kosmo Foto
High Speed Sync and How It Works / Why Do Focal Plane Shutter Cameras Usually Have Such Slow Flash Sync?
Hasselblad and Mamiya Medium Format SLRs Had Leaf Shutters Which Benefitted Flash / Lenses with Shutters in Them
The Olympus Pen F Flash Syncs at Any Speed
The Minolta Dynax/Maxxum/alpha 7 and Aperture Ring Failures / Minolta's SLR Control Cards
Manufacturers Who Build a Camera Have No Idea How Long They'll Still Be Working
Stephen Dowling is Selling Used Cameras Now / Praktica IV F
Olympus Super Zoom IS-Series / Continuous vs Stepped Auto Focus / Chinon Genesis and Canon Futura
The Olympus Trip 35 is Very Popular / Metal vs Plastic Button Trips / Date Codes
Soviet Cameras that Punch Above Their Wright: Agat 18K / Smena 8 / Smena Symbol / Chaika II and 3
Using Braun Paxette M39 Lenses on M39 Zenit SLRs / Flipping Front Elements
Olympus FTL M42 G.Zuiko f/1.4 Lens / Olympus Ace Rangefinder
Kosmo Agent Shadow Has Been a Steady Seller / Anthony Was a Beta Tester for It / Stephen Personally Mails Every Roll
Anthony Bungles the Artemis Launch with Agent Shadow / Simon's Biggest Bungle / More About Artemis
Shooting Rockets with Sound and Light Triggers
The Future of Kosmo Foto and Other New Film Emulsions /  Are People Shooting Less Color Due to Prices?
Fredrico Hopes that Ferrania Can Save Color Film / Will Film Still Be Made 100 Years From Now?
Mike Makes an Idiocracy Joke But No One Gets It / What's Going On With ORWO and Adox?
Recent GAS: Peter Gets a Mamiya C300 / Alan Gets an Amazing Sentex "Pseudo Camcorder" / Voigtländer Superb Alert!
Canon Sure Shot XL / Leica M4P / Minox LX – The Highest Featured Last Minox / Ensign Selfix 8-20 Special
Paul Gets an Aero-Ektar 178mm f/2.5 Lens / Welta Belmira / Stephen Makes a Margaret Thatcher Joke But Mike Doesn't Get It
Zeiss-Ikon Taxona / Super Ikonta 531
Show Notes
If you would like to offer feedback or contact us with questions or ideas for future episodes, please contact us in the Comments Section below, our Camerosity Facebook Group or Instagram page, or email us at [email protected].
The Official Camerosity Facebook Group – https://www.facebook.com/groups/camerositypodcast
Camerosity Instagram – https://www.instagram.com/camerosity_podcast/
Camerosity Twitter – https://twitter.com/CamerosityPod
Keppler's Vault 97: Rocket Photography – https://mikeeckman.com/2021/07/kepplers-vault-97-rocket-photography/
Stephen Dowling – https://kosmofoto.com/
Alan Duncan – https://austerityphoto.co.uk/
John-Michael Mendizza – https://www.jmm-photos.com/ and https://www.instagram.com/jmmendizza/
Theo Panagopoulos – https://www.photothinking.com/
Paul Rybolt – https://www.ebay.com/usr/paulkris and https://www.etsy.com/shop/Camerasandpictures
Anthony Rue – https://www.instagram.com/kino_pravda/ and https://www.facebook.com/VoltaGNV/
Camerosity can also be heard on the following services:
YouTube – https://www.youtube.com/@camerositypodcast
Google – https://podcasts.google.com/feed/aHR0cHM6Ly9mZWVkLnBvZGJlYW4uY29tL2NhbWVyb3NpdHkvZmVlZC54bWw
Apple – https://podcasts.apple.com/us/podcast/camerosity/id1583252688
Amazon Music – https://music.amazon.com/podcasts/9d316c9e-5461-4fa5-9e04-24fd27fffc3f/camerosity
Podchaser – https://www.podchaser.com/podcasts/camerosity-1985806
https://open.spotify.com/show/480rHfCyC9psgmn7uXGah