This is a Yashica J-3, a 35mm Single Lens Reflex camera made by Yashica Co., Ltd. in 1963.  It was an update to the earlier Yashica Penta J, adding a coupled CdS exposure meter and top plate readout, but retaining that model's M42 screw mount.  The Yashica J-3 was an entire mechanical and simple model with only a top 1/500 shutter speed, but was well built and affordable entry into 35mm SLRs with coupled meters.  It supported a wide range of Japanese and German screw mounted lenses, which helped make the camera more appealing to a wider range of customers.  This model's lack of advanced features and simple operation means that there's less to go wrong with it, as many can still be found in good working condition today.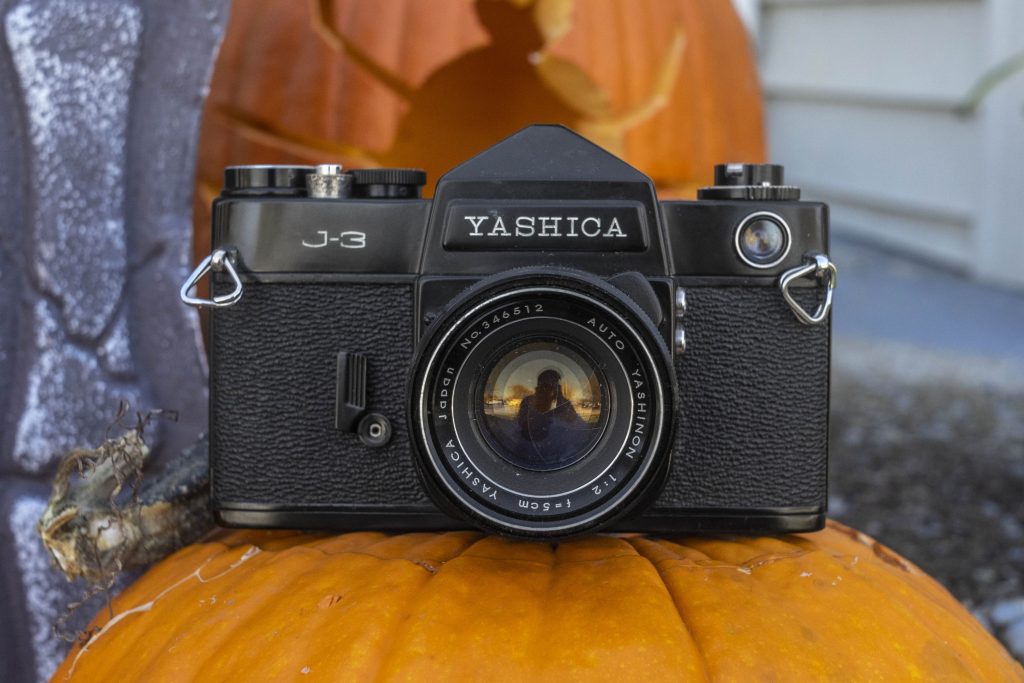 Film Type: 135 (35mm)
Lens: 5cm f/2 Yashica Auto Yashinon coated 6-elements in 4-groups
Lens Mount: M42 Screw Mount
Focus: 1.8 feet / 0.55 meters to Infinity
Viewfinder: Fixed SLR Pentaprism
Shutter: Cloth Focal Plane
Speeds: B, 1/2 – 1/500 seconds
Exposure Meter: Body Mounted Coupled CdS Cell w/ top plate exposure scale
Battery: 1.35v PX625 Mercury Battery
Flash Mount: Clip-On Cold shoe and FP and X Flash Sync, 1/50 X-Sync
Other Features: Self-Timer
Weight: 908 grams, 680 grams (body only)
Manual: https://www.cameramanuals.org/yashica_pdf/yashica_j-3.pdf
The Yashica J-3 was a simple and economic entry into screw mount SLRs.  With a body mounted and coupled exposure meter and support for a huge number of M42 lenses, the Yashica J-3 was a heck of a bargain when it was new.  This being an all black model, it is far less common than others, but regardless of which color, these are very simple and very capable cameras to use.  If you cannot get great images out of this lens and camera combination, the problem is yours.
Images
Handling
Features
Viewfinder
Feel & Beauty
History
Age
2
2
1
1
2
0
20%
Bonus
none
Final Score
9.6
History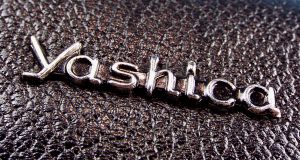 In the 1950s, Yashica was one of Japan's premiere camera makers.  The company's Rollei-inspired TLRs were some of the most affordable options in the market segment, and despite more technically impressive models made by Chiyoda Kogaku (Minolta) and a few others, Yashica TLRs sold very well worldwide.
Around 1957, Yashica president Yoshimasa Ushiyama saw the writing on the wall for 6×6 TLRs, seeing that 35mm rangefinder and SLR cameras were outselling his company's products by a wide margin.  While Yashica might have been successful if they threw out a couple simple rangefinder models, around this same time it was also evident that Single Lens Reflex cameras were increasingly growing in popularity.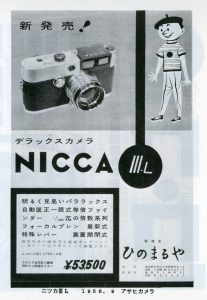 Yashica knew they had to invest in 35mm SLRs, but they had a problem.  Most of the new SLR models being released at the time had a focal plane shutter and Yashica had no experience with anything but the leaf shutters they used in their TLRs.  Although some Japanese made leaf shutter SLRs would eventually hit the market by companies such as Kowa and Mamiya, this would not happen until the early 1960s, so in 1957, Yoshimasa Ushiyama knew he had to act fast if he wanted to get a focal plane shutter SLR out.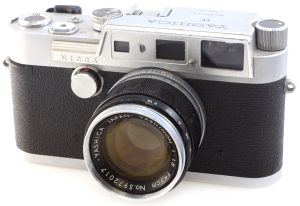 Whether this was the original plan, or if it ended up becoming an opportunity they couldn't pass up, in 1958, Yashica would acquire the struggling Japanese camera maker Nicca who was on the verge of bankruptcy.  Like Yashica, Nicca was a respected Japanese camera maker, but only for one type of camera, which was Leica inspired copies with focal plane shutters.  Seeing the opportunity to step in and acquire a struggling company that had the experience he needed, Yoshimasa bought Nicca, and in May 1958 combined the two companies together.  Yashica would quickly release two Nicca created 35mm Leica copies as the Yashica YE and YF, but these were entirely produced by Nicca without any Yashica influence other than the name and some trim on the YF model.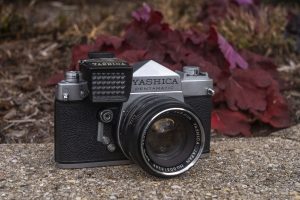 What Yashica really wanted was the shutter, which they used to help develop what would become the company's first 35mm SLR, the Yashica Pentamatic which would go on sale in early 1960.  When it was released, the Pentamatic was priced as a mid level option with a clean interface, a unique bayonet lens mount, and support for Yashica's respected line up of Yashinon lenses.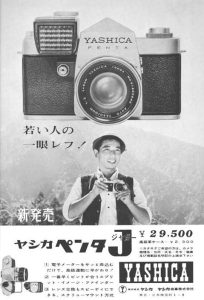 Whether it was a problem with distribution or lack of brand awareness as a maker of SLR cameras, the Pentamatic didn't sell well.  In an effort to salvage the company's investment into the new system, in 1961, a scaled down version of the Pentamatic called the Yashica Penta J came out with a 1/500 top shutter speed and supporting the more widely supported "universal" M42 screw mount.  With the switch to the M42 mount, the Penta J lost the fully automatic diaphragm feature that the bayonet lens mount allowed.  Instead, M42 Penta J lenses were semi-automatic, requiring a lever on the lens itself to manually open the diaphragm.
Although I have never seen sales numbers for the Penta J (or any Yashica SLR for that matter), I have to imagine it sold well enough for Yashica to completely abandon the Pentamatic's bayonet mount and commit to M42 lenses for all Yashica SLRs for the next decade and a half.
In 1963, perhaps as the company was giving up on the "Penta" name altogether, a new model called the Yashica J-3 was created which had the same basic body as the Penta J, but with a revised top plate and a built in body mounted CdS exposure meter.  Like the Penta J, the J-3 had a top shutter speed of 1/500 and only supported semi-automatic M42 lenses with that manual lever on the lens.
Fun Fact: Over the years, there has been debate over what the letter "J" means as Yashica never gave an official explanation.  Luckily, Yashica historians Chris Whelan and Paul Sokk seem to have solved the mystery as they were able to turn up a single Japanese language ad for the original Yashica Penta J which had some Japanese characters superimposed over the letter "J" that translate to "Jaguar".  That Yashica chose the name Jaguar could have hinted at the company's fondness for large cats, as in 1960, Yashica would release a 35mm rangefinder called the Lynx.
Although an entry level model with limited shutter speeds from 1/2 to 1/500, the Yashica J-3 was notable as both Yashica's first 35mm camera with a built in CdS exposure meter and the first SLR offered in black.

When it went on sale, the camera had a retail price of $159.95 with a 50mm f/2 semi-automatic Yashinon lens.  This priced it in the middle between the Penta J and Pentamatic S which was still available.  The J-3's price, when adjusted for inflation compares to just over $1500 today, making it a solid mid-level choice.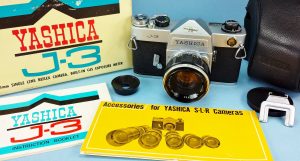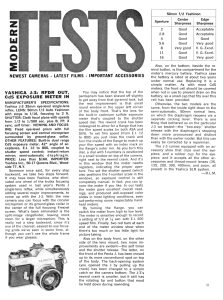 At under $160, the Yashica J-3 was a bargain compared to only other CdS metered 35mm SLR, the Minolta SR-7 at $269.50 and unmetered Konica FS at $189.95.
With full support for any German or Japanese M42 screw mount lens, the Yashica J-3 would have appealed to someone wanting an affordable metered camera that supported a wide range of lenses without having to commit to a proprietary lens mount.
The J-3 reviewed here is a less common black model.  This was Yashica's first ever black SLR and the only J-series camera to come in black.  It would not be until the TL series where another black SLR was offered.
Strangely, the black version of the J-3 was not mentioned in any known Japanese or English language advertisements.  Yashica experts Paul Sokk and Chris Whelan refer to it as the professional model.  Chris Whelan also further states that all black J-3s were made in a single batch, probably near the end of production.  Were these black J-3s really made to cater to a pro photographer, or were they a last ditch effort to move unsold inventory?  No one knows!
The Yashica J-3 was only in production for a little over a year and was discontinued in September 1964, replaced by the Yashica J-5 that was released earlier in May 1964.  The biggest change to the J-5 was raising the top shutter speed back to 1/1000 like the original Pentamatic, but it also had changes made to the self-timer and came standard with a new f/1.8 lens.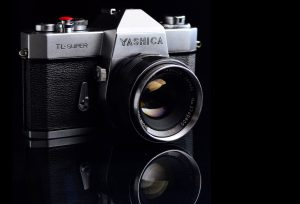 After the J-5 came several other models in the J-series, including the J-4, J-7, and an economy model called the J-P.  These cameras would carry Yashica's SLR lineup until the release of Yashica TL-Super in May 1966 which moved the CdS exposure meter into the body, offering through the lens metering.  Yashica TL-series SLRs would retain the M42 lens mount and would be consistently good sellers.
Feeling the heat from stronger and stronger competition in the consumer market, and a complete inability to compete in the professional market, in 1973, Yashica would partner with Carl Zeiss and release a co-branded lineup of Contax SLRs made in Japan by Yashica, but relying on the reputations of the Contax name and Zeiss lenses.  The new cameras would have an all new bayonet lens mount most commonly called the Contax/Yashica (or C/Y) mount.  The first cameras released under this new arrangement were the Yashica XR-1 and Contax RTS.  The FX-1 was a simple camera, but benefitted from being fully compatible with Zeiss branded lenses for the Contax RTS.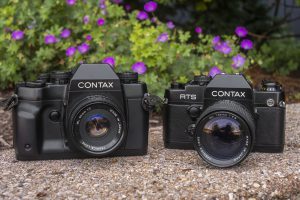 Yashica and Zeiss would continue this partnership until 1983 when Yashica would be acquired by the Japanese ceramics company Kyocera.  Yashica and Contax branded cameras would continue to be produced until 2005 at which time no other Yashica or Contax cameras would be produced.
Today, most collectors are familiar with Yashica SLRs using the M42 lens mount and the later Yashica/Contax models.  Earlier screw mount SLRs from the J-series are less collectible, but not due to any shortcomings with the camera.  In the era cameras like the Yashica J-3 were released, there were a huge number of competing companies releasing cameras with almost identical specifications.  Almost all Japanese SLRs from this era are well built and capable of excellent images, but an over saturation of the market make these models hard to stand out from the crowd.
The good news about this is that models like the Yashica J-3 can often be found for very cheap.  Assuming you can find one in good working condition, it likely won't cost you much to pick one up, and you'll almost certainly be satisfied with its performance making these some of the best values in film SLRs out there.
My Thoughts
There has been no shortage of classic fully mechanical 35mm SLRs made over the years.  If you were a photographer in the 1960s and wanted something that was easy to use, reliable, and made great images, the selection was mind boggling.  I have to imagine walking into a camera store and asking a salesperson to sell you a camera.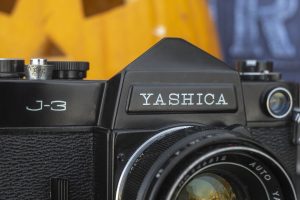 With so many excellent options to choose from, I'd be willing to bet that it often came down to availability or looks, which is exactly how this Yashica J-3 came to me.  It was available, and I liked the way it looked.  To be perfectly honest, I already have plenty of screw mount Yashica SLRs and don't really need another, but when I saw this black beauty for sale, I knew I had to have it.  A majority of Yashica J-3s were chrome, but a smaller amount were black.  Since this model wasn't produced for very long, I can't imagine there were many black J-3s ever made, so this has to be a pretty uncommon camera.
In many ways, this camera is unremarkable.  It is about the same size and weight as many other SLRs from the same era.  This is a full bodied camera, much like a Minolta SR-7 or Konica Auto-Reflex.  At a weight of 908 grams with the 5cm Yashinon lens, it's weight is not insubstantial.  It's not the heaviest camera I've handled, but you certainly would notice it hanging from your neck on a long hike through the woods.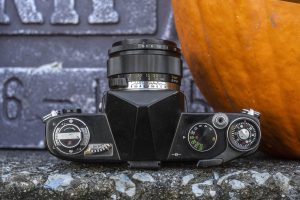 Starting on the left side of the camera's top plate, we have a standard pop up rewind knob with fold out handle.  Beneath it is a combined film sensitivity dial and meter sensitivity switch.  The switch has two markings, one for Hi and one for Low, but there is clearly a click stop halfway between which the camera's manual does not mention.  My best guess is this is a meter off switch, but sadly the meter in this example was not working, so I cannot be sure.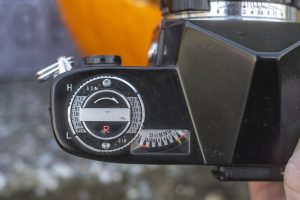 To the right of this knob is the meter scale window.  This is the only place on the camera where you can see what the meter is doing as there is no display in the viewfinder.  The scale consists of three parts, a black and white wheel with f/stops on it that is coupled to the meter hi/low switch and the ASA film speed dial, two red markers which are coupled to the shutter speed dial, and finally a white needle.  How it works is with the meter on and the camera pointed at your subject, the whatever shutter speed the camera is set to, the needle will point to a spot on the aperture scale that you must set yourself on the lens for proper exposure.  If the needle points to either red marker, a proper exposure cannot be made.  In this case, select a different shutter speed so that the needle points to a valid f/stop.  It is important to remember that the body is not at all coupled to the lens, so changes to the f/stop on your lens have no effect on the meter.  This style of early meter coupling likely seems foreign, even to experienced manual exposure SLR users from the 1970s and 80s, but in the early 1960s when this camera was made, this is how it was done.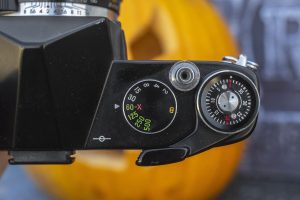 To the right of the prism is the shutter speed dial, which has speeds from 1/2 to 1/500 plus a B setting.  Strangely, the manual for the Yashica J-3 on Mike Butkus's site shows a different shutter speed dial, in which a red X speed is next to the Bulb setting.  On my example, the red X is next to the setting for 1/60 possibly suggesting that there was more than one version of the Yashica J-3 made.  An unscientific Google Image search of Yashica J-3s show the X next to 60 like mine only on black models, suggesting this was one difference between the black and chrome versions.
Next is the cable threaded shutter release button and film advance lever with built in exposure counter.  The exposure counter must be manually reset after loading each new roll of film, and is additive, showing the number of exposures made on the current roll.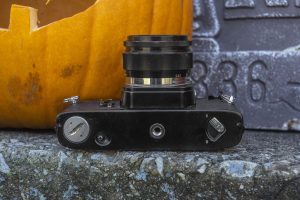 The bottom has the round opening for the PX625 mercury battery, rewind release button, centrally located 1/4″ tripod socket, and an open/close lever for opening the rear film door.  As mercury batteries are no longer legal in most countries (except ahem Russia), modern alkaline equivalents should work fine.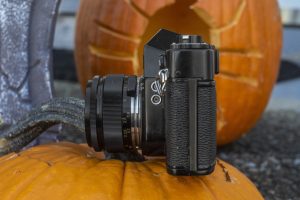 The sides of the camera are pretty similar with the biggest difference being both the FP and X flash sync ports visible on the left side of the mirror box.  Both sides of the camera have front angle strap lugs which are useful for maintaining balance while the camera hangs from your neck.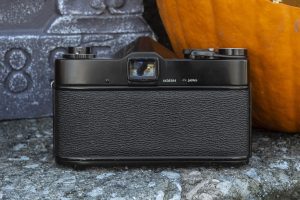 Around back, there's little to see other than a large swath of body covering across the door, rectangular opening for the viewfinder eyepiece and the camera's serial number.  The body covering on the J3 feel plasticky, but is in good condition, showing no signs of cracking or peeling. The viewfinder eyepiece has grooves on the sides and bottom for use with various viewfinder accessories.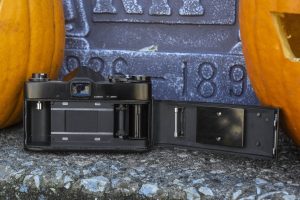 With the film door open, we see a rather ordinary film compartment.  Film transports from left to right onto a fixed and single slotted take up spool.  The sprocket gear shaft is metal as is the film gate, and dimpled film pressure plate on the door.  Light seals on this model are made from some kind of rubberized foam, which strangely wasn't crumbling.  The early 1960s were sort of a transition between earlier felt and yarn seals and the foam seals that degrade.  Regardless of what this camera's seals were made from, they should not be trusted, and if you plan on shooting this camera with any sort of regularity, you should have them replaced.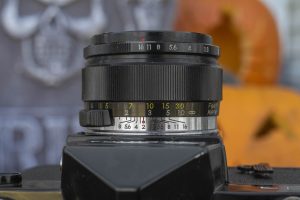 Looking down upon the top of the lens, the semi-automatic Yashinon on this camera is not like other 1960s screw mount Yashinons I've seen.  In fact, this lens shares more in common with the bayonet mount Yashinons found on the earlier Yashica Pentamatic, suggesting these might have been the same lenses, adapted with a different lens mount.
Nearest to the body of the camera, the lens has a chrome depth of field scale with black painted engraved numbers. Two red focus marks are there for standard film, and a second one for IR film.  To the left of the depth of field scale is a black lever, which activates the semi-automatic feature of the lens.  This works very similarly to other semi-automatic lenses such as the Asahi Takumars in which you must press the lever down to open the lens to maximum aperture before composing your image.  A separate aperture ring near the front edge of the lens controls the f/stop of the lens, but with the black lever pressed down all the way, the diaphragm remains open regardless of which f/stop is selected.  If you do not press the lever down, changing f/stops on the aperture ring immediately stops down the lens.  You do not have to use the semi-automatic feature, but it makes the viewfinder brighter and easier to see through.  Finally, in between the two is a large black painted focus ring.  The ring on this example is still nicely dampened and very smooth, suggesting that whatever lubricant was used on the helical has held up well.  The focus scale is printed in both feet and meters, and requires approximately a 220 degree motion from minimum to infinity focus.
Keeping with a simple and economically priced SLR, the J-3's viewfinder is about as basic and simple as it gets.  The focusing screen has a large microprism circle with a ground glass collar around it which both can be used for critical focus.  Around the outer circle is a distinct Fresnel pattern, which helps improve brightness across the entire focusing screen.  In the gallery above, I show one image of the lens focused correctly and the other incorrectly, so that you can more easily see the microprism circle and ground glass collar.
With the diaphragm completely open on the f/2 Yashinon lens, the viewfinder image is very bright and usable in all but the worst lighting conditions.  Although not as bright as SLR viewfinders in the decades to come, for a 1963 SLR, this was about as good as it got!  No other information about exposure or a meter readout is visible through the viewfinder.
The Yashica J-3 is an interesting camera.  Although aimed at the low end of the market, it has all the features a photographer in the early 60s really would need.  Sure, it can't go any faster than 1/500 and it lacks TTL metering, it was ahead of the game with a CdS meter, had a very bright and usable viewfinder, and supported some of the best lenses ever made.  On top of all that, this is a pretty camera, especially in black!  But how does it shoot?
My Results
Around the time I picked up the Yashica J-3, I also acquired about 50 feet of bulk Kodak Vision3 250D.  Having had great luck with bulk Vision 50D, I was eager to see how a faster version of the film would be.  I expected there to be more grain as is typical of an expired color film, but I wanted to see how well the colors held up, so I rolled up about a 30 exposure roll and took the J-3 out with me on a family trip last fall.
In a recent episode of the Camerosity Podcast, the guests and I spent a lot of time talking about Pentax and their Takumar lenses.  In that episode, I made the comment that the brand I thought most closely resembled Pentax, was Yashica.  My logic being that both companies made simple and inexpensive SLRs, but supported them with excellent lenses.  If you were a frugal photographer in the 1960s, but wanted an SLR with interchangeable lenses, and some of the best glass money could buy, both Pentax and Yashica SLRs offered something to you.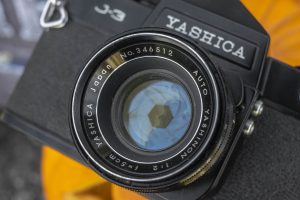 The Yashica J-3 is one such camera that has a relatively plain design, doesn't introduce any new technologies or innovations, but gives you access to a huge selection of incredible lenses.  Whether you stick with one of the company's own Yashinon lenses, or go for any number of German or Japanese (Takumars included) M42 lenses, you know that the images you'll get from the Yashica J-3 will be world class.
Although I did use some expired Kodak Vision film that altered the colors a bit and introduced some irregularities near the perforations, none of that can be blamed on the camera.  The images I got from the Yashica J-3 were sharp corner to corner, and I have enough experience with Yashinon lenses to know that had I used fresh color or any number of fine grain black and white films, I would have gotten images on par with those shot from the best cameras in my collection.
Shooting a Yashica J-3 is all about the lens, everything else is secondary.  I had no major complaints about the J-3's body.  I didn't rely on the meter as I find looking at a read out on the top plate to be too slow for my tastes.  The ergonomics were as expected, all of the controls were exactly where I expected them to be.  The body was neither too heavy or too light, and I had no problems carrying it around my neck while walking around a pumpkin farm.  My favorite thing about this camera is the all black lens and body.  This combination is not easy to find.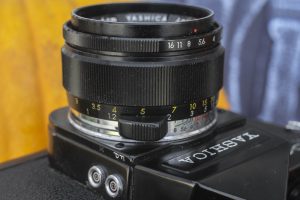 For someone who has never shot a semi-automatic SLR, using the diaphragm lever on the side of the lens might seem like an oddity, but I actually quite like the experience.  Having the option of whether I want to open the diaphragm before each shot is actually quite cool.  Sure, it slows you down, but it's a good reminder that you're using a 60+ year old camera and that you need to slow down.
Oddly, the diaphragm is also one of the few minor complaints I had about the camera because there is a very small delay when pressing the shutter release between when the diaphragm stops down and the shutter fires.  It takes a bit of getting used to, but hearing the lens click and seeing your viewfinder darken, before the shutter has actually opened is a little strange.
Another minor nitpick is that the viewfinder was a tad darker than I am used to.  This being an early 1960s SLR, of course it is not fair to compare it to something more modern like a Minolta XD11 or Nikon F3, but given so many options to shoot M42 lenses with, I don't think I would come back to this camera very often.
To be clear, the Yashica J-3 is far from a bad camera.  For the money, getting a well built and easy to use fully mechanical SLR with a built in CdS exposure meter, and access to a huge number of quality Yashinon lenses, this was a heck of a bargain back in 1963 when it first went on sale.  With this camera in good working order, if you cannot get good images out of it, the fault is not with the camera.
The biggest issue with me wanting to keep coming back to the Yashica J-3 is that it is from a very crowded segment.  There are so many excellent screw mount SLRs to choose from, the littlest thing can put one over another in terms of a "go to" camera.  If this is the only camera in your collection, by all means use it.  The Yashica J-3 with a Yashinon lens is nothing to be ashamed of, but if you already have a selection of similar cameras and are curious about trying this one out, it's not likely to give you anything or do anything better than what you already have.
Related Posts You Might Enjoy
External Links
http://camera-wiki.org/wiki/Yashica_J-3
https://simonhawketts.co.uk/2018/05/19/yashica-j-3-35mm-slr-camera/
https://yashicasailorboy.com/tag/yashica-j3/
https://www.thephotoforum.com/threads/two-yashica-j3.402033/