This is a Halina 35X Super, a 35mm viewfinder camera produced by Haking Enterprises Ltd. in Hong Kong starting in 1963.  It is an update of the original Halina 35X with a revised top plate, a new film advance lever, and a much larger viewfinder.  Although larger, it is still a simple scale focus camera as it lacks any sort of focus aide like a rangefinder and has a 3-element lens set in a 4-speed leaf shutter.  Like most Halina products, this was an inexpensive camera built to a low quality standard, meant to be sold at economic prices in emerging markets usually not catered to by major Japanese and German brands.  Although not quite to the level of a toy, the Halina is unusually heavy for it's small size, and when found in good working order, is capable of decent images.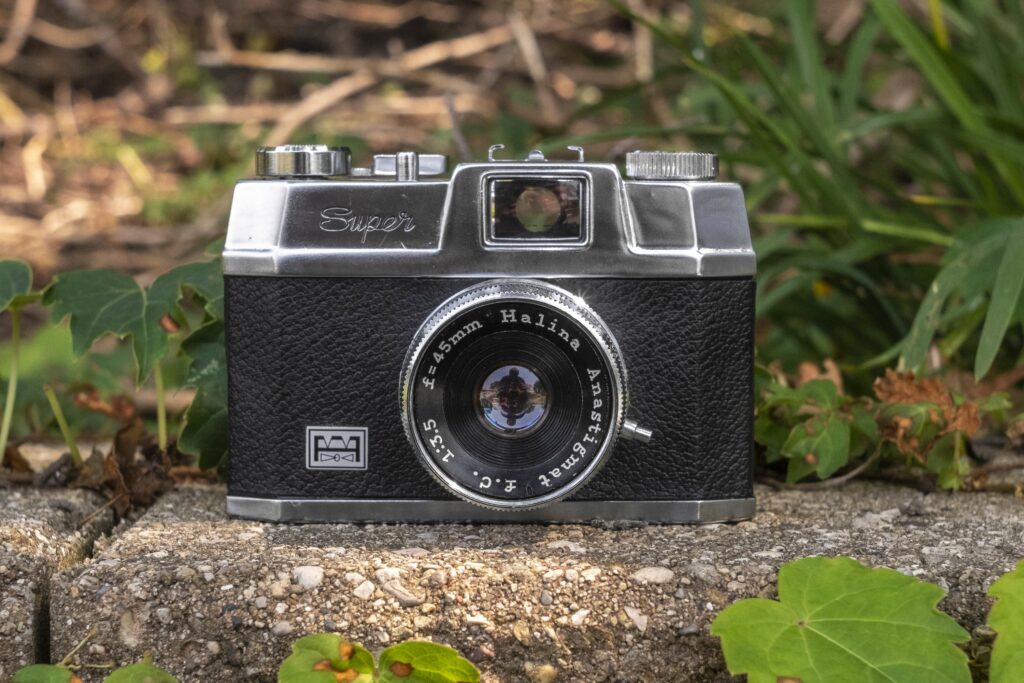 Film Type: 135 (35mm)
Lens: 45mm f/3.5 Halina Anastigmat coated 3-elements in 2-groups
Focus: 3 feet to Infinity
Viewfinder: Scale Focus with Silver Painted Frame Lines
Shutter: Behind the Lens Leaf
Speeds: B, 1/25 – 1/200 seconds
Exposure Meter: None
Battery: None
Flash Mount: Cold shoe and Flash Bulb Sync
Other Features: None
Weight: 612 grams
Manual: https://www.cameramanuals.org/pdf_files/halina_super_35x.pdf
The Haking Halina 35X is an update to the original Halina 35X which was a lower quality copy of an already inexpensive Japanese camera from the 1950s.  Despite a dubious reputation and questionable build quality, the Halina 35X Super is capable of good images, and has just barely enough flexibility so as to be a steeping stone towards better cameras.  The larger viewfinder and film advance lever make the camera feel more modern, so if you're interested in inexpensive Hong Kong made cameras from the early 1960s, this is about as good as you'll find!
Images
Handling
Features
Viewfinder
Feel & Beauty
History
Age
1
1
1
2
1
1
20%
Bonus
none
Final Score
8.4
History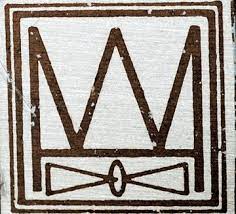 For western collectors, the name "Haking" rarely evokes much excitement as the brand is most commonly associated with an inexpensive line up of cameras sold in Hong Kong and other areas of the world between the 1950s through the 1980s.
Certainly Haking cameras were economically priced, but to dismiss them as just another cheap camera maker misses out on the history of a man who helped bring Hong Kong's, and to a lesser degree, Chinese manufacturing to the rest of the world.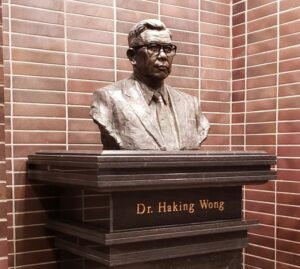 Founded in 1956 as W. Haking Enterprises Ltd. by Dr. Haking Wong and Dr. Pauline Chan, Haking was known as an industrial pioneer in a great number of industries, not just photographic cameras.
Haking Wong was born as Huang Kejing in Hong Kong in 1906 as the son of Huang a successful Thai-Chinese tycoon named Huang Xuanchong.  As a child, Huang Kejing moved with his mother to Thailand where he attended several Chinese private schools.  He moved back to Hong Kong at the age of 14 to attend St. Stephen's College, a prominent Christian school where he furthered his studies.
After graduating college, Huang Kejing took an interest in Hong Kong's burgeoning manufacturing industries, working a variety of jobs in electronics, textile, and even shipbuilding factories, honing his knowledge and experience in industrial manufacturing.
After World War II, Hong Kong saw a rapid period of growth in manufacturing and industry, and in the very early 1950s, Huang Kejing formed Bao Yuen Foundation Co., Ltd, a manufacturer of plastic goods.  Within a couple of years, the plastics industry became crowded, and wanting to move to a more competitive and prestigious industry, in 1956 formed W. Haking Enterprises Ltd, making optical instruments and eventually, cameras.
The exact history of Haking and the order in which it's cameras was released is not well documented.  A huge number of Haking cameras of all shapes and sizes, using everything from 127 roll film to 35mm to 110 and APS film stocks were produced over the second half of the 20th century, but which were first or the most successful is not clear.  While researching this article, I had some of the same challenges I've had with other Chinese manufactured cameras as that country's manufacturing history is not well documented.  A combination of factors including wars, civil unrest, and strict government control has led to a lack of, or unwillingness to share information.  Of the people who could piece together Haking's exact history, few are still alive today, so it's likely we won't ever have a comprehensive timeline.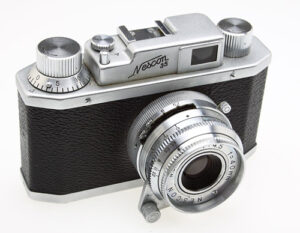 What we do know, is that a couple years after the formation of Haking, a camera called the Halina 35X made it's debut.  The Halina has a very loose similarity to the German Leica rangefinder but has a fixed lens and only offers scale focusing.  It seems to have been one of the more ambitious Halina branded cameras and was heavily inspired by a Japanese camera called the Nescon 35, made in 1956 by Nihon Seiki which itself was sold under a variety of names including Micronta 35, Ranger 35, and Soligor 45.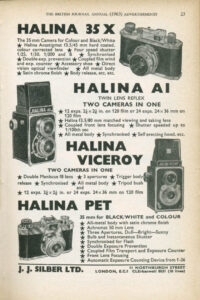 The Nihon Seiki cameras were inexpensive cameras to start with, but the Halinas were even cheaper, using cast bodies and stamped metal plates compared to the Japanese cameras which used better materials and were built with more precise tolerances.  Still, for an early attempt by a new company from a country not yet known for it's optical goods output, it was a decent effort.
As Hong Kong was a British territory at the time, Haking cameras like the Halina were exported to England and other British territories which weren't heavily served by German, Japanese, or American camera manufacturers.  Ads like the one to the right from the 1963 British Journal of Photography show the Halina 35X for sale along with three other inexpensive Halina cameras.  Although I could not find any pricing information, my guess is any of these cameras could be afforded by most people with little to no knowledge of photography.
A very small number of Halina cameras made their way to the United States, usually offered for a couple of dollars in back page advertisements by independent importers, or even as promotional giveaways to those looking to open a new bank account or sign up for a magazine subscription.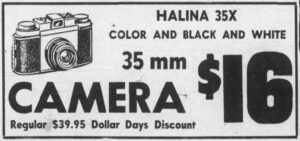 The ad to the left comes from an ad for Lubin's Drug Store published in the February 7, 1962 issue of the Iowa City Press-Citizen newspaper.  The ad shows a sale price of $16 and a "regular" price of $39.95 which the camera likely would have never sold for.  Humorously the sketch of a camera appearing in the ad, doesn't even look like the Halina, suggesting how little effort was put into marketing the camera here.  Assuming anyone would have paid $16 in 1962 for this camera, when adjusted for inflation, this price compares to about $158 today.
An updated version of the Halina 35X called the Halina 35X Super was eventually released, probably in 1963 and updated the original camera with a much larger viewfinder with painted on silver frame lines, a film advance lever, and nothing else.  The main part of the body, shutter, and lens from the original model carried over, as did the die cast parts and generally low build quality.  In my research for this article, I found no advertisements for the Super model, and based on the fact that used copies of the Halina 35X models greatly favor the original model, I can only assume the Supers were sold in smaller numbers for a much shorter period of time.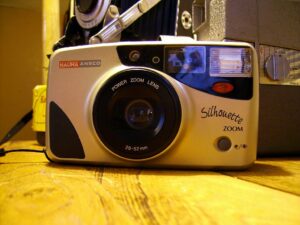 Haking would go on to produce a huge number of other cameras, all the way through the end of the 20th century.  In 1978, Haking would acquire the rights to the American camera brand Ansco, producing a large number of Ansco branded cameras manufactured by Haking in Hong Kong.  No Haking camera ever rose beyond cheaply made, inexpensive alternatives to higher end Japanese cameras, but served the purpose both of providing options for photography to people and markets who otherwise wouldn't have been served, but also as a pioneer in what would become a huge manufacturing industry in Hong Kong.
Haking Wong is a westernized spelling of Huang Kejingm and as president of Haking, would hold a variety of positions in his life, including the president of The Chinese Manufacturer's Association of Hong Kong, Prime Minister of the Tung Wah Group of Hospitals, and others.  He would be awarded a medal of honor by the Hong Kong government and Order of the British Empire (OBE) in 1968, and once again in 1981 as a Commander of the British Empire (CBE).  In 1980, he would be awarded an honorary Doctorate of Law by the University of Hong Kong.  In 1993, Dr. Haking Wong's net worth was estimated as high as 1.5 billion Hong Kong dollars.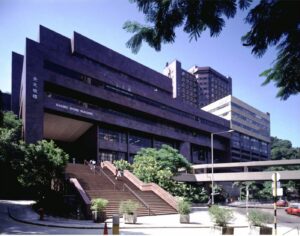 Dr. Haking Wong would live a long and prosperous life, passing away on January 9, 1996.  His influence as one of the most prominent members of the Hong Kong (and later Chinese) manufacturing industry led to a huge number of products and companies who have produced goods in all industries over the past half century.  Whether you've owned a Haking camera in your life, it is extremely likely that you have owned or at least come across some other product that can be directly attributed to his legacy in some form or another.
Today, I can't imaging there's too many dedicated Haking or Halina collectors, or those with a specific interest in Hong Kong made cameras, but the vast number of them produced over half a century means that almost certainly every collector has come across at least a couple, more than once.  While there's little I could probably say to compel someone to run out and start buying Halina cameras, of the ones they made, at least a few like the Halina 35X Super are worth checking out, if the price is low enough.
My Thoughts
There are certain brands or types of cameras that collectors generally shy away from.  Usually these cameras are poorly constructed knock-offs of some other camera, have a poor reputation for reliability, or just generally aren't fun to use.  Halina cameras usually fit into all three of these cameras.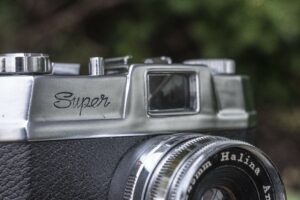 In an early episode of the Camerosity Podcast, host Theo Panagopoulos commented on the lack of Halina reviews on this website and suggested I needed to get one.  I wasn't quite sure if Theo was genuinely trying to be helpful or if he was pranking me, but I thought, what the hell and took a look at "Ye Olde Popular Vintage Camera  Auction Website".  Theo didn't specify exactly which Halina, just that I should get one.  I saw the more common 35X models with their squinty viewfinders intentionally designed so as to suggest a Leica-like experience, but then I saw the 35m Super with it's MUCH larger viewfinder, and being someone who consistently prefers cameras with good viewfinders, I plunked down my PayPal account number and bought it!
Upon it's arrival, I was struck by two things.  First, was that holy heck, this camera is heavy!  Not Kodak Medalist heavy, but considering the camera's very small size, at 612 grams, this camera weighs much more than you'd expect.  The second was that although the camera did show some obvious signs of cost cutting, like the stamped metal top plate and that cheap looking white on black text around the lens ring, the camera wasn't nearly as bad as I thought it would be.  All of the touch points including the focus, aperture, and shutter speed rings were chromed metal with a good amount of dampening, so as not to be too difficult or too easy to change.  The viewfinder itself was as large and bright as I hoped it would be, and the 3 blade shutter sounded snappy and reassuring as it fired.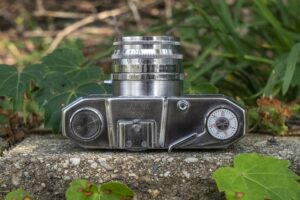 The top plate is covered in very shiny chrome, almost like a mirror with a matte texture.  I don't know a lot about metal plating, but I have to imagine however this one was made was a lower type than other Japanese and German cameras, but whatever the case, it looks nice although it makes it very difficult to photograph.  I had trouble making images that allowed you to see the chrome surface without it looking very dark.
On the left is a rewind knob and in the middle an accessory shoe with "Halina 35X" logo engraved above it.  To the right is the cable threaded shutter release, and combined film advance lever and exposure counter.  The exposure counter is additive and must be manually reset after loading in each new roll of film.  The film advance lever is a single stroke and requires just barely more than 180 degrees of motion to advance the film one exposure.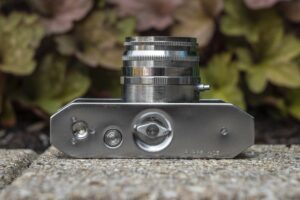 The base of the camera is made from the same stamped metal and covered in the same shiny chrome as the top plate.  Unlike the top plate however, the example here is wavy, as if the metal is thinner and unable to maintain a flat shape.  On the left is a 1/4″ tripod socket, which would not balance the camera on a tripod, but then again, with no self timer or speeds slower than 1/25, the only time you'd ever need to mount the camera to a tripod would be when using Bulb mode, but considering the cheap nature of this camera, I doubt many people who bought it would have done that.  Next is the rewind release button and film compartment lock.  With the lock pointing to the sides, it covers a letter "L" to indicate that it's locked.  Turn it counterclockwise so it covers the letter "O" to open it.  Even with it in the locked position, the base on my example still feels loose, causing me concern about light leaks.  Finally, engraved on the right side are the words "Empire Made".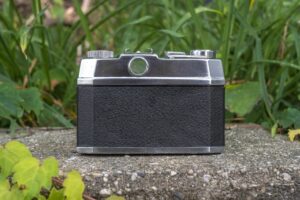 On the back of the camera, a large round eyepiece for the viewfinder is the only thing to see.  The body covering feels thin and has no grip whatsoever, but at least on this camera was still in good condition, showing no tears or signs of peeling.  If I had to guess, it's good condition is more than likely due to this camera not seeing a lot of use, rather than it being durable.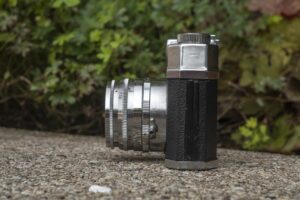 The barrenness of the back continues to the sides where there is nothing to see, not even strap lugs, which means if you wanted to use a neck strap with it, you'd either need to use the original case (I am assuming it came with one when new) or one of those ones that screw into the tripod socket.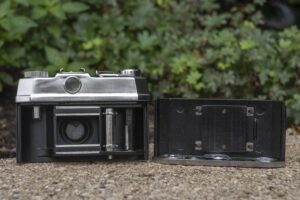 The film compartment opens by releasing the lock on the bottom and sliding the entire back off.  At a glance the Halina's film compartment is pretty standard, film transports from left to right over the film gate and a sprocketed shaft and onto a fixed take up spool.  On the inside of the door is a black painted metal pressure plate covered in divots which are there to help reduce friction as film passes over it.  Don't look too hard though because then you'll see some of the roughest parts of the camera.  The heavy weight of the Halina is the result of the thick hunk of metal that makes up the inner body.  Although painted black, the metal has a rough texture and looks like it was cast from some type of low quality pot metal.  It works, but just don't stare too hard at it.
Although the door channels lack any sort of light seal material, underneath the top plate where the top of the back slides into when closing the camera. is a long piece of black yarn which is a surprising touch as most cameras from this era would have started using foam which degrades.  While I still do have some concerns about how secure the back attaches to the camera, at least you won't have to worry about replacing degraded light seals.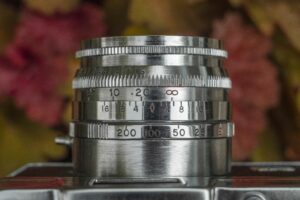 Looking down upon the top of the shutter, there are the same controls that you'd see on any number of other leaf shutter equipped cameras.  Closest to the body is the shutter speed ring with four speeds from 200 to 25 plus Bulb.  Each of the speeds has a positive click stop.  The shutter speed ring on this camera has a bit of play in it.  It doesn't affect it's operation, but hints at the camera's low quality design.  Next is the focus ring which rotates from 3 feet to infinity.  The action of this knob is very smooth and with just the right amount of dampening and with no grit.  This could largely be the result of this particular camera being taken care of throughout it's life, but I've turned focus rings on many other cameras that didn't feel as nice as the one here.  Between the shutter speed and focus rings is an engraved depth of field scale.  Finally, nearest the front of the lens is the aperture ring which turns smoothly and without click stops.  The aperture ring has an f/stop scale that is engraved on the focus ring which is a little add as it moves depending on what distance the lens is focused to.  At minimum focus, the aperture scale is pointing to the side of the camera, making it difficult to use.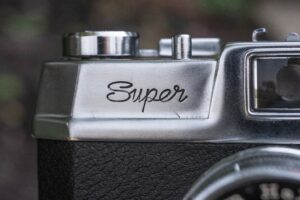 Up front, the Halina 35X Super lacks a self timer, there is no switch for selecting M or X flash sync, and it does not have an interchangeable lens mount.  Apart from the flash sync port sticking out of the side of the shutter near the 4 o'clock position, there's nothing else to see on the front of the camera.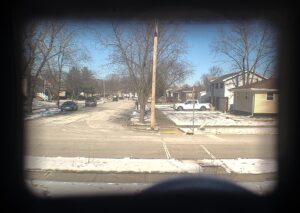 The viewfinder is large and bright, but very basic.  Frame lines are painted in a reflective material, which on this camera was flaking off, making it difficult to see.  From what little I can see however, they are near the extreme edge of the visible viewfinder, so they really wouldn't be needed to frame your image anyway.  While wearing prescription glasses, I can barely see all four sides of the viewfinder, which is unfortunate as you'd think the larger physical size would make it easier to use.  There are no focus aides, nor is there any other information about the camera from within the viewfinder.  I've never handled the original Halina 35X, but I would guess that this is simply a larger version of that one, with no other upgrades.  A small amount of the lens is visible at the bottom of the viewable image, but this has no impact on the images the camera makes.
And that's pretty much it.  On one hand, this is a simple camera without many bells and whistles, on the other, it has everything that a more serious camera would have.  Other than being of lower quality compared to other scale focus Japanese cameras, the Haking Halina 35X Super is a capable camera that in the right hands could make good photos.  Notice I said, "could" and "in the right hands", this is a half century old Hong Kong (I won't say China as Hong Kong wasn't part of China then) camera, so anything could happen.  But did it?  Read on…
My Results
When it came time to shoot the Haking, I didn't know what to expect.  While I had an idea that the camera might make better images than it's build quality would suggest, I was apprehensive about using fresh film, so I went to my "B-Drawer" and got a roll of slightly expired Kodak Gold 200.  This film should still shoot at box speed, with perhaps some muted colors, but otherwise should still give me an idea of how the camera performs.
There aren't too many reviews online for the Haking Halina 35X Super, but there's plenty for the first version and if you've looked at any of those, you should already have an idea of what to expect.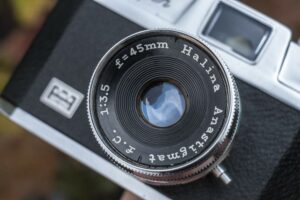 All things considered, the images from the Halina were pretty good.  Sharpness in the center is as good as any 3-element lens I've shot.  Softness and vignetting are evident near the corners, but not in a distracting way.  In fact, when used in the right way, can add a lot of "vintage character" that people often look for when shooting film cameras.  Color rendition is acceptable and although I did not shoot any black and white film, there's nothing to see here that wouldn't suggest images with nice contrast.
The images from the Halina are much better than the build quality of the camera would suggest, with it's loose fitting bottom panel, extremely shiny chrome plating, cheap looking vanity ring around the lens, wobbly shutter speed ring, and rough looking film compartment.  For the prices these cameras sold for when they were new, I imagine their owners were very happy with their purchase.
I quite liked the camera's combination of a large and bright scale focus viewfinder and compact body.  The original Halina 35X has a body shape somewhat reminiscent of a Leica rangefinder, but is smaller, making it more compact and easy to fit into a medium coat pocket or small handbag.  This certainly isn't a camera I would go on an Amazon adventure with, but for a camera you'd take on a spontaneous walk through the park, it would work well.
While my list of cons for the camera is larger than it's pros, considering it's low price and that it never pretended to be anything more than a cheaply made discount camera, I won't spend too much time talking about it's shortcomings.  This is a cheap Hong Kong camera from the 1960s that does everything it should, and in some cases, performs better than it has a right to.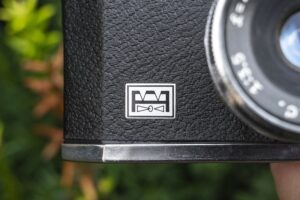 As it turns out, the lens on the Halina has started to develop a following among people who adapt them to digital cameras.  Halinas were produced in great numbers, and were very inexpensive, so they are still easy and affordable to find today.  This means that 21st century owners have no problem tearing into the bodies to remove the lens and adapt them digitally.
One such owner did this and shared his images on a blog post showing the Halina lens mounted to a Canon SLR, check them out!
Without a doubt, the image quality from the Halina is the most notable reaction I had to the camera, but it is important I don't get too carried away here.  This is a cheap camera mass produced in huge numbers with questionable build quality.  I would say, it is a step up from the rip-off "Scameras" that the Chinese camera industry became known for in the 1980s, but a step down from a typical Soviet camera like a Smena-8 or Agat 18K.
I feel like if I keep typing, I'll just continue to repeat myself here by saying the Halina Super 35X Super is better than it appears.  The camera has a lens and shutter that is good enough to make images that likely will impress you, especially when considering the camera's reputation.  If you see one for sale, go ahead and pick it up as it'll likely surprise you too, just don't pay too much for it.
Related Posts You Might Enjoy
External Links
http://camera-wiki.org/wiki/Halina_Super_35X
https://austerityphoto.co.uk/halina-super-35x-review-superstar-or-hasbeen/
http://www.collection-appareils.fr/x/html/page_standard.php?id_appareil=11102
https://camarasclassicas.blogspot.com/2010/08/my-father-camera.html