This is a KW Pilot, a folding twin lens reflex camera produced by Kamera Werkstätten Guthe & Thorsch in Dresden, Germany between 1931 and 1937.  The Pilot was the first and only folding TLR to shoot 3cm x 4cm images on 127 format roll film.  The Pilot, like all KW cameras was a high quality and innovative camera that had a form factor and supported features not commonly seen in other German cameras of the day.  The Pilot was the first in a series of Pilot cameras, followed by the Pilot Box and Pilot 6 from 1932 and 1936 respectively.  The Pilot was discontinued in 1937, the same year founder Paul Guthe fled Germany, never to return.
Film Type: 127 Roll Film (sixteen 3cm x 4cm exposures per roll)
Lens: 5cm f/3.5 Schneider-Kreuznach Xenar uncoated 4-elements
Focus: 1 meter to Infinity
Viewfinder: Coupled Waist Level Reflex and Flip Up Reverse Galilean Scale Focus Viewfinders
Shutter: Compur Leaf
Speeds: T, B, 1 – 1/300 seconds
Exposure Meter: None
Battery: None
Flash Mount: None
Weight: 536 grams
Manual: None
The KW Pilot is unlike any other camera ever made.  It is a compact, folding, TLR that shoots 3×4 images on 127 film and for that makes it a must have in any collection.  With excellent German build quality and a range of good lenses and shutters, the Pilot is capable of some really fantastic images.  And for those not interested in shooting cameras like these, they look great on a shelf.
Images
Handling
Features
Viewfinder
Feel & Beauty
History
Age
1
2
2
1
2
1
40%
Bonus
none
Final Score
12.6
KW was founded in Dresden, Germany in 1919 by Paul Guthe and a Swiss businessman named Benno Thorsch as Kamera-Werkstätten Guthe & Thorsch.  Guthe had previous experience in camera manufacturing, owning another camera factory in the Dresden area that he founded a few years earlier in 1915.
KW's first product was a folding camera called the Patent Etui.  It had an extremely slim and compact body that was quite a bit smaller than comparable cameras of the time.  There were versions made for 6.5cm x 9cm sheet film and some that used 9cm x 12cm film.  The Patent Etui had an innovative and unique design that was unlike any other camera made at the time, or even in the years that would follow.  Innovation would become a hallmark of KW's legacy, setting a standard for new and creative designs and features in many of their models to come.
The Patent Etui was in production throughout the 1920s at a time when the German economy was very weak due to the outcome of World War I.  Many German companies would either collapse or merge with other companies during the 1920s.  In 1926, four Dresden area companies would all merge together to form one single company that would be called Zeiss-Ikon.  But not KW, they were one of the few Dresden optics companies that saw great success.  So much so that in 1928, KW moved from it's original location in Niedersedlitz to a larger facility in Dresden, right down the street from Zeiss-Ikon's factory.  KW employed at least 150 employees and the company's output at this time was around 100 cameras a day.
In 1931, KW released another innovative camera with an all new design called the Pilot.  This new camera was a folding Twin Lens Reflex design that took 3cm x 4cm images on "Vest Pocket" 127 roll film.  The Pilot combined the best features of a TLR like the Rolleiflex and a folding camera that when collapsed was much smaller and portable.
The Pilot was then and still remains the only folding TLR that uses 127 film.  To the best of my knowledge, the only other folding TLRs like the Welta Perfekta and Superfekta, and the Zeh Zeca-Flex all used 120 format roll film.
Following that original Pilot model came two more in the series, a Pilot Six and Pilot Super, which were both medium format SLRs that shot 6cm x 6cm film on 120 format roll film.  To better differentiate the three models, the original 127 TLR Pilot is commonly known by collectors today as the Pilot Reflex, even though that wasn't a name ever officially used by KW.
In a 1932 catalog for Burke & James of Chicago, the KW Pilot sold for prices between $80 and $100 depending on which lens it had.  These prices when adjusted for inflation compare to $1500 and $1850 today, quite a steep price for the amateur photographer.
The camera was in production until 1937 at which time there became a lot of instability at KW.  The company's two founders, Paul Guthe and Benno Thorsch were both Jewish and started to feel the pressure of anti-Jewish treatment in Germany and in 1938, would flee the country.  Guthe was the first to leave, selling his shares in the company to Thorsch.  Very little is known about what happened to Paul Guthe after he left Germany, but Benno Thorsch's story on the other hand, is quite fascinating.
Before leaving Germany, Benno Thorsch befriended a German born American businessman named Charles A. Noble (born Karl Adolf Spanknöbel) who owned a failing photo-finishing company in Detroit where his wife worked.  Thorsch would negotiate a mutually agreeable trade of KW for Noble's company back in the United States.  Benno Thorsch quickly left for America to run his new business while Charles Noble's family moved to Germany to take over KW.  Together with his son John, in 1939 Charles would rename the company to Kamera-Werkstätten Charles A. Noble.
If you'd like to know more about KW's fascinating history during and after the second World War, I recommend reading my review for the Pentacon FM in which I go into quite a bit of detail in that camera's History section.
Other than a couple varieties of lenses that were available for it, there appear to be two versions of the Pilot with the most pronounced difference in the design of the logo on the camera's name plate.  I had originally thought that the earlier cameras have the word "Pilot" in a thin script font, whereas later ones, like the one being reviewed here have a curved logo in a thicker bold font, but the serial number of the Schneider lens on this one suggests it was made between April 1931 and June 1932 so I'm not really sure of when each style was made.  All advertising material for this camera shows the script logo, so I had assumed those were first, but if this one was really made at that time, it suggests the script logo version was not in production for long.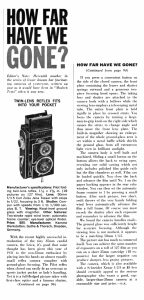 After the war ended, KW would never again make another camera in the Pilot series.  It's new owners invested heavily in 35mm cameras, releasing first the Praktiflex and then the Praktica which would go on to become one of the most successful 35mm SLRs of the 20th century.
In the short article to the right from the "How Far Have We Gone" column in the October 1961 issue of Modern Photography in which classic cameras are given short reviews as if they were current models, Herbert Keppler writes that the Pilot is an attractive alternative to larger 35mm cameras, offering a true reflex viewfinder, the economy of 16 exposures per roll of film, but much larger negatives, all for the low, low price of $85.  Beyond this tongue in cheek, but honestly accurate review of the camera, I could not find any other contemporary (or otherwise) reviews of the camera.
Today, most prewar German cameras are highly collectible, regardless of who made them.  The KW Pilot is a one of a kind folding TLR that shoots 3cm x 4cm images on 127 roll film making it quite a special camera.  I was never able to find any indication of how many of these were made, but their rarity today suggests that not many were made, further adding to their desirability today.  The Pilot was a quality made camera that when found in nice condition is fun to use and capable of unique images.
My Thoughts
When I first started reviewing cameras, I was limited to those in my personal collection, but as I got to know more and more collectors and the site gained popularity, offers to borrow cameras that I otherwise wouldn't have access to grew.  Such is the case of this KW Pilot when during a conversation in late 2019 with Fort Dodge, Iowa based collector Mike Novak, he asked if I wanted to try out his KW Pilot.
Of course I said yes, and about a week later, a nice little package arrived at my doorstop with some goodies in it, including this camera.  The KW Pilot isn't my first TLR camera that shoots 127 film, having shot a Yashica 44, I was already aware of what a more compact twin lens camera with a waist level finder could do, but I was not prepared at how compact the Pilot would be.
The folding TLR sub-genre is one that didn't last past World War II, and I think that's a shame as these compact little cameras are a heck of a lot of fun to shoot.  In the case of the Pilot, exposing 3cm x 4cm images means you get 16 exposures on a single roll.  This is quite a bit smaller than that of a 6×6 Rolleiflex, but still larger than that of a 24mm x 36mm negative from a regular 35mm camera.
The Pilot weighs a mere 536 grams, easily making it the smallest TLR I've ever handled, and when folded shut, could fit in a large coat pocket or small handbag.  The build quality is typical of other prewar KW products, which is to say, very good.
At waist level the top of the camera has a folding lid with an embossed KW logo in the leather.  Flip it up as you would any TLR, and you can see the rectangular reflex viewfinder.  The focusing screen is a single piece of frosted glass with nothing in the way of focusing aides or grid lines.  Like other 1930s reflex cameras, the viewfinder image is fairly bright in the center, but strongly vignettes near the corners.  Peering through the viewfinder lens, I saw a bit of desilvering on the reflex mirror, but nowhere near as much as I've seen on other similarly old cameras, suggesting the brightness seen here is pretty close to how it was when the camera was new.  Although I don't show it in the images above, there is a magnifying glass attached to a metal plate that swings forward to allow for precise focus if you need it.
On the left side of the Pilot is a secondary flip up reverse Galilean viewfinder, the self-erecting release button for opening the camera, and a 3/8″ tripod socket.  This viewfinder is useful as a sports finder and for shooting images in portrait orientation, but it's positioning above the viewing lens is curious as this adds horizontal parallax error.  Had the viewfinder been closer to the taking lens, this could have been avoided, leaving only a small amount of vertical parallax error.  While shooting with the camera, I tried out this viewfinder a couple of times for things at or near infinity and found it to be more useful than the small square peep holes that often appear on the sides of the viewfinders on regular TLRs.  Pressing the release button both extends the front lens standard and also pops up the viewfinder for quick and easy operation.
The camera's right side has a large focusing knob which is measured in meters, the film advance lever, exposure counter, and exposure counter reset switch.  The handle on the advance lever folds in when not needed, improving the compactness of the camera.
I am embarrassed to admit that I really struggled with the film advance on this camera because it wasn't until after I had shot two rolls of film in this camera that I discovered it had an exposure counter.  Not having access to any sort of user manual, I assumed that some combination of using the single red window on the back of the camera and the film advance lever meant I would have to double wind the camera.
The backing paper of most brands of 127 film did not have exposure numbers for 3cm x 4cm images, so on other cameras such as the Detrola series or Foth Derby, you need to use a combination of two red windows and duplicate the eight exposure numbers for 6cm x 4cm images.  The Pilot only has a single red window however, and in a momentary lapse of forgetfulness, while shooting my first roll of film, I kept winding the camera until I saw each subsequent number in the red window.  Although this wont ruin any of your images, it wastes film in between the exposure as the Pilot only exposes half of the area that those numbers are intended for.
With my second roll, I went with strictly a double advance for every frame, not realizing that there was an exposure counter, but this has the unintended effect that the first half of the roll had overlapping images and the second half had too much space between the images.  I guess you live, you learn.
Opening the back of the camera is done by sliding the lock on the camera's bottom (not shown) until you feel it release.
With the rear door of the camera opened, we see the film compartment.  With the camera oriented as it is in the image to right, film transports from left to right onto an ordinary 127 film spool.  The process of loading film into the camera is the same as it is on other 127 cameras, but in the Pilot, the take up spool side is a bit tight.  With both rolls of film I loaded, I fumbled a but with the take up spool, getting the notches on the end of the spool to align with the "key" on the camera.  I found it was easier to install an empty spool first and attach the paper leader to the spool with it already in the camera.
When you have a new roll of film loaded into the camera and securely attached to the take up spool, close the rear door making sure it is securely locked.  Then turn the film advance lever until you see the number '1' in the red peep hole on the back of the camera.  This is the only time you will use this number as you'll use the camera's built in exposure counter for the rest of the images.  Reset the exposure counter on the camera's slide by pushing the counter reset in the direction of the arrow and it will go back to '1'.  For the rest of the roll, you will use this counter, and not the numbers you see in the red peep hole.
The KW Pilot uses a standard rim set Compur shutter and it's controls are exactly where they'd appear on nearly every other camera with a similar shutter.  Speeds from 1 second to 1/300 plus B and T are selected via outer dial and f/stops from f/3.5 to f/16 are selected using the small lever near the base of the camera.
The image to the right shows the camera on it's side to give you an idea of how the secondary flip up viewfinder works, but in this orientation, the shutter's cocking lever is near the 7 o'clock position, and the shutter release is near the 4 o'clock position.  With the camera in it's "normal" waist level orientation, these levers are near the 10 o'clock and 7 o'clock positions respectively.
The Pilot does not have any sort of double image prevention, so you must be sure to advance the film before cocking and releasing the shutter which isn't unusual considering the age of the camera, but it's something you need to be mindful of.
In use, the Pilot is quite easy to use.  The viewfinder isn't bright, but it's usable in bright sunlight and with the focusing magnifier, I had no trouble focusing the camera, even at minimum focus.  Shooting film in the camera shouldn't reveal any surprises, or will it?
My Results
I shot two rolls of film in the Pilot.  The first was a semi-fresh roll of Rerapan 100 film and the second was a heavily expired roll of Supretone 127 that I've shot numerous times in other cameras and know it to rate around ASA 25.
During the first roll, I forgot that the camera shot 3cm x 4cm images and relied on the exposure numbers through the red window and only managed to get 8 exposures on that first roll.  Unable to find a user's manual that explained the proper way to advance film, I shot the second roll advancing the film twice for each exposure, which resulted in half the roll overlapping each other.
With both rolls of film, the KW Pilot delivered very nice and period correct looking images.  The Schneider-Krueznach Xenar lens lived up to it's reputation as a capable Tessar alternative with images that were sharp from corner to corner without any optical anomalies typical of lesser lenses.  My selection of both a 25 and 100 speed films worked out well as they were both within the camera's exposure capabilities.  With a max shutter speed of 1/300 and an f/3.5 lens, you could easily shoot 400 speed film in the Pilot even though no film of that speed existed when it was first produced.
I played it relatively safe with both rolls, shooting the camera primarily in brightly lit outdoor scenes, but having the benefit of a reflex viewfinder, I tried a couple minimum focus shots and those came out quite nice.  Considering most 127 film cameras were pretty basic and usually had scale focus viewfinders, it's not often you get the benefit of seeing focus while composing a 3×4 image.  The few times I used the flip up viewfinder, I kept my exposures at or near infinity, which would have been useful for fast action shots.
I generally enjoyed shooting the KW Pilot.  The viewfinder was easy enough to use with bright outdoor light, but quickly darkened, especially in the corners in shade or when there was less than ideal light.  The flip up viewfinder is much brighter and might have worked indoors, but shooting with a scale focus viewfinder with a wide open lens means less depth of field and combined with parallax error might not have been useful for indoor photos.  Selecting shutter speeds and apertures along with cocking and firing the shutter was exactly like it is on every other Compur leaf shutter camera.
By far, my favorite thing about the Pilot is it's size.  Where the Yashica 44 is like a miniature TLR, the KW Pilot is sub-miniature.  It's small size and light weight meant that it was very easy to carry around and stick in my coat pocket when not needed.  I never once felt that it's weight was obtrusive and I was comfortable opening and closing the camera to take each shot before putting it back into my pocket.  With both rolls of film, I quickly got through both rolls without ever feeling the burden of having to finish the last few exposures like sometimes happens on other less than ideal cameras.
The 3cm x 4cm images made by this camera have a total exposed area of 1200 sq mm which is about 40% larger than that of regular 35mm film, giving slightly larger and more detailed images in a camera that's barely larger than a Kodak Retina.  With the benefit of a reflex viewfinder and a quality Compur shutter, the KW Pilot would have been a nice step up from a smaller camera without the bulk.
The KW Pilot is a really cool camera that is unlike any other ever made.  In addition to being one of the few folding TLRs, it's also one of the few 127 reflex cameras ever made as well.  I've often lamented about the lack of high spec 127 cameras as it seems that after World War II, the format was reserved for simple box and scale focus cameras.  I wonder what a post-war KW Pilot might have looked like with a brighter viewfinder with Fresnel matte focusing screen, coated lenses, self cocking shutter, and better shutters.
If you are a fan of pre-war "nickel and leather" German cameras, and are bored of the same folding compact cameras of the era, the KW Pilot would make an excellent addition to your collection.  I am not looking forward to the day I sent this camera back to it's owner, but with the rarity of good 127 film, I can't say that even if I owned it, I would shoot it all that often.
Related Posts You Might Enjoy
External Links
http://camera-wiki.org/wiki/Pilot_Reflex
http://www.earlyphotography.co.uk/site/entry_C844.html
https://www.collection-appareils.fr/x/html/camera-5559-KW_Pilot%20Reflex.html