This is a Pentax LX, a 35mm SLR produced by Asahi Optical of Japan between the years 1980 and 2001.  The Pentax LX was the top of the line Pentax SLR aimed at professional photographers and competed directly with the Nikon F3.  The camera had a long list of features, including aperture priority automatic exposure, interchangeable viewfinders, motor drive couplings, the Pentax K-mount, and a large number of accessories.  Despite going head to head with Nikon and other professional SLRs, the LX remained compact and weighed less, appealing to photographers who needed a rugged and well featured, but lightweight camera.  In production for over 20 years, the LX was one of the longest produced Pentax models ever made.
Film Type: 135 (35mm)
Lens: 50mm f/2 SMC Pentax-M coated 6-elements in 4-groups
Lens Mount: Pentax K Bayonet
Focus: 1.5 feet / 0.45 meters to Infinity
Viewfinder: Interchangeable SLR Pentaprism, 95% Field of View
Shutter: Horizontally Traveling Titanium Focal Plane
Speeds (Auto): 125 – 1/2000 seconds, step less
Speeds (Manual): X, B, 4 – 1/2000 seconds (4 seconds to 1/60 plus Bulb are Mechanical)
Exposure Meter: TTL Silicon Blue Diode Cell, Off the Film Plane, with Aperture Priority AE
Battery: (2x) 1.5v LR44 Silver Oxide Battery
Flash Mount: Hot shoe and M and X Flash Sync, 1/75 X-Sync
Other Features: Self-Timer, DOF Preview, Mirror Lock Up, Interchangeable Focus Screens
Weight: 749 grams (w/ lens), 609 grams (body only)
Manual: http://www.mikeeckman.com/media/PentaxLXManual.pdf
When it was new, the Pentax LX was billed as the best 35mm Pentax SLR ever made, a claim that very well might still be true today.  This was a top of the line, professional camera, loaded with features that allowed it to compete favorably with the lines of the Nikon F3, Canon F-1 and Minolta XK.  Unlike most pro-level cameras however, the Pentax LX was very compact and had great ergonomics.  It also could be used like a simple point and shoot SLR when you needed it to be, making it the ultimate, do everything SLR and one that very much deserves to be in every collector's bag.
Images
Handling
Features
Viewfinder
Feel & Beauty
History
Age
2
2
2
2
2
1
0%
Bonus
+1 for the complete package, one of the most ultimate manual focus 35mm SLRs ever made
Final Score
12.0
History
When you think of all the major Japanese companies who made SLRs in the 20th century, nearly all of them took a similar path in which they started with some other type of camera and eventually wound up making 35mm SLRs.  Canon produced it's first camera, the Hansa Canon more than 20 years before it's first SLR, Nippon Kogaku did the same thing, except started a little later.  Minolta, Konica, and Olympus made a bunch of folding cameras first, produced some rangefinders, and also made TLRs before jumping into the 35mm SLR world.
The Asahi Optical Company however, never made a camera before it released the first Asahiflex SLR in 1951.  Asahi had been making lenses and other optical products before World War II, but total destruction befell their factories and in 1948, company president Saburo Matsumoto convinced the Allied Occupation Forces to allow him to restart his company, and soon thereafter began work on a new camera.
Saburo Matsumoto relied on contacts he had made from before the war to help him design a new camera that is commonly believed to have been inspired by a prewar Kochmann Reflex-Korelle SLR.
Asahi's first few attempts at building a camera weren't successful, but after persisting, eventually the Asahiflex was born.  Japan's first 35mm single lens reflex camera had a permanently attached waist level viewfinder, an interchangeable M37 lens mount, a focal plane shutter, all in a body barely larger than a Leica rangefinder.
The Asahiflex was an immediate success, earning praise for it's implementation of a quick return mirror.  Beating other Japanese companies to the SLR world by several years, the Asahiflex was exported all over the world.  In the United States, the Sears, Roebuck, & Company sold re-branded Asahiflex cameras under their own Tower brand and helped make the western world see Japanese cameras as something worth owning.
By 1957 when the Asahiflex received a pentaprism viewfinder and was renamed Pentax, the company was already one of the most respected Japanese camera makers.  In the years that would follow, the Pentax would continue to evolve, being an affordable, yet extremely high quality camera system.  Now using the M42 "universal" lens mount first popularized by German companies such as Zeiss-Ikon and KW, owners of the Pentax could choose from a huge number of Japanese and German made lenses.
Throughout the 1960s and 1970s, the Asahi Pentax was a market leader as one of the best mid-level SLRs.  It's compact design, good looks and ergonomics, and excellent performance earned it rave reviews from photographers everywhere.
For as good as the Pentax was, Asahi seemed to be content with a solid, midlevel consumer camera.  Pentaxes weren't cheap, but they also never tried to compete at the upper end of the camera spectrum.  If you were a professional photographer on assignment shooting the Vietnam war in the 60s, you likely wouldn't choose a Pentax.  It's not that they were bad cameras, they just went meant for professional use.
By the 1970s, the pro-level SLR segment had gotten more cluttered, first in 1971 with the release of the Canon F-1 and once again a year later with the release of the Minolta XK, both high end and rugged professional SLRs with a huge system of accessories designed for me.  Even Olympus, who was earning rave reviews for it's new OM-series, was dabbling in the pro market with a huge list of accessories for it's system.  It would seem that Asahi had missed the boat.
That changed in 1980 with the release of an all new camera, the Pentax LX.  Unlike previous Pentaxes, the LX was a full system SLR, with support for interchangeable viewfinders, focusing screens, motor drives, and a large catalog of Asahi's new K bayonet mount first introduced in 1974, the Pentax LX was ready to take on Nikon's new F3, and others in the segment.
Understanding that entering into a market the company had never previously competed, and against industry heavyweights like Nikon and Canon would be extremely difficult, Asahi's approach with the LX was to use their strength at making more compact cameras, with a spattering of new technologies to help differentiate their new model from the Nikon F3 and Canon F-1.  In a body somewhere between the size of a Pentax MX and Nikon F3, the Pentax LX was the smallest professional SLR of it's era.
It offered a number of innovative features that either weren't offered by the competition, or at least were improvements on existing features such as:
Aperture Priority Automatic Exposure with speeds from 125 seconds to 1/2000
Silicon Photo Diode meter reads directly off the film plane
Electro-mechanical titanium shutter capable of manual speeds from 1/75 to 1/2000 without batteries
Unique strap and accessory lug system on both sides of the camera
Single all-in-one self-timer, depth of field preview, and mirror lockup lever
Redundant second PC sync terminal for off camera flash
Exposure counter that worked both while winding and rewinding the camera (allows you to double expose a previous frame after advancing the film)
Variable viewfinder diopter
Dust and moisture resistant body seals (rubber O-rings in film compartment, no foam light seals)
Multi-colored LED viewfinder display
Interchangeable prism with flash hot shoe (compared to others where flash is mounted with an accessory)
The following nine page test report of the Pentax LX appeared in the January 1981 issue of Modern Photography.
After it's release, the Pentax LX generated excitement from all subsets of the photographic industry.  Although competing with the likes of the Nikon F3, Minolta XK, and Canon F-1, advanced amateur and hobbyist photographers took notice too as they would have been the ones who already were familiar with the brand and had built up a selection of K-mount lenses.
When it first went on sale, the Pentax LX was typically packaged with the standard pentaprism viewfinder and a 50mm f/1.4 Pentax-M lens and carried a manufacturer's suggested retail price of $1085.  Actual street prices were likely a bit lower than that, but even at MSRP, it was about $100 cheaper than the Nikon F3 with 50mm f/1.4 Nikkor lens at $1174.90.  With inflation, both prices for the LX and F3 compare to about $3500 and $3800 today, making them expensive, but not unattainable for the professional photographer.
In separate full page tests of the new Pentax LX in both Modern and Popular Photography, Herbert Keppler and the editors were very positive about the amount of technology and features packed into the camera.  Asahi clearly did their homework offering features that professional photographers wanted, in a package that was compact and easy to use.
Asahi also avoided a pitfall that Canon made when they released their Canonflex in 1959, which was that at release date, the LX not only had over 20 lenses with a wide range of focal lengths available, but all accessories from the motor winder, nine different viewfinders and focusing screens, data and bulk backs, and grips were available for purchase.  This eliminated the chance that promised features would end up being "vaporware" allowing potential buyers the ability to test the full functionality of the system before committing any money to it.
The Pentax LX impressed the photographic press and clearly turned some heads as it was in regular production for nearly 2 decades.  I have never seen total production numbers for the camera, but my guess is that year over year, it didn't sell as well as it's primary competition, but the fact that it continued to be produced for so long, at least suggested sales were good.
Throughout it's life, the Pentax LX received a number of internal updates and three minor cosmetic updates to the original design.  Most notable on the later models were a redesigned light pattern on the inside of the first shutter curtain, and a revised shutter release lock.  Specifications however, remained the same throughout the camera's entire life.
In addition to regular Pentax LXs, a couple of special editions were produced.  The first, was a gold plated version released in October 1981 to celebrate Asahi's 10 millionth SLR produced, two more versions called the LX Titanium were produced in 1994 and 1996 with titanium top and bottom plates and a new logo, and the last, was the Pentax LX 2000, which was released in 2000 to celebrate the new millennium.  This final version of the LX had an all silver and black body, and came with a matching silver and black 50mm f/1.2 SMC Pentax-A lens.  One very minor change added to the 2000 edition was that strap lugs were now on the right hand grip, which allowed the user to attach a strap while keeping the grip on the camera.  Previous versions of the camera required the grip to be removed if you wanted to attach a strap to that same location.
Today, the Pentax LX carries the same level of respect and desirability as it likely did when it was first released.  Photographers who remember it's release in the early 1980s remember it as an interesting and capable competitor to the Nikon F3.  The camera didn't sell in as large of numbers however, so finding them today is a bit more tricky, and prices are a bit higher.  The appeal of a camera like the LX today is in it's more compact size and support for K-mount lenses, which make it an excellent shooter.  Whether you need everything the Pentax LX has to offer, or just like interesting and well built Pentaxes, the Pentax LX has a lot to offer, and while not as inexpensive as other K-mount SLRs, know that if you do buy one, you have one of the best ever made.
My Thoughts
Back in December 2020, I was invited to be on Episode 93 of the Classic Camera Revival Podcast.  On that show, the hosts asked me what camera I hadn't yet had a chance to use that I was looking forward to having.  It took me a while to think of something, but my answer ended up being the Pentax LX.  I think it was around that time that I had picked up my first Nikon F3, and having been a fan of Pentax SLRs for a very long time, I had always been curious of what Asahi's one and only attempt at competing in the professional 35mm SLR market was like.
I had looked for Pentax LXs before, but they always sold for prohibitively high prices and just wasn't something I had wanted to take a chance on, so there it sat on my "wish list".  As fate would have it, in the summer of 2021, while talking to a collector named Anu Jindal, he offered to loan me his Pentax LX to see what I thought of it.  Eager to finally get my wish, I agreed and into the mail the Pentax went.
At the time the LX arrived, in my collection already were many screw mount Pentaxes, along with the K-mount K1000, K2, MX, ME, and an ME Super.  At first glance, the Pentax LX is more substantial than those cameras, but it was surprising to me how close of a family resemblance it still had with those other Pentaxes, while still offering so many more features.
The large hand grip is the most distinct physical feature of the camera, offering a deep grip unlike those of most cameras from that era.  The Nikon F3 and Canon A1 had grips too, but not like the Pentax.  The weight of the body was much more than the Pentax MX body at 602 grams, but less than the Pentax K2 at 684 grams.  Compared to it's most logical competitor, the Nikon F3, the LX is lighter, shorter, and narrower in every dimension.
Up top, the layout of the controls are pretty standard, with the popup rewind knob and combination exposure compensation and film speed dial beneath it.  A small button is used to lock these settings from being accidentally changed.  The exposure compensation dial is indicated in 4x and 1/4x indicators, which is just another way of saying +2 and -2.
Next is a combination lock for the EV dial and the viewfinder release lever.  The Pentax LX has interchangeable prisms just like the Nikon F-series, Minolta XK, and Canon F-1.  One big difference with the Pentax however is the removable prism also has a hot shoe, allowing for flashes to be easily attached to the top of the camera, without a removable accessory like those used by other companies which go over the rewind knob.
To the right is the shutter speed dial, with speeds from 4 seconds to 1/2000 plus an X setting at 1/75, Bulb, and an Automatic setting.  The shutter on the Pentax LX will fire without batteries in the camera at any manual setting from X (1/75) to 1/2000.  For speeds 1/60 and below, the camera must have power.
Next to the shutter speed dial is the cable threaded shutter release button with locking collar, automatic resetting exposure counter, and film advance lever.  The exposure counter is unique in the Pentax LX as that not only does it count upward the number of exposures made, but when rewinding the film, the numbers will go back down, telling you where on the roll you are at.  This is useful if you want to double expose a previous exposed frame.  While holding the rewind button in, use the rewind knob to move the film backwards into the film compartment, while looking at the exposure counter to find where you are at.  The Pentax LX manual suggests doing this should get you to within 0.2mm of any previous frame, allowing you to expose the same image again.  I don't quite honestly know how often this feature would be used, but it is cool nonetheless.
The base plate of the Pentax LX is quite busy, but most of what you see here are the mechanical and electrical couplings for the motor drive and film rewind.  In addition to these are what you'd expect on the bottom of a modern SLR, a film rewind button, centrally located 1/4″ tripod socket, and the round opening for the battery compartment.
The sides of the camera give a nice look at the profile of the camera.  The Pentax LX has a broader top plate, care of the interchangeable prism, but the most unique thing seen from the side are the lack of traditional strap lugs.  Instead replaced by the unique lug systems at each of the camera's front four corners.  This allows the photographer the option of how they wish the camera to be supported, either on top or the side.
Around back, there's little to see other than the rectangular eyepiece for the viewfinder, and the film box reminder frame.  The eyepiece frame has slots on the side for attaching various viewfinder accessories such as rubber cups, diopters, or right angle attachments.
Opening the right hinged film compartment reveals a pretty standard 1980s film compartment.  Cameras from this era were just before the dawn of DX encoding and automatic film loading systems.  Film transports from left to right onto a fixed and multi slotted take up spool.  The while plastic collar on the spool has several slots allowing you to attach the leader at pretty much any orientation, simplifying film loading as much as possible.
The film door is removable, allowing for replacement backs to be attached to the camera, and the film pressure plate is large and over sized, covered in dimples which help reduce friction as film passes through the camera.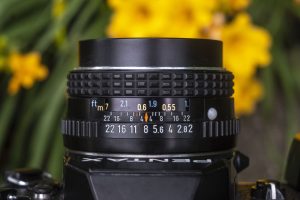 Although the Pentax LX was intended to be a professional camera, on this example I had mounted a consumer grade 50mm f/2 SMC Pentax-M which despite it's rudimentary specs, is still an excellent performer.  Asahi Optical K-mount lenses of this era were excellent across the board, so despite not having impressive specs on paper, this lens is really well built and will deliver sharp images across the board.
With the lens mounted, f/stops are selected using the ring closest to the mount and offers strong and positive click stops, allow you to easily feel each stop without looking at the scale.  Despite being a somewhat small lens, the focus ring makes the most of it's limited space and is easy to locate and turn.  This lens is nearly 40 years old, and is still as smooth and grit-free as the day it was made.
Up front, the Pentax LX uses what was still then a pretty new Pentax K bayonet mount.  Replacing the M42 Universal screw mount which all Pentax SLRs since the original 1957 used was a new and modern bayonet which offered a larger throat, more secure mount, and support for automatic diaphragms.
The lens release lever for the K-mount is near the 8 o'clock position around the mount and requires about a 45 degree counterclockwise twist of the lens.  Two flash sync ports to the right of the mount support both class FP and X bulbs, and offer support for off camera flashes.  To the left of the mount is the multi-function self-timer, mirror lockup, and depth of field preview lever.
A small button on the center of the lever is used depending on the function of the lever.  Press the button while moving the lever counterclockwise for self-timer, and move it clockwise for mirror lockup.  Move the lever clockwise without pressing the button for depth of field preview.  The combination of all three features in one lever certain helps eliminate clutter on the front of the camera, I have to wonder if those not willing to read the manual, might have never realized the camera had these features.
The Pentax LX has a very bright and easy to use viewfinder.  With an f/2 lens mounted, the image is bright and even corner to corner and offers excellent usability in low light.  With the standard focusing screen, we have a split image and microprism collar focus aides in the center.  At the time of the LX's release, a total of nine different focus screens were available if you needed something different.  Above the viewfinder image is an optical Judas window allowing you to see the selected f/stop from the aperture ring of whatever lens you have attached.
On the right side of the screen are bold numbers indicating every shutter speed, plus A for auto and LT B for long exposures or Bulb.  A transparent blue flag indicates the physical position of the shutter speed dial, letting you know the camera is either in Auto mode, or one of the manual shutter speeds.  A transparent red flag indicates that some exposure compensation value is set.  Finally, a series of red, yellow, and green LEDs line the right side of the shutter speed scale to indicate the amount of light the meter is recommending.  When the camera is in Auto mode, the indicated speed is what the shutter will fire, and in manual mode, it indicates a recommended speed, but you are still free to choose whatever you want.  Different speeds are indicated by different color LEDs.  The chart to the right is from the Pentax LX's user manual.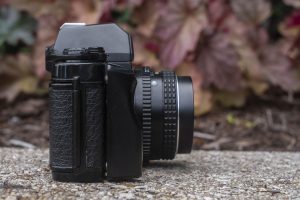 One last feature of the viewfinder that's not apparent in these pictures are the shutter speed numbers themselves which are etched with some type of gold reflective coating, which is said to allow them to be seen even in very low light.  Normally, this style of viewfinder where the numbers are part of the visible area of the viewfinder become hard to see in low light, but with the smallest amount of light entering the rear eyepiece, the numbers are still somewhat visible.  They're not quite as easy to see as a true backlit LCD would be, but the feature does work in moderate to low light.
The Pentax LX not only was Asahi Optical's first attempt at a professional level SLR, it was also the most technologically advanced camera they ever made.  The company was clearly paying attention to what others were doing, offering the features that were in high demand by the pros, while offering innovative solutions enhancing the appeal of the camera.
It all added up to a very successful formula as the original Pentax LX was in production for an astounding 17 years, and even after it's discontinuation, was re-released in a couple special editions, as recently as 2001, making the LX the company's longest lived SLR.
You don't need me or my long winded reviews to tell you the Pentax LX is a great camera as I think the technology and design speak for themselves, but of course I did shoot film through it, so how were my results?
My Results
For the first roll through the Pentax LX, I took it with me on a trip to Turkey Run State Park in Indiana, and used a fresh roll of Kodak ProImage 100.  ProImage is one of the best values (at least it used to be) in color film as last summer you could pick up a 5 pack of it for around $30.  With the shortage of films in 2022, it is out of stock everywhere, so if and when it comes back, who knows how much it will cost.  But for anyone with some in stock, it's a nice fine grain color film with a warm and somewhat muted color palette.
After shooting that first roll, I had planned on doing another quickly, but it took me until early winter when I had a chance to shoot it again.  For that roll, I loaded in a semi expired roll of Fuji Neopan 400.
It's always so difficult to write reviews of modern SLRs made by companies that have had a long reputation for great optics.  Asahi Optical lenses were great pretty much from the very start.  The earliest Asahiflex IIa made great images as did the Suzuki Press Van with the medium format Takumar on it.  Like Nikon, Minolta. Canon, Konica, Yashica, and a boat load of other camera makers, you should expect to see great images with excellent sharpness corner to corner, minimal optical aberrations common in lesser lenses, good color accuracy and contrast, and all the other positive things people say in lens tests.
I chose a rather pedestrian SMC Pentax-M 50mm f/2 lens for my two rolls of film through the LX as I liked it's compact size which helped to make the camera a bit less obtrusive while out hiking with it wrapped around my neck.  The optical performance of this lens mounted to the LX was excellent, delivering images with all the good characteristic I mentioned above…but how was the rest of the experience?
One of my favorite things about the LX is how simple and unintimidating it was.  Compared to other professional level SLRs which are big and bulky with knobs, dials, switches, buttons, and screens all over every surface of the body, the LX feels like a camera you can instantly pick up and start using without any training.
Of course, there are many advanced features for those times when you need them, but when you don't, the LX reverts back to feeling more like a simpler camera.  It is an auto exposure Pentax K-series SLR when you need it to be, and a powerhouse Nikon F3 competitor when you need it to be, proving you really can have your cake and eat it too!
Handling the Pentax LX is excellent too.  I especially loved the right hand grip, which for the era was one of the largest you could find on an SLR.  It is deep enough to allow for a firm one handed grip, with contoured edges that fit comfortably around your fingers.  Although I didn't make any attempt to test this, I would guess that hand fatigue would be kept to a minimum under very long shooting sessions.  Looking at copies of this camera for sale online, I notice that a good number of them do not have this grip still attached, so I strongly recommend looking for one with it, if you are considering picking up an LX of your own.
Compared to the Nikon F3, the Pentax LX addresses (at least partially) one of the biggest cons of that camera.  When Nippon Kogaku announced that the successor to the Nikon F2 would have an electronic shutter, some professional photographers balked at the idea of a camera that required batteries to work.  Sure, the Nikon F3 can fire it's shutter without power at a single speed, but not being able to change speeds was a big deal.  We now have the benefit of hindsight to know that these concerns were largely unfounded as the Nikon F3 proved itself to be an extremely reliable camera, but people didn't know that back then.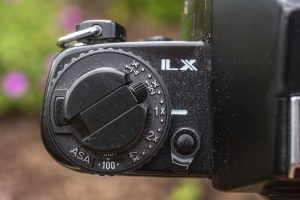 Asahi's decision to make a shutter that can still use most of it's speeds mechanically was likely a huge reason someone might have considered a Pentax LX over a Nikon F3.  Sure, it limited you to speeds 1/75 and faster, but that was better than a single speed, plus without the reliance of an LCD screen like on the Nikon F3, you'd always be able to see which shutter speed and f/stops you have selected in the LX's viewfinder.
eBay Tip: If you're looking for a used Pentax LX, try searching online for "ILX" as some people incorrectly read the logo and sell it that way.  This could be used to get the camera at a cheaper price.
The Pentax LX was by all means a success.  The camera remained in production for nearly 20 years, and is still a popular choice today, but despite all the things it did right, it failed to make a meaningful dent in the success of both Nikon and Canon's professional SLR sales.  The reason for this has little to do with the camera itself as the LX is every bit as good as comparable cameras, but rather a lack of trust in a system created by a company who previously never even came close to competing at the pro level.
Asahi certainly brought their A-game, both with the LX, the lenses available for it, and a huge array of accessories, but the pros already had their system, and it would take something far more revolutionary to get them to hand in their Nikon and Canon bodies and lenses.  I believe that for a first attempt, the Pentax LX was a homerun, but if Asahi really wanted a larger share of the pro market, they should have continued to evolve the system.  An LX2 follow up in the mid 80s, embracing auto focus like Canon and Nikon did, would have gone along way towards building on the success of the LX.
That never happened, and the LX remained in production as a extremely good manual focus, aperture priority auto exposure system camera.  And maybe that's all Asahi wanted.  Maybe they had no desire to supplant the Nikon and Canon SLRs of the world, maybe they just wanted to prove that they could do it.  For that, I'd definitely say they succeeded.  The Pentax LX was a winner by every measurable metric, and for that, is worthy of addition to any collection or film bag today.
Related Posts You Might Enjoy
External Links
http://camera-wiki.org/wiki/Pentax_LX
https://en.wikipedia.org/wiki/Pentax_LX
http://www.mir.com.my/rb/photography/hardwares/classics/pentaxlx/index.htm
https://casualphotophile.com/2017/02/19/pentax-lx-camera-review-the-best-professional-35mm-slr-around/
https://www.chebirchhayesphotography.com/pentax-lx-review/
https://www.35mmc.com/04/06/2020/5-frames-with-a-pentax-lx-in-new-york-by-yohan-kim/
http://www.fogdog-photography.com/fogdog-blog/2017/3/17/a-sunday-stroll-with-the-pentax-lx