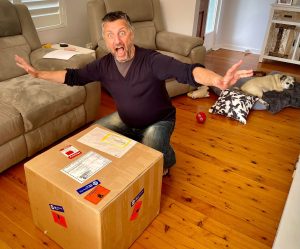 This week on episode 26 we play catch up on a lack of GAS discussion over the past couple of episodes.  Theo, Paul, Anthony, and Mike all have a large number of cameras that they've come across, and not always from the usual sources.  In addition to GAS, we share a story about the Ohio Camera Collector's Society Auction earlier this month in Columbus, Ohio in which bidding got really out of hand and the state of regional camera shows.
Other topics discussed are ways to develop 116/616 film using regular Paterson reels, the best way to store a large camera collection, and Mike's recommendation on a cheap way to shoot wide angle Nikkor rangefinder lenses.
Joining us are returning callers, Robert Rotoloni, Dan Tree, Miles Libak, Jon Gilchrist, Mark Beadle and Wannes Scheipers, and first time callers, Aiden Dean, Alex Dietrich, and all the way from Johannesburg, South Africa, Dean Blumberg who also share in their latest pickups, questions, and general camera collector miscellany.
Every episode, the topics we discuss on the Camerosity Podcast are decided entirely upon you, so if you'd like to join us next time, be sure to look out for our next show announcement for Episode 27, which will be recorded on Sunday, May 29th!
This Week's Episode
Paul Proxy Bids at the Ohio Camera Collector's Society Annual Auction
First Was the Auction Then the Saturday Camera Show / Paul Buys a Zeiss-Ikon Contaflex 35mm TLR and Ihagee Exakta 66
Paul's Secret Advice to Get Stuff at Camera Shows / Robert Rotoloni Wasted His Time at the Chicago Show Too
Japanese Sellers Used to Buy Tables at Shows Only to Buy Cameras and Not Sell
Camera Shows Aren't Being Advertised Correctly / You Can't Get eBay in South Africa, Most Cameras are Already There
There Needs to Be a Better Way to Promote Camera Shows / Let the Camerosity Podcast Do That For You! / Other Online Auctions Besides eBay
Mike Buys His Last Camera Ever, a Nikon F2AS / NO ONE IS BUYING DIGICAMS, THEO!!!!
Paul is Impervious to GAS Until This Week / Nikon SP and Nikon S3 2000 Edition
Were Black S3 2000s Repainted Chrome Ones? / Some Parts of the S3 2000 Were Outsourced
Radu Lesaru CLA'd Zeiss-Ikon Contax I
Theo's Massive Auction Haul
Anthony Shoots Gevaert 616 Film from 1947 / YouTube Hack for Developing 116/616 Using Paterson Tanks
Zeiss-Ikon Cocarette Luxus
Nikkor Screw Mount Lenses / The Nikonos II is Usually Found with the 35mm f/2.5 Lens Which is Excellent
Dan Tree Buys a Rollei 35 S / Everyone Loves the Rollei 35 Except Paul / Underrated Rollei 35 Models / Rollei 35 LED
Exell Mercury Replacement Batteries / Wayne Fixes His Minolta Hi-Matic / Early AGFA Karats Have the Best Rangefinders
Lubtiel and Chaika 3 Both in their Original Boxes /  Camera Ephemera / Engraved Social Security Numbers
Zeiss-Ikon Contaflex Lenses / Ikonta Light Leaks / Leitz Null Series Leica
What is the Best Way to Store a Large Collection of Cameras?
Show Notes
If you would like to offer feedback or contact us with questions or ideas for future episodes, please contact us in the Comments Section below, our Camerosity Facebook Group or Instagram page, or email us at [email protected].
The Official Camerosity Facebook Group – https://www.facebook.com/groups/camerositypodcast
Camerosity Instagram – https://www.instagram.com/camerosity_podcast/
Camerosity Twitter – https://twitter.com/CamerosityPod
Loading 116/616 Film Onto Paterson Reels – https://www.youtube.com/watch?v=f9REyP3gLjo
Jon Gilchrist – Packard-Ideal Shutter Company – https://packardshutter.com/ and https://genescamera.com/
Dan Tree – https://www.instagram.com/dantreephoto
Robert Rotoloni – https://www.facebook.com/Nikon-Historical-Society-193619477350338/
Theo Panagopoulos – https://www.photothinking.com/
Paul Rybolt – https://www.ebay.com/usr/paulkris
Anthony Rue – https://www.instagram.com/kino_pravda/ and https://www.facebook.com/VoltaGNV/
Camerosity can also be heard on the following services:
Google – https://podcasts.google.com/feed/aHR0cHM6Ly9mZWVkLnBvZGJlYW4uY29tL2NhbWVyb3NpdHkvZmVlZC54bWw
Apple – https://podcasts.apple.com/us/podcast/camerosity/id1583252688
Amazon Music – https://music.amazon.com/podcasts/9d316c9e-5461-4fa5-9e04-24fd27fffc3f/camerosity
Podchaser – https://www.podchaser.com/podcasts/camerosity-1985806