We're back!  It's been three weeks since our last episode, so that just gave us an extra week's worth of time to think of questions to ask our two special guests!  Returning is Jess Ibarra from Viva La Film in New South Wales, Australia who is Theo's source for CLAs and always offers her insights into the general repair of cameras.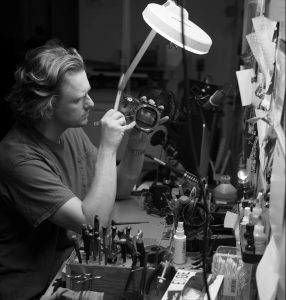 Joining Jess is Ryan Jones, owner of Pro Camera in Charlottesville, Virginia.  Ryan was a repair technician at Pro Camera for six years before the opportunity to take over the shop was presented to him, which he accepted.  As owner, Ryan has a unique way of accepting new work.  Unlike other shops, he does not accept new work all the time, but rather does it in waves.  This business model works extremely well for him in terms of managing expectations for his customers and also helping to prevent burn out from non stop work.
Although we have talked about camera repair on other episodes of the podcast, this one has heavy focus on the future.  How did both Ryan and Jess learn how to repair cameras, what are the methods being used today by the current crop of repair people, and what is being done to attract new people to repairing cameras?
Joining them this week is returning guest Alex Dietrich and first time caller Steve Rosenbach who ask for tips on repairing their own cameras and what everyone's thoughts are on a certain Nicca camera.  Of course, there's a lot of other random GAS and topics related to collecting, shooting, and shade tree percussive maintenance.
As always, the topics we discuss on the Camerosity Podcast are decided by you.  The guys and I rarely know where each episode is going to go until it happens, so if you'd like to join us on a future episode, be sure to look out for our show announcements on our Camerosity Podcast Facebook page, and right here on mikeeckman.com.  We record every other Monday and announcements, along with the Zoom link are typically shared 2-3 days in advance.
So stay tuned, and if you'd like to ask us a question or give us some topics to discuss, look for our show announcement for Episode 35, which we will record on Monday, October 24th!
This Week's Episode
Introducing Ryan Jones and Pro Camera / Jess Repairs While Podcasting / Steve Buys a Minolta SR-1
Mike Wants to Fix His Arsenal Salyut Soviet SLR / Jess Has a Soviet Camera Mentor Named Alex
If you Want to Shoot A Soviet 6×6, Get a Kiev 6C or 60 They're More Reliable than the Salyut
Paul Has a Broken Yashicaflex and Nikon S / Can you Fix Hazy Nikon Rangefinder Windows?
If You Want to Collect Nikon Rangefinders, Get a Nikon SP, If You Want to Shoot Them, Get a Nikon S2
Alex Sends his Black Leica and Olympus OM-1 to Ryan
Replacing Leica Shutter Curtains / Finding Curtain Material is Getting Difficult / 3D Printing to the Rescue / Titanium Curtains
Is Anthony's Canon EF Worth Repairing? / Anthony's Voigtländer Ultramatic CS Needs Help Too
Resilvering Mirrors / Canon Pellix and Pellicle Mirrors
Petri Color Corrected Super Green-O-Matics are The Best Worst Camera / Petri's Achilles Heel Was Their Own Shutters
Ryan Likes to Repair Similar Cameras in Batches Then Move On
Training the Next Generation of Young People to Repair Cameras
Learning from the Cranky Old Guys / How Do You Find a Mentor? / You Have to Be More Anal Than Your Most Anal Client
As Cameras Age, New Problems Happen That Has Never Happened Before / A CLAd 80 Year Old Camera Is Still 80 Years Old
Ryan Repairs Cameras in Waves Every 6 Weeks / Managing Expectations
In Most SLRs the Shutter Release Doesn't Fire the Shutter, It Releases the Mirror and the Mirror Fires the Shutter
Percussive Maintenance and Shadetree Repairs Will Only Work Temporarily
What Tools Should You Buy To Start Repairing Cameras / Richard Haw's Website and Learn Camera Repair
Yashica YF and Nicca III-L Cameras / How Repairable Are Certain Cameras?
What is the Next Camera You Send for Repair / Canon IV Sb / Nikkor 105 f/2.5 / Voigtländer Superb and Vitessa / Leica M3 with Dual Range Summicron / Ihagee Exakta / Canon VT Deluxe / Minolta XE7 and XE5
Ryan's Franken-Leica – Leica M3 Chassis, M5 Back Door, Late M3 Top Plate, No Self Timer or Flash Sync
Anthony Has Suggestions on Donations to the Show / Tamarkin Camera's Auction / Rate My Rollei 35
Show Notes
If you would like to offer feedback or contact us with questions or ideas for future episodes, please contact us in the Comments Section below, our Camerosity Facebook Group or Instagram page, or email us at [email protected].
The Official Camerosity Facebook Group – https://www.facebook.com/groups/camerositypodcast
Camerosity Instagram – https://www.instagram.com/camerosity_podcast/
Camerosity Twitter – https://twitter.com/CamerosityPod
Learn Camera Repair – https://learncamerarepair.com/
Richard Haw's Nikon Repair Site – https://richardhaw.com/
Ryan Jones – https://www.procamera.us/ and https://www.rj-repairs.com/home
Jess Ibarra – https://www.vivalafilm.com/
Theo Panagopoulos – https://www.photothinking.com/
Paul Rybolt – https://www.ebay.com/usr/paulkris
Anthony Rue – https://www.instagram.com/kino_pravda/ and https://www.facebook.com/VoltaGNV/
Camerosity can also be heard on the following services:
YouTube – https://www.youtube.com/channel/UCWyeY-1uD2VjhgPODY9MBug
Google – https://podcasts.google.com/feed/aHR0cHM6Ly9mZWVkLnBvZGJlYW4uY29tL2NhbWVyb3NpdHkvZmVlZC54bWw
Apple – https://podcasts.apple.com/us/podcast/camerosity/id1583252688
Amazon Music – https://music.amazon.com/podcasts/9d316c9e-5461-4fa5-9e04-24fd27fffc3f/camerosity
Podchaser – https://www.podchaser.com/podcasts/camerosity-1985806