Of all the accessories available for cameras, perhaps camera straps are the thing that people have the strongest feelings about.  A camera strap is something that most cameras come with, whether it's one with the company's logo on it, or a leather one attached to an ever ready case, straps are almost as synonymous with photography as cameras are.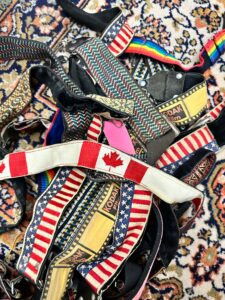 Yet, I don't think in the history of photography podcasts, anyone dared devote an episode one…that is until now.  If there was any doubt that this is the nerdiest film photography podcast ever, wait until you hear our camera strap episode!
To be fair, we don't spend the entire time talking about straps, we also discuss the cameras that have them attached.  To have a camera with a strap already attached suggests it is ready at a moment's notice to go out and shoot.  And if you have a camera at the ready, it must be one you like quite a bit, so for a good portion of this episode, the hosts talk about our favorite cameras which always have a strap attached, ready to go.
Joining Anthony, Paul, Theo, and Mike are returning callers Alex Dietrich, Bill Smith, Bob St. Cyr, Mark Faulkner, Miles Libak, and Patrick Casey and first time caller, all the way from Ireland, Brian Mac Domhnaill.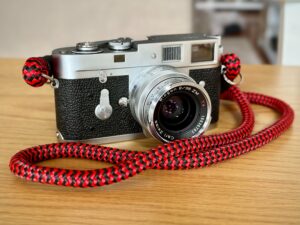 Along with our favorite cameras and favorite straps, we talk about cheap vs expensive lens adapters, Mike brings up a new camera he's testing with a 15mm f/8 lens, Alex Dietrich shares his black painted Nicca III L and much, much more!
As always, the topics we discuss on the Camerosity Podcast are influenced by you!  We would love to hear from more listeners, especially those who are new to shooting film or collecting cameras.  Please don't feel like you have to be an expert on a specific type of camera, or have the level of knowledge on par with other people on the show.  We LOVE people who are new to shooting and are interested in having an episode dedicated to people new to the hobby, so please don't consider your knowledge level to be a prerequisite for joining!
The guys and I rarely know where each episode is going to go until it happens, so if you'd like to join us on a future episode, be sure to look out for our show announcements on our Camerosity Podcast Facebook page, and right here on mikeeckman.com.  We usually record every other Monday and announcements, along with the Zoom link are typically shared 2-3 days in advance.
For our next episode, we are devoting an entire episode to Konica, makers of such fine cameras as the half frame/full frame Konica Auto-Reflex, the Koni Rapid Omega, and the thumb film advance Konica III rangefinder.  Be sure to look out for our next show announcement.  Episode 48 will be recorded on Monday, May 1st.  We hope to see you there!
This Week's Episode
Paul has two picks for cameras he always has at the ready / Fuji GS645 and Plaubel 69W Proshift
Patrick's go-to cameras are the Leica M4 and the Minox 35 GL
Theo's "zoo" camera is the Nikon L35AF, a reliable point-and-shoot to keep loaded and ready to go
Brian surprises everyone with the Chinon Auto 3001 / Chinon Bellami
Mike sees your Pentax MX and raises you the Pentax LX
Miles surprises us with his choice of the Leica MA kitted out with a vintage 1930s Summar lens / L39 to M-mount and M42-K-mount adapters
Theo's more committed choice for a go-to camera / Leica M2 with a Hyperion strap
OK, Boomer: Mike and Paul wax poetic about hippie straps / branded straps from the 1980s
Alex goes strap shopping in Hong Kong
The original Minox chain is also a measuring tool for macro photography
Anthony raves about his Contax ST with the always-attached red Hyperion strap
Bob goes large format for his choice of a Gibellini GP810Ti, a stunning field camera with a big leather strap for a handle
Beware the metal rope straps…
Mark's current go-to camera is the Bessa R2A with the Skopar 35mm lens
A digression about the Secure Strap with braided stainless steel straps that help prevent cut-and-run theft
Mike blows up the discussion with the Zeiss Hologon, a 15mm fixed lens viewfinder camera that costs as much as some used cars
Bob talks about the demands of finding a strap to tame the Mamiya C330, a beast of a TLR
Alex almost one-ups Mike's Hologon with a custom paint Nicca III L / Strong Opinions about repainting cameras
The problems with tripod socket wrist straps
The weirdness and beauty of the Ansco Anscomark M and its removable strap lugs
The Mamiya 7 and the odd cameras that have both strap lugs on one edge / LOMO Voskhod / Agat 18K
Digital Episode errata and corrections / Wait, what? Nobody brought up the Nikon FM2 or FM3?!
Links
If you would like to offer feedback or contact us with questions or ideas for future episodes, please contact us in the Comments Section below, our Camerosity Facebook Group or Instagram page, or email us at [email protected].
The Official Camerosity Facebook Group – https://www.facebook.com/groups/camerositypodcast
Camerosity Instagram – https://www.instagram.com/camerosity_podcast/
Camerosity Twitter – https://twitter.com/CamerosityPod
Bill Smith – https://funwithcameras.blogspot.com/
Alex Dietrich – https://www.instagram.com/awdietrich/
Theo Panagopoulos – https://www.photothinking.com/
Paul Rybolt – https://www.ebay.com/usr/paulkris and https://www.etsy.com/shop/Camerasandpictures
Anthony Rue – https://www.instagram.com/kino_pravda/ and https://www.facebook.com/VoltaGNV/
Camerosity can also be heard on the following services:
YouTube – https://www.youtube.com/@camerositypodcast
Google – https://podcasts.google.com/feed/aHR0cHM6Ly9mZWVkLnBvZGJlYW4uY29tL2NhbWVyb3NpdHkvZmVlZC54bWw
Apple – https://podcasts.apple.com/us/podcast/camerosity/id1583252688
Amazon Music – https://music.amazon.com/podcasts/9d316c9e-5461-4fa5-9e04-24fd27fffc3f/camerosity
Podchaser – https://www.podchaser.com/podcasts/camerosity-1985806