A couple episodes ago, the gang discussed cameras of the Soviet Union to give some attention to lesser known Soviet cameras, and the histories behind them, so for episode 59, we devoted the entire show to the East German camera industries, primarily those around the Dresden area.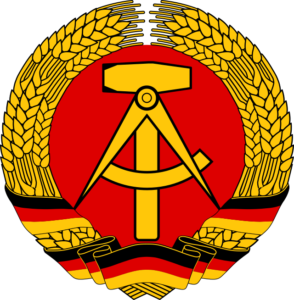 There were perhaps more companies making cameras in this area than anywhere else in the world, so making a single episode that could cover them all would be impossible, but we certainly tried.  In the end, we discussed the fascinating histories of Ihagee and how Dutchman Johan Steenbergen split up the assets of his company into two to protect it from the Germans, how two Jewish businessmen formed KW in the early 20th century to become one of Germany's most successful camera makers, and how an eventual American entrepreneur took over the company and created the world's first modern 35mm SLR.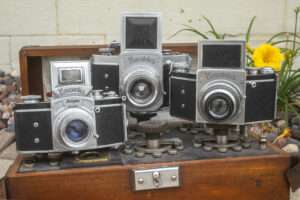 We devote some time to the Carl Zeiss Jena Werras, the Praktina, the battery driven Prakti, East German TLRs, and because we can't control ourselves, we even crossed international borders and discussed Japanese cameras with Exakta lens mounts.
It was a crazy episode that started out with some technical difficulties resulting in Paul losing power, Anthony's keyboard dying, and Theo needing to find a new job, but we persisted and delivered what I think is a fascinating, albeit abbreviated look at one of the most elaborate camera histories out there.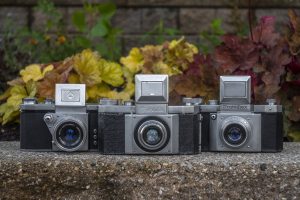 This episode also marks the official debut of the Camerosity Discord server, which is where Anthony, Paul, Theo, and Mike are ready and waiting to share in all of our tomfoolery, GAS, and a place for you to share what you've been shooting lately.  Be sure to check it out!
As always, the topics we discuss on the Camerosity Podcast are influenced by you!  Please don't feel like you have to be an expert on a specific type of camera, or have the level of knowledge on par with other people on the show.  We LOVE people who are new to shooting and are interested in having an episode dedicated to people new to the hobby, so please don't consider your knowledge level to be a prerequisite for joining!
The guys and I rarely know where each episode is going to go until it happens, so if you'd like to join us on a future episode, be sure to look out for our show announcements on our Camerosity Podcast Facebook page, and right here on mikeeckman.com.  We usually record every other Monday and announcements, along with the Zoom link are typically shared 2-3 days in advance.
Our next episode will be number 60, and I am extremely excited to invite a special guest who I've been yearning to speak to for years.  My desire to speak to this person goes back even farther than the start of this show, and they are someone I REALLY think you will all enjoy talking to.  I can't say their name yet, but I can say they are one of the most well known Camera Collectors, and that before they became Popular, in their early career, they were very Modern.  So stay tuned for the recording of Episode 60 on Monday, November 27th!
In This Episode
Dresden Was a Central Manufacturing Hub for All German Industry, Including Cameras / The Feb 1945 Bombing of Dresden
Carl Zeiss Jena Werras / Differences Between the Various Werras
KW Praktiflex and the M40 Lens Mount / Paul Loves Biotars of Every Size and Lens Mount
Kamera-Werkstätten Has a Very Sad But Interesting History
KW Patent-Etui / KW Pilot Reflex / The Story of Paul Guthe and Benno Thorsch
The KW Praktina Was the First Modem Professional SLR / The Nikon F Was Influenced by the Praktina
Praktina Spring Wound and Electric Motor Drives / 50 Foot Film Back / Angled Shutter Releases
Why Were There So Many Different Camera Designs Coming Out of Dresden / Germans Didn't Like to Copy Themselves
Ihagee and Johan Steenbergern's Story / Ihagee Was Split Into Two Halves So the Germans Couldn't Own it All
East German TLRs / Weltaflex / Peerflekta / Mentorette
Anthony Once Found East German Linen Photo Paper
The East German Government Encouraged Photography for Propaganda
Pentacon Six SLR with CZJ Biometar Lens
Johan Steenbergen Was Successful in Getting the Rights to Ihagee Back, and Produced the Exakta Real in 1966
Vest Pocket Exaktas and the Night Exakta / Every Different Exakta Used a Different Lens Mount
Nippon Kogaku and Canon Both Made a Single Lens in Exakta Mount / Firstflex 35 SLR
Why Did Tokyo Kogaku Use the Exakta Mount on Topcon SLRs? / Mimosa II
Ihagee Exas / System Exa Rheinmetall
Everyone Loves the Looks of the Exakta / 12 Second Exposures and Razor Blades
Jimmy Stewart and the Exakta in Rear Window / Kilfitt Fern-Kilar 400mm f/5.6 Lens
What is the Proper Spelling of Exakta? / Exacta Cameras
Topcon RE 300 and Japanese Made Exaktas / Exakta Twin TL / Pentacon Prakti Sounds
Camerosity is Now on Discord! / Listener Question About Good Books Covering the German Camera Industry
Links

The Camerosity Podcast is now on Discord!  Join Anthony, Paul, Theo, and Mike on our very own Discord Server.  Share your GAS and photography with other listeners in the Lounge or in our dedicated forums.  If you have questions for myself or the other guys, we have an "Ask the Hosts" section as well where you can get your question answered on a future show!  Check it out!  https://discord.gg/u7DvZEz6
If you would like to offer feedback or contact us with questions or ideas for future episodes, please contact us in the Comments Section below, our Camerosity Facebook Group or Instagram page, or email us at [email protected].
The Official Camerosity Facebook Group – https://www.facebook.com/groups/camerositypodcast
Camerosity Instagram – https://www.instagram.com/camerosity_podcast/
Theo Panagopoulos – https://www.photothinking.com/
Paul Rybolt – https://www.ebay.com/usr/paulkris and https://www.etsy.com/shop/Camerasandpictures
Anthony Rue – https://www.instagram.com/kino_pravda/ and https://www.facebook.com/VoltaGNV/
Camerosity can also be heard on the following services:
YouTube – https://www.youtube.com/@camerositypodcast
Google – https://podcasts.google.com/feed/aHR0cHM6Ly9mZWVkLnBvZGJlYW4uY29tL2NhbWVyb3NpdHkvZmVlZC54bWw
Apple – https://podcasts.apple.com/us/podcast/camerosity/id1583252688
Amazon Music – https://music.amazon.com/podcasts/9d316c9e-5461-4fa5-9e04-24fd27fffc3f/camerosity
Podchaser – https://www.podchaser.com/podcasts/camerosity-1985806