In this, the 48th episode of the world's most popular podcast, Anthony, Paul, Theo, and Mike shift their attention to one of the oldest camera makers in the world and one that had produced some of the most innovative, interesting, and high quality cameras ever made…except no one wanted to talk about them!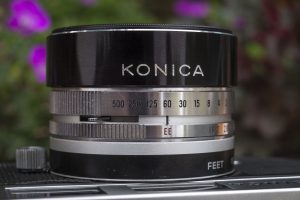 Okay, that's not exactly accurate as three people did show up.  Returning callers Raymond Nason, Mark Faulkner, and Brian Howard answered the call and came to chat with us about their favorite Konica cameras.
Kicking off the discussion was Mike who gave a short history of Japan's oldest camera maker with early models such as the Cherry Hand Camera and the Rokuoh-Sha Pearlette.  We quickly moved onto the sexy Pearl folding cameras and the early Konica 35mm rangefinders.  Ray brought with the very rare Konica F, the company's first attempt at a 35mm SLR, and then we bounced around between the Koni-Omega Rapid models, the Auto-Reflex series, we spent some time chatting about the Konica Eye half-frame camera, and eventually some of the company's more memorable point and shoots.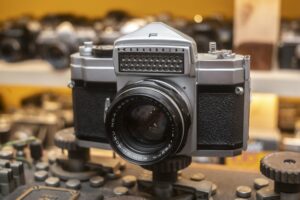 In addition to 96 minutes worth of Konica love, Theo, Mike, and Brian learned all about the American craze for elaborate senior photos, Mike explained the difference between automatic parallax and automatic field correction, Paul shares with us his least favorite 1990s premium camera, Mike complained (again) about the Konica AiBorg, his least favorite camera ever made, we explore a huge range of strange cameras designed by F.A. Porsche, and Ray gives an update on the 4th and final Yarovsky camera auction, which we discussed previously in Episode 44.
As always, the topics we discuss on the Camerosity Podcast are influenced by you!  We would love to hear from more listeners, especially those who are new to shooting film or collecting cameras.  Please don't feel like you have to be an expert on a specific type of camera, or have the level of knowledge on par with other people on the show.  We LOVE people who are new to shooting and are interested in having an episode dedicated to people new to the hobby, so please don't consider your knowledge level to be a prerequisite for joining!
The guys and I rarely know where each episode is going to go until it happens, so if you'd like to join us on a future episode, be sure to look out for our show announcements on our Camerosity Podcast Facebook page, and right here on mikeeckman.com.  We usually record every other Monday and announcements, along with the Zoom link are typically shared 2-3 days in advance.
For our next episode, we've decided to go half…half-frame that is.  If you ever thought that 24mm x 36mm images are too large, and found that 18mm x 24mm was the ideal size for your negatives, Episode 49 is the one for you!  Join us as we will no doubt cover many wonderful half-frame shooters like the Olympus Pen F, Canon Dial 35, the Yashica Samurai, and the Konica Auto-Reflex….wait, we talked about that already!  Be sure to look out for our next show announcement.  Episode 49 will be recorded on Monday, May 15th.  We hope to see you there!
This Week's Episode
Paul is Headed to Another Auction and Isn't Going to Buy Anything…SUUUURRREEE!!!!
A Short Early History of Konica / Rokuoh-Sha Pearlette / Contessa-Nettel Picolette / Zeiss-Ikon Cocarette
Konica Got Into 35mm With a Bunch of Scale Focus and Rangefinder Models / Konica I
Konishiroku Snappy is a 17.5 mm "Hit Style" Camera / Konica Konilette Shoots Non-Perforated 35mm Film
Anthony Tells A Story About Karl Havens Dropping His Konishiroku Pearl II / Theo Loves the Pearl II
Mark Shares his 1938 Semi Pearl, the Predecessor to the Pearl / Semi is Japanese for 4.5×6
Konishiroku Pearl IV (SEXY ALERT!)
Konica II and Konica III / Variants of the Konica III, the IIIA, and IIIM / Konica's First Half-Frame 35mm Camera
Konica's First SLR was the Konica F from 1960 / Wards am551 (Konica Auto S2) / Konica FS
Auto Parallax and Auto Field Correction in a Rangefinder
Koni-Omega Rapid Cameras / The Konica F Has a Moving Film Pressure Plate
The Koni-Omegas Were Horrible for Frame Spacing / The Koni-Omega TLRs Were Even Stranger
What the Heck is Senior Photography? / Studios That Specialize in Nothing But Senior Photography
Anthony's Favorite Konica is the Auto-Reflex / Shooting Full and Half Frame On the Same Roll is Super Cool / Dedicated Half Frame Lenses for the Auto-Reflex
The Konica Eye is a Nice Half-Frame Camera with an Interesting Logo
Konica Autoreflex T-Series Have TTL Metering and Shutter Priority AE / Autoreflex T3 Was the Last Good Body
Konica's First SLR Lens Mount was the F-Mount, the Konica AR-mount came out in 1966 / Konica FT-1 Wasn't Very Good
Konica C35 AF Was the First Point and Shoot with AF / Paul Had One of the First Konica Hexar AF Cameras in the US
When Konica and Minolta Merged, Who Bought Who? / The Merger Was the Only Reason Both Companies Survived
Mike's Number One Least Favorite Camera He's Ever Shot is the Konica AiBorg
Samsung ECX-1 / Rollei QZ35W and T /  Olympus O-Product / Minolta Prod 20s / Olympus Écru
Paul's Least Favorite Premium 90s Camera Was the Nikon 35Ti
Konica Hexanon Lenses Are Great / Konica 40mm f/1.8 Lens / Mike Loves 40mm Lenses
Konica's Colored Point and Shoots / Konica Tomato and Pop Series / Konica Recorder
Konica Even Made APS Cameras / Konica Revio CL with Selfie Mirror
Konica Genba Kantoku Rugged Cameras / Fuji HD Job Site Cameras
Ray Bought Cameras from the 4th Yarovsky Auction We Talked About in Episode 44 / More of the Same
Links
If you would like to offer feedback or contact us with questions or ideas for future episodes, please contact us in the Comments Section below, our Camerosity Facebook Group or Instagram page, or email us at [email protected].
The Official Camerosity Facebook Group – https://www.facebook.com/groups/camerositypodcast
Camerosity Instagram – https://www.instagram.com/camerosity_podcast/
Camerosity Twitter – https://twitter.com/CamerosityPod
Theo's Review of the Pearl II – https://photothinking.com/2022-02-23-konica-pearl-ii-the-queen-of-gems/
Mark Faulkner – https://thegashaus.com/
Theo Panagopoulos – https://www.photothinking.com/
Paul Rybolt – https://www.ebay.com/usr/paulkris and https://www.etsy.com/shop/Camerasandpictures
Anthony Rue – https://www.instagram.com/kino_pravda/ and https://www.facebook.com/VoltaGNV/
Camerosity can also be heard on the following services:
YouTube – https://www.youtube.com/@camerositypodcast
Google – https://podcasts.google.com/feed/aHR0cHM6Ly9mZWVkLnBvZGJlYW4uY29tL2NhbWVyb3NpdHkvZmVlZC54bWw
Apple – https://podcasts.apple.com/us/podcast/camerosity/id1583252688
Amazon Music – https://music.amazon.com/podcasts/9d316c9e-5461-4fa5-9e04-24fd27fffc3f/camerosity
Podchaser – https://www.podchaser.com/podcasts/camerosity-1985806